Check out the best Minecraft Village seeds to spawn in!
Minecraft is infamous for the freedom and creativity it offers to players. An infinite world where you can do anything you want seems like endless fun for most.
But for some, having no goals or direction can be overwhelming.
Luckily, in this blocky world of loneliness, we have an oasis where you can interact with your fellow human beings, get free resources, and live rent-free.
For any player who wants to try survival mode, living in a village is a great way to thrive.
Thanks to our compilation of the most popular Minecraft village seeds, you can find these kinds of villages right after spawning in your new world.
So, let's dive right into it!
10 Best Minecraft Village Seeds
1. Village With Exposed Mineshaft
Seed: 5636173029472278327
Coordinates: 215, 9, -261 (Java)
You might have seen some villages next to a ravine. But most of them are usually death traps for anyone who dares to leap in.
Nevertheless, the exposed Mineshaft right next to this village is a safe haven for resources.
You can simply walk in, gather all the stuff you need, and waltz your way back to your base in the village. It's literally a walk in the park…or Mineshaft.
2. Large Village and Pillager Outpost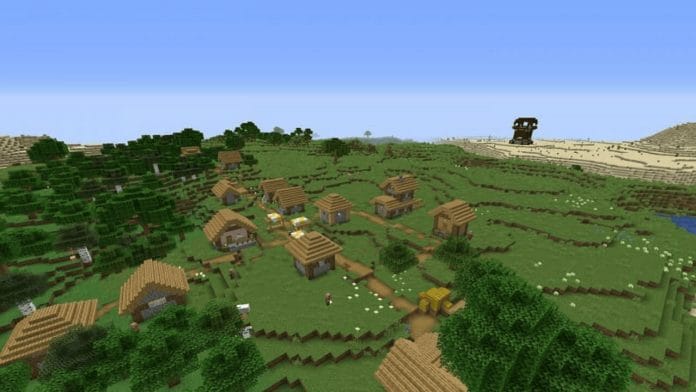 Seed: -2616073310770286304
Coordinates: -150, 400(Java)
This is one of the best Minecraft village seeds for players who want early loot. Spawning in this seed will take you in between a massive village and a pillager outpost.
Both of the structures are filled with useful loot and treasure — perfect for starting your journey.
3. Village With Mansion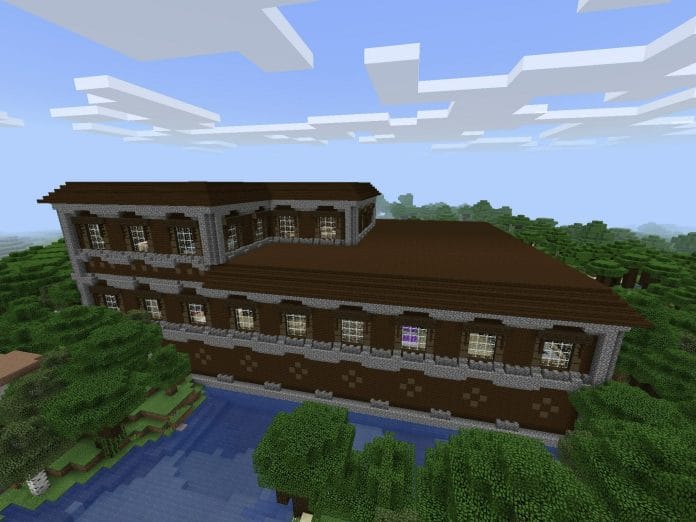 Woodland mansions are very rare spawns in the game and some players didn't even have a chance to see one yet.
This seed spawns you beside a giant woodland mansion. Not only that, beside it is a village and it is surrounded by huts in several directions.
Seed: 37021689
Coordinates: 81, 100, 139 (Java)
4. Survival Island Village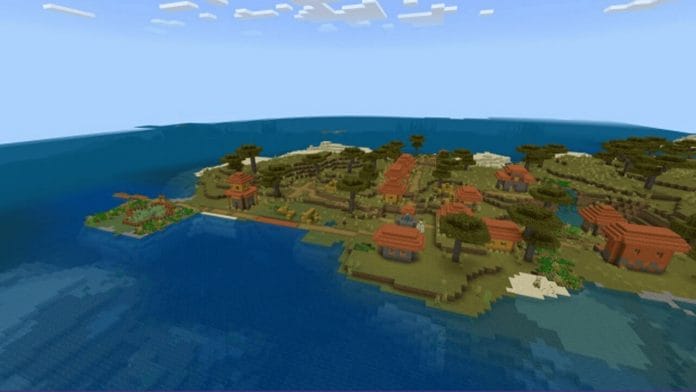 This Minecraft village seed takes you to one of the best ways to experience survival mode: a survival island.
This huge island has a Savanna Village; an ideal spot to gather all the necessary resources for ocean exploration.
Seed: -2927611868038818840
Village Coordinates: 264, 71, -376 (Bedrock)
Village Coordinates: 160, 71, -336 (Java)
5. Flower Forest Village
If you want a friendly and warm start for your Minecraft adventure, this is the perfect seed for you. The seed will bring you to an aesthetic village located in the middle of a flower forest
It is surrounded by other great structures such as caves and cliffs, a giant mountain, Taiga Village, Desert Village, and coral-reef-filled oceans.
Seed: 8081493198926661304
Village Coordinates:
6. Speedrun Village
This seed is one of the best Minecraft village seeds for speedrunners. You will spawn next to a village and stronghold.
Get all the resources you need from the village and head to the stronghold, where a portal with 5 Eyes of Ender will be waiting for you.
Seed: 9232
Coordinates: -159, 70, 119 (Java)
7. Pillager-Hunted Village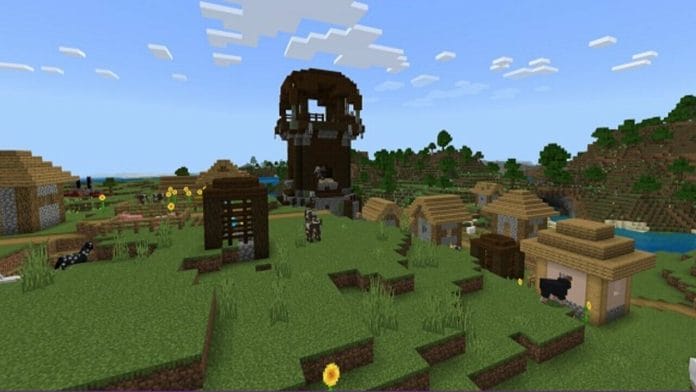 If you're not looking for a safe space but for a challenge instead, then this lonely village ravaged by pillagers might be the thrill you're searching for.
When you spawn in this seed, you'll notice that a pillage outpost spawns in the middle of a helpless village. Without a valiant adventurer like you to help, there's no hope.
Seed: -4541735665408914819
Coordinates: 272, 82, 249 (Bedrock)
8. Plains Village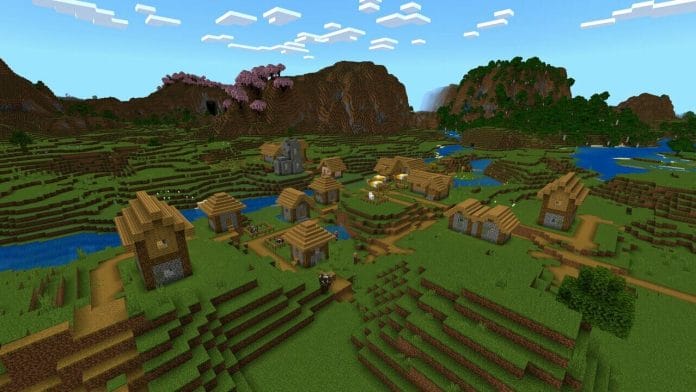 This next village seed is perfect for those who are looking for a place to unleash their creativity in.
This seed will take you to a huge village in the middle of lush river lands with surrounding hills and fields that provide the perfect view for your dream builds
Seed: 6285574721787818473
Coordinates: 238, 6
5, 89 (Bedrock)
9. Lagoon Village
Looking for a village to trade? This Minecraft village seed is your best choice. This seed will spawn you next to a patch of land located in a lagoon.
The great thing about it is it has all the best traders in the game, including librarians and clerics. It has a picturesque view as well.
Seed: -2367667723377945166
Coordinates: 565, 67, -927 (Bedrock)
10. The Seven Villages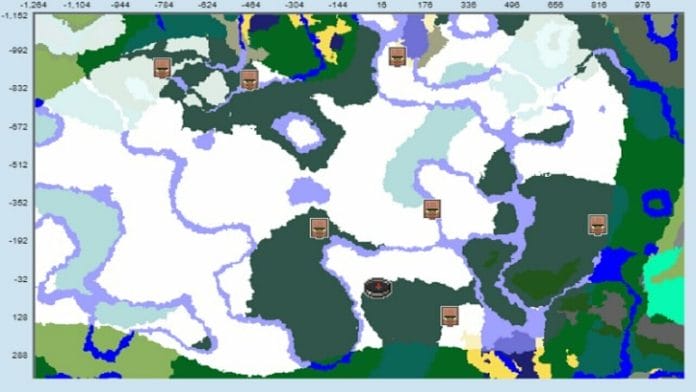 If you love exploring and looting villages, this seed will take you close to not one but seven villages.
You will spawn in the perfect spot close to 4 Taiga villages and 3 snowy villages. Imagine all the loot and resources waiting for you within the Ice Spikes biome!
Seed Code: -997106344756191692
Nearest Snowy Village Coordinates: 200, 112, -328 (Bedrock)
Nearest Taiga Village Coordinates: -216, 77, -248 (Bedrock)
Also Read:
Conclusion
Those are the best Minecraft village seeds we recommend you try. With these seeds, you can make the most out of your early game and start on a place leading to the best Minecraft experience you want.
There are a lot of hotspots and awesome places to explore in these places, so launch Minecraft and start testing them out.
If you're looking for more Minecraft lists, tutorials, guides, tips, and tricks like this one, you can always check out our Minecraft section.
Also, don't forget to ask any questions you have in the comments section below.
Image Credits: Beebom, Sportskeeda, Screenrant