Look your best with our free Bloxburg Outfit codes!
Welcome to Bloxburg is a Roblox world where you can do whatever you want. You can build your dream house, drive an awesome car, and enjoy the game roleplaying with friends.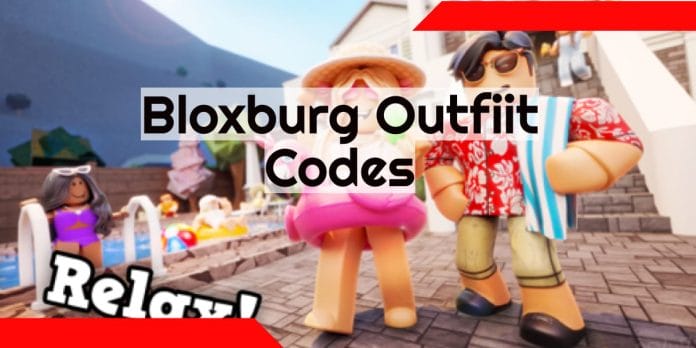 There are endless possibilities and fun customizations for you to try. If you can decide where you live and what you ride, then you should be able to pick how you look and dress.
That's right, and you can look like an entrepreneur or a rockstar in Bloxburg. You can dress up as whatever and whoever you want.
But of course, you would need money and clothes to do that. But what if we tell you that there's a way to get free clothes without spending anything at all?
The only thing you'll need is a few codes and this article.
Using our Bloxburg outfit codes, you can get your hands on all kinds of clothes. Simply read on and learn how to redeem them and get that Bloxburg look you've been wanting for a long time.
Editor's Note (November 5, 2023): Your Bloxburg outfit speaks a lot about your personality. To make your character more memorable for others, consider using any of the game's outfit codes!
Bloxburg Outfit Codes List
Christmas Outfits [New Codes]
Outfit 1
Hair: 7215233878 and 7456574981
Pants: 7990461888
Mask: 6042561723
Gloves: 6007347011
Outfit 2
Hair: 7062036000
Pants: 5967852965
Bows: 6432270468
Cookie: 6841905896
Tray: 5945020014
Skates: 5944862710
Outfit 3:
Hair: 7554019685
Pants: 5951208809
Shirt: 6027909819
Beanie:5972867251
Antlers: 4753281242
Drink: 6005579306
New Outfit Codes
Outfit
Codes
Trendy Oversized Jacket Outfit(Girls)
Lashes: 1190049341
Face: 12367516582
Hair: 12832427747
Bangs: 8230978629
Glasses: 7246171208
Hoops: 6187113962
Necklace: 10648647044
Bag: 9083318582
Dress: 12474678348
Jacket: 12879677094
Active Codes
| | |
| --- | --- |
| Lucky Pigtails in Blonde | 10793206081 |
| Knitted Leg Warmers Pink | 10713848056 |
| Pink Strawberry Fields Cap | 9923531009 |
| Soft Yay Pink Plaid Heart | 6964430139 |
| Wispy Bangs in Blonde | 9449734252 |
| White Heart Clips | 8303730595 |
| GLXW White Fluffy Purse | 8465284084 |
| Y2K Heart Necklace | 9324091278 |
| Pearl Silver Heart Necklace | 9510174191 |
| Short Layered Hair | 7667988869 |
| Wispy Bangs in Blonde | 9449734252 |
| Y2K Clueless Hat | 10074629486 |
| Y2K Pink Heart Cyber Cute Fae | 9914696794 |
| Baggty Jeans Fae Pants Y2K Grunge | 10318484427 |
| Pink Heart Pearl Belt | 10410719729 |
| Knitted Leg Warmers White | 10713843750 |
| Lucky Pigtails in Black | 10793213797 |
| Wispy Bangs in Black | 9449907677 |
| Black Knit Kitty Beanie with Pink | 10069659329 |
| Simple Headphones | 8465473385 |
| Heart Nose Piercing | 6773872900 |
| Swag Ok Vamp Hi Doll Skull Emo | 6275777270 |
| 16ou Fox Sanrio Tank Top Pink | 9744423453 |
| Knitted Arm Warmers Pink | 10713780551 |
More Outfit Codes
Outfit
Codes
Hair
9483404598
8293739134
9726782710
Necklace
7331063641
733163641
73311636641
Hairclips
8303730595
9457726575
Boppers
8782530148
4686279748
Top
6678008332
7733982783
4948281221
Skirt
7601365716
6463814256
Purse
9248115718
Earrings
8785747241
Pants
7734011208
Ribbons
10077541122
Headband
6234624349
Butterflies
7064897555
Glasses
9416033845
Cardigan
9133598877
How to Redeem Bloxburg Outfit Codes?
Redeeming these Bloxburg Outfit codes and getting your desired clothes is as easy as following these steps:
Open Roblox and Launch Bloxburg
Go to your Avatar customization
Press the advanced option
Enter the Bloxburg Outfit code you want in the input field.
Redeem and enjoy your full closet!
Bloxburg Outfit Codes: Frequently Asked Questions
When Will New Bloxburg Outfit Codes Come Out?
These codes are added by the developer only. Only the creator of the game can create or disable codes. GameGrinds cannot do that.
But you can be sure that once new Bloxburg Outfit codes are available, we will update this article as soon as possible. So stay tuned by bookmarking our site and visiting often.
What Are Bloxburg Outfit Codes?
Bloxburg outfit codes are redeemable codes for the Roblox game Bloxburg.
These codes will give you free clothes that you can freely use to style your avatar and achieve the fit you want in this simulation game.
These codes are created and removed by the creators only, but anyone who plays the game can redeem them for free as long as they are still active.
What Is Bloxburg All About?
Welcome to Bloxburg is a Roblox game that is pretty similar to the Sims. You can freely explore the Robloxian city, Bloxburg, and live the life you want.
You can have your own house or car, and you can roleplay with your friends inside this wonderful and entertaining world.
How to Play Bloxburg?
If you want to have a blocky virtual life of your own, you can play Bloxburg by going to Roblox's website.
After that, search for Bloxburg in the game directory and click on the game. But if you want to make things easier, you can go to Bloxburg's link address directly as well.
For a more detailed tutorial on how to play Welcome to Bloxburg, check out the game's beginner's guide and keyboard controls here.
Conclusion
That's about everything you need to start redeeming our Bloxburg outfit codes and enjoying a wide selection of your favorite clothes.
Be as stylish as you want; it's completely free! Since codes come and go quickly, you must use these while you still can.
Also, don't forget to check back frequently for more codes. You can also check out other codes like Unboxing Simulator Codes, Pet Simulator X Codes, MeepCity Codes, and a whole lot more in our ROBLOX GAME CODES section.