Awesome Minecraft small house ideas to inspire you in your next abode!
Minecraft is one of the best building games out there. It gives you a crazy number of blocks and materials at your disposal, bringing all of your creative ideas to life.
Designing your base or home is a huge aspect of the game, both in survival and creative mode. Not only is it essential for your character's protection and storage, but it is also considered as one of the most enjoyable tasks in Minecraft.
Ready to build your very own Minecraft abode? In case you're stuck designing your dream home, here are 10 of the best Minecraft small house ideas this year!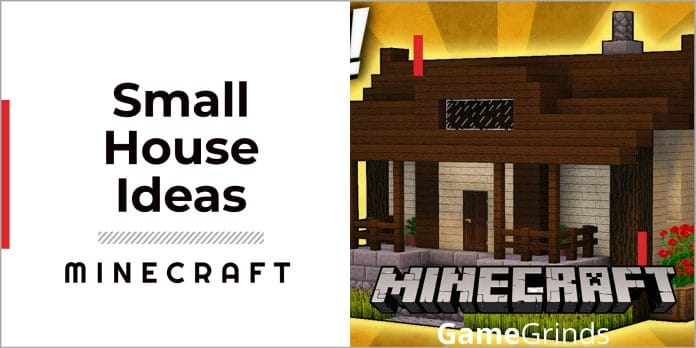 10 Minecraft Small House Ideas – Best Designs for 2023
Building in Minecraft is only limited by your creativity, imagination, and the blocks you have. This much freedom is awesome and one of Minecraft's defining features.
With more players trying to flaunt their architectural skills in the game, it can be overwhelming to come up with your own design. But in some cases, simplicity is beauty, and that's exactly the case with our Minecraft small house ideas.
We rounded up 10 of the best tiny abodes for you to draw inspiration from. From simple starter houses to the craziest house that holds a world record, let's dive right into it!
1. Small and Easy Starter House
Starting off this list is a small house idea from YouTuber Dio Rods. You can build it with the most basic of resources like cobblestone and a bunch of wooden materials.
These blocks and items can be obtained pretty early in the game, making this small house idea a perfect starter house.
Now you can go from that basic sticks-and-stones house and turn it into a simple and complete cottage-core house with awesome interior and exterior designs.
You can consider having this small house, especially in survival mode, where there are lots of biomes with flat areas.
Once you're finished with the construction, place your animal and crop farms at the front and back respectively to maximize your space and resources.
2. Very Small Modern House
If you want to add a modern touch to your small Minecraft house, then this one from Random Steve Guy is one of the best. It's an aesthetic modern house that provides you with everything you need in a typical Minecraft base.
This modern house is made mostly of wood and quartz slabs so you won't be having a hard time gathering the materials even in survival mode. It has nice outdoor stairs for easy access and a more appealing design.
The second floor comes with clear glass panes that highlight the beauty of your interior design and let you see the magnificent surroundings every time you enter your bedroom.
3. Stylish and Compact Small Starter House
Next, we have a simple yet practical design from Youtuber csx42. This Minecraft small house idea comes with a modular design, so you can add your own personal touch to it.
It's a perfect survival mode starter house since it will only require you to have wood, cobblestones, and sand for your glass windows. It can also provide you with a solid foundation in case you want to upgrade to a bigger build.
When it comes to simple and tiny house designs, you can't leave stylish and compact box designs out of the conversation. But if you wanna take it to the next level, you should check out the next one.
4. 3X3 Compact House
If you loved the previous build but are looking for a more compact house, then we have another one from the same source.
csx42 sure loves his Minecraft house small. You'll be dropping your jaw once you see how much stuff can fit in this tiny house!
Would you believe that this 3×3 home has 5 double chests inside? How awesome is that?
This take on a small house really considered everything you need for a survival mode starter home and cram it all into an unconventional but amazing build.
Besides cobblestones and wood, you would only need trap doors for this compact house. This makes it an ideal survival house idea that only takes a few minutes to build once you have gathered all the necessary materials.
This once again proves that you don't need a giant mansion as your Minecraft abode.
5. World Record Small Minecraft Base
This next build is in no way practical for survival mode or recommended for everyone.
But for a nice change of pace, you can check out Mysticat's legendary Minecraft base, which holds the world record for the smallest and most complete base!
This is an insane build that really tests the limits of Minecraft's mechanics as well as the maker's creativity and imagination. It uses redstone contraptions and minecarts to automatically produce and transport all the required materials.
It's far from your typical wooden houses, but it's pretty amazing to see what you can create if you put your heart and mind into it.
6. Small Modern House
Now let's go back to our more achievable survival houses. This small modern house design from Rizzial is perfect for those who prefer a rich and stylish-looking house.
Building this beautiful house sounds like a challenging task, but you can watch a simplified tutorial video above. It only requires common materials like wood and quartz, so you can actually pull this off in survival mode.
Wood adds warmth and natural elements to the design, while quartz provides a clean and polished look. The combination of these materials creates a visually pleasing contrast that exudes an air of luxury and sophistication
7. Modern House with Swimming Pool
We know it's not a must-have in survival mode, but who doesn't want a swimming pool in their house?
This structure comes with an outdoor shaded pool and a nice green leaves design. The house is mostly made out of white concrete but you can also substitute it with more common materials.
It has a very modern and compact design but it won't fail to impress — especially with a captivating modern interior lighting.
The amazing mind behind this small Minecraft house idea is the Youtuber WiederDude.
You can swim, dive, or simply float on the water's surface, providing a calming and refreshing experience. Plus if you set it up right, you can have an endless water source right next to your house.
8. Small and Simple Beach House
If you spawned on a beach biome or perhaps you found a nice seaside spot to live in, this small and simple beach house from YouTuber Sv Gravity is the perfect home for you.
It can be constructed using easy-to-find materials on beach biomes like sand, wood, and other stuff for decoration.
This beach house may look like something you only see in paradise and resorts but you'll be surprised how easy it is to build one in survival mode.
It comes with a simple rustic design, with colors that complement the beach pretty well. The large windows provide a clear and beautiful view of the outside scenery.
If you want to feel some cozy vacation vibes right at your home, this would be the perfect structure for you.
9. Small Underground House
If you are looking for something more unique, this another house design from Random Steve Guy will impress you.
On the outside, it seems like there's nothing there but a bunch of grass and trees, but you'll be surprised to see an entire base down below.
Not only does it look good, but it also does its job pretty well. This is a fully functional starter house that you can totally pull off in survival mode.
If you're not a fan of stacking tons of blocks and typical houses, then you should definitely check this one out.
This underground house is inherently inconspicuous, as it blends with the environment and is not easily noticeable from a distance.
The underground design can be an advantage in multiplayer servers or survival worlds where you want to keep a low profile and avoid drawing unnecessary attention.
10. Aesthetic Tiny House
Last but not the least, we have a house for more artistic builders. This aesthetic house design from PlatinumThief features a vibrant house straight out of a fairy tale.
It's like a soothing cabin in the woods that gives off staycation vibes and makes you wanna stay inside your house all day. It has a wonderful exterior made out of wood with hanging leaves, cute plants, logs, and stones.
You can also put all of your necessary items inside with room for storage, so it's quite useable even in survival mode.
If you love aesthetic vibes, then it doesn't get better than this.
Also Read:
Conclusion
Those are 10 of the best Minecraft small house ideas for 2023. Feel free to choose which house you want to emulate, but it's not a bad thing to infuse a personal touch when building your own creation.
A Minecraft base doesn't have to be big and grand to be effective and pleasing to the eye. Sometimes a tiny, practical, and beautifully designed small house is all it takes for a wonderful abode.
If you want to get your hands on more recommendations and lists related to Minecraft, then make sure you check out our Minecraft section.
GameGrinds is your number-one resource for guides, tutorials, and everything about Minecraft. Also, feel free to comment any questions you have below.