Wondering about the best Minecraft faction servers in 2023? Check them out now!
Minecraft servers offer a distinctive gaming atmosphere that allows players to fully express their creativity.
They also offer more flexibility to create, explore, and strategize in ways that go above and beyond vanilla Minecraft because of the unique environment they provide.
But one way to take the enjoyment further is through the factions plugin.
You can go on incredible adventures, conquer territories, and fight in exciting clashes as you join a faction and work with other gamers.
Faction servers' competitive nature provides an extra dimension of fun as you cooperate to gather treasure, protect your region, and rob other factions of their spoils.
For that reason, we compiled 10 Minecraft faction servers that are worth trying in 2023.
10 Best Minecraft Faction Servers
1. Vanity MC
Server Address: play.vanitymc.co
First on our list of the best faction servers is Vanity MC, which includes superb knockback and enchant customization.
There's a huge chance that you will encounter gamers who play exceptionally well. This server has served as a training ground for pro-Minecraft players such as Royal MC and F1NN5TER.
You can enjoy textures with many variations in addition to different features and participate in an event you won't forget anytime soon.
Game modes like Prison, Survival, Faction, and Skyblock, usually chosen by active players, are exclusive to this server.
It offers essentials, plugins, factions, and a world guard to keep you occupied for countless hours.
Everyone can enjoy playing Minecraft, regardless of the versions they have installed.
2. The Archon
Server Address: pvp.thearchon.net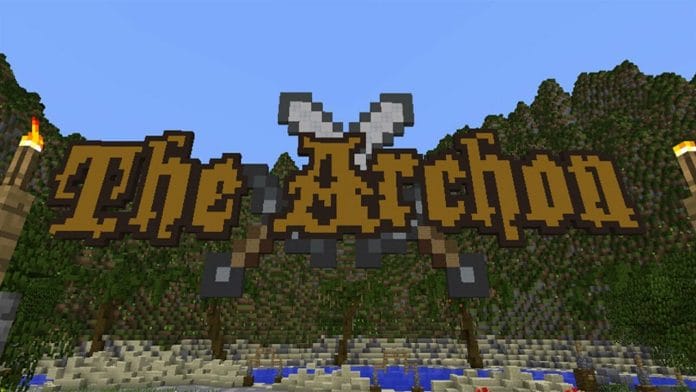 TheCampingRusher, a well-known YouTuber who got his start in Minecraft, controlled The Archon, one of the first and best Minecraft faction servers, before selling it to new owners.
The community is welcoming, helpful, and has a very friendly staff.
Many players are always actively playing; everyone seems very willing to explain how everything works, answer queries about what they're up to in-game, or explain some of their preferred server features.
The faction gaming mode here is unique. It may not sound very pleasant to play because you lose all you've worked for after a few weeks, but you'll get paid in PayPal or Buycraft money.
Players compete to make the most money and protect their base at all costs. For avid Minecraft players who enjoy competitive servers, this faction is an amazing option.
3. Minecadia
Server Address: play.minecadia.com
One of the most popular servers focused on factions is Minecadia. It has a large player population, is open to all, and always has active players.
The main objective of a faction is to earn money, which the players invest in. This server has an unlimited supply of fresh and interesting content.
You can play with friends or meet new people on this friendly faction server.
Their staff is renowned for their quick response to important matters. Players can spend hours playing on this server and explore a lot of unique and exclusive custom plugins without any worries.
All you must be concerned about after automating anything is being raided.
Coinflips and an in-game casino are also two of the gaming options available on this Minecraft server.
4. Stoneworks
Server Address: play.stoneworks.gg
Formerly known as Rathnir, Stoneworks MC has grown beyond its initial restrictions to embrace more countries and the individuals that actively create them.
A ranking system is available on the server, which creates a competitive atmosphere among the players.
It also contains subservers; Rathnir, Eldham, and Kylorne. There are also mini servers and a creative server.
Be mindful though, some mini servers have already been removed and are only used as test grounds for weapons.
This multiplayer server does, however, contain microtransactions carried out via a website operated by a third party, despite the vibrant community and wonderful experience.
Before you enter the server, there appears to be a line. The only way around it is to purchase a $25 one-time pass.
5. Pika Network
Server Address: play.pika-network.net
This server is most well-known for two things: factions and Pokemon. Often, this server is crowded by players due to the exclusivity of the Sky Block mode.
Additionally, the server permits clients with security flaws to participate.
Few of the best Minecraft faction servers allow cracked clients to connect, but once they do, it's typically on a high-population server.
It's not ideal for factions that anyone can imitate anyone else by simply typing their name, but this is due to safety concerns.
You will never have to worry about your progress getting lost or restarting repeatedly because this server requires an online account, which stores data that allows you to save your progress wherever you want.
Other Lists:
6. MoxMC
Server Address: moxmc.net
MoxMC is a Minecraft server with a live ranking system. You can profit from the server's economy by playing games and selling goods.
The Minimalist Faction, which controls the majority of the land on the server, offers special advantages.
Game modes like Skyblock, Prison, etc., are available on this server.
This server offers a lot of excitement, which makes it entertaining to use. Players have no trouble playing MoxMC with all of their friends and working to be the best in any aspect they desire.
There are many activities outside of playing factions, a good community, and a simple ranking system.
It's a terrific communal experience because of the large player base and active community.
7. Purple Prison
Server Address: purpleprison.org
Voted as the best server in Minecraft in 2021, Purple Prison is undeniably a top-notch server on this list.
This prison server constantly offers new events, lots of rewards, reduced lag, and much more.
Prison mode is the most iconic game mode in Purple Prison, but it also offers mini-games and PVP mode.
The server has an in-game currency, but it's pay-to-win since you can buy millions worth of it for pretty cheap using real money.
This teaches us that inflation is a moving target that can strike economies at any time, even if it is in Minecraft.
Anyway, let's not overdo the inflation, shall we? The server runs and operates on 1.16.4 and earlier versions. This makes it more accessible to a wider audience.
8. NeoNetwork
Server Address: neocubest.com
NeoNetwork, newly founded and swiftly rising to the top of best Minecraft faction servers, is owned by TheNeoCubest. They now run a unique Skyblock server and are preparing to introduce Survival SMP.
There are always people online to play Minecraft, thanks to this fantastic server's friendly community and high uptime.
With hacks and commands added to the standard gameplay on this server, users are kept interested in the game and the vanilla experience.
The staff members of this server limit the number of people on it to maintain balance and, in contrast to other servers that tend to keep thousands of players.
With the original Minecraft Prison, the server also offers a variety of play options. On the server, you can experience both PVE and PVP.
Additionally, you'll have access to the store, which grants you extra benefits and several opportunities to advance in rank.
In the store, different modes provide different goods. Although a bit expensive, many of these items are highly useful.
9. Lemon Cloud
Server Address: play.lemoncloud.org
When it comes to dynamic faction servers that are largely focused on factions, Lemon Cloud is one of the best. This server spends most of its time creating kits, organizing unique and competitive in-game events, etc.
Additionally, Lemon Cloud also contains many features that help keep each user interested, such as auctioning, bots, leaderboards, and secret chests.
What's more, Lemon Cloud continues to be regularly updated!
Microtransactions are also present on the server. However, power is typically used instead of cash or in-game currency.
The capacity to fly and the retention of experience after death are both available for 100 GBP.
10. Viper MC
Server Address: vipermc.net
Viper MC is a hardcore survival server that successfully brings together at least 10,000 players at once whenever a new map is released.
A "death ban," which bans you from temporarily entering the server, is given to you after you die.
Dying frequently means that you'll be easily raidable to other gamers. You don't want that, especially on a server with a hostile and competitive environment.
Another thing worth mentioning is that Viper MC has over 70,000 members, and the staff is quite technical in their help.
This server provides faction, PVP, raiding, and kit PVP in addition to survival mode, making it much more exciting.
Conclusion
Those are the best Minecraft factions servers for 2023.
You can choose from various tasks and difficulties, including space travel and combat with alien hordes, submerging yourself in a medieval fantasy realm, or going on a more sobering expedition.
Your only task is to choose and enjoy, as this server list provides various epic experiences.
If you're looking for more Minecraft lists, tutorials, guides, tips, and tricks like this one, you can always check out our Minecraft section.
Also, don't forget to ask any questions you have in the comments section below.