Do you feel like your Minecraft base is missing something? If yes, then take a look at the best Minecraft Furniture mods from our list!
Minecraft furniture mods are the easiest hack to place a collection of furniture pieces in your world.
While a wide variety of articles provide mods on the internet, not all of them are helpful enough for Minecraft players.
To avoid wasting time searching in the wrong places, we took the chance to line up the top-tier Minecraft furniture mods.
Get ready for amazing features, new items, textures, decorations, and blocks!
10 Best Minecraft Furniture Mods to Spruce up your Minecraft World
If you're looking to spruce up your Minecraft world with some new furniture, these mods are a great place to start!
These mods are easy to install, and you'll be able to unleash your creativity in no time. Let's dive in and explore these fantastic furniture mods!
10. ModernArch Mod
Let's start this list with an excellent choice if you want to update your vanilla Minecraft with modern textures and mod add-ons.
ModernArch provides decorative items and other furniture pieces that fit in any building.
It provides a variety of furniture, and it also comes in high resolution, giving you an incredible Minecraft experience.
9. Dany Furniture
If you are looking for a furniture mod that will give your Minecraft world a real-life touch, Dany Furniture is a must-have.
This mod is made to provide excellent quality add-ons and actual pieces of furniture.
It is ideal for those who are into modern updates and wish to build a bunch of furniture, including desks, computers, and bookshelves.
8. Macaw's Furniture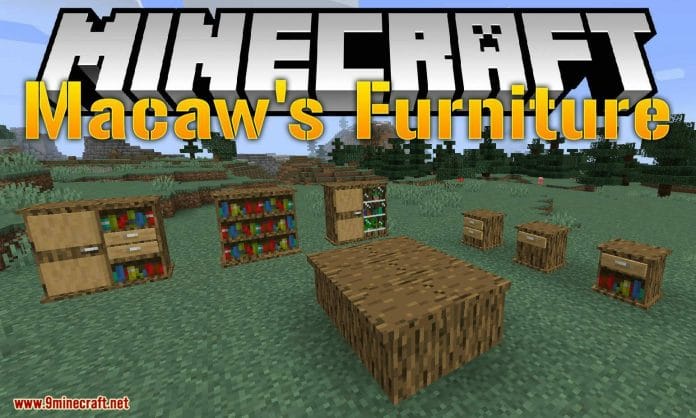 This mod is one of the most popular and played throughout the whole Minecraft community.
It is a classic mod that you can use in any type of build.
Aside from the classic chairs, ovens, and other traditional decors, it also comes with plenty of brand-new selection of furniture pieces.
This mod doesn't run out of stuff, may it be for your kitchen, storage closets, and desks, proving its worthiness as an entry to this list.
7. Iron Age Furniture
The primary goal of this mod is to add typical iron age-style furniture pieces to your builds that are compatible with several mods that provide new wood types.
The mod is designed to be simple and uncluttered. Thus, you can find no trace of modern furniture in this mod — only the essentials for your Iron Age-themed builds.
6. Outdoor Craft for Minecraft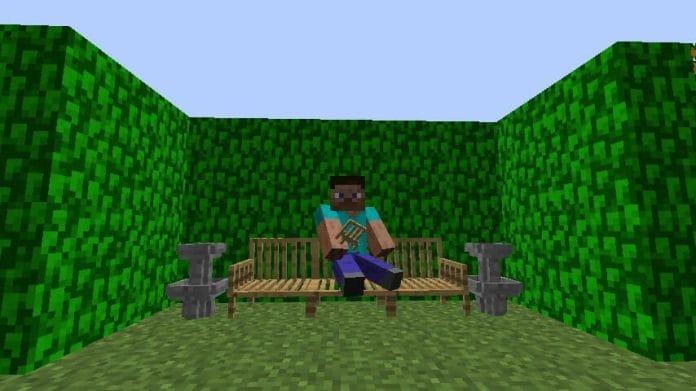 The mod that obviously provides items for your outdoor spaces will surely bring out the creativity in you.
This mod is a provider of items for your garden, walkway build, underground paths, and parks.
Outdoor Craft includes updated trees and outdoor items that bring out the vibrant look of your garden and parks.
Don't forget to try this one out because the real-life garden chairs in this mod are pretty awesome.
5. The Hospital Mod – Facilities Pack
With the current resource pack in Minecraft, creating a thriving hospital is nearly difficult to achieve.
Thanks to The Hospital Mod, we can turn our made-up hospital similar to an actual medical facility with its provided hospital-themed items.
Aside from the facility pack, there is also a similar mod called the Pharmacy Pack if you want to attach a pharmacy in your hospital.
Now you will have a source of items like signage, waiting room chairs, and doctor's accessories.
4. Tamriel Treasure Mode
This Minecraft furniture mod is essential for recreational Minecraft players, as well as Elder Scrolls fans. It offers more than 200 placeable models and resources for all types of builds.
The mod doesn't require you to be a veteran player, even beginners can enjoy all the advantages of this mod.
Through this, your world will be highly appealing with all the new items, textures, and decorations it offers.
3. Scarab's Missing Furniture Mod
This promising mod provides tons of furniture to make your builds a lot easier than before.
With all the variety of furniture provided, you will have no shortage in enjoying modern and luxury items.
All ideal items from classic to the newest editions such as your coffee grinders, coffee tables, and chairs are here so you must try it!
2. Medieval Architecture
You can now achieve your medieval fantasy in all parts of your world as this mod gives you all the medieval-era essentials.
If you are into the Middle-ages, this is one of the best Minecraft furniture mods you can get your hands on!
1. Mrcrayfish Furniture
At the top of the list is no other than the most promising furniture mod.
Mrcrayfish Furniture offers an awesome amount of real-life furniture add-ons with high-resolution graphics and textures.
With this mod, you have all the essentials needed to build any type of structure.
It also offers new objects, textures, and tools throughout the pack, so you don't have to search for more.
Also Read:
Conclusion
Those are the best Minecraft furniture mods for you to try out.
Whether you're into sophisticated modern furniture or want to get creative with themed ones, this list definitely has something for you.
If you want more Minecraft finds and lists like this one and want to level up your gaming experience, make sure you check out our Minecraft section.
Keep in touch in the comment section or send us your reactions and we'll be sure to respond.