Are you running out of inspiration when building your Minecraft base? If that's the case, you better check out the best Minecraft house ideas this 2023!
Many Minecraft houses today are usually made of plain materials like dirt, wood, and cobblestone. But don't get us wrong — those materials are definitely useful and valuable in their own ways.
However, with the creativity and freedom that Minecraft offers, why limit yourself to uninspired builds?
After all, building your base or house is one of Minecraft's best features. With all the blocks, materials, and resources at your disposal, there's no limit to what you can create.
That's why we compiled 20 of the best Minecraft house ideas to help you in your next home construction.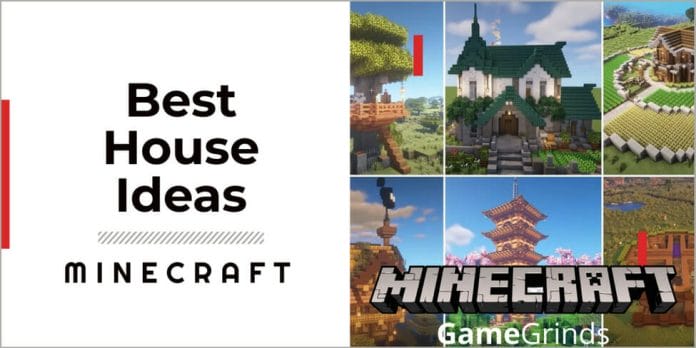 Best Minecraft House Ideas – 20 Coolest Builds of 2023
1. Big Modern Mansion
Starting this list is this enormous modern house. At first glance, you won't believe that this was made with blocks in Minecraft.
Notice its size and intricate design. This build is from RainbowGamerPE and is perfect for those who want to live luxuriously in their Minecraft world.
2. Treehouse House
If you want added protection and a 360-degree view of your outside surroundings, this house from Mia Bloom's YouTube channel is for you.
This house keeps you away from creepers that wants to blow you up. While you need to spend hours building this wooden house, your efforts won't be in vain once you're done with this architectural masterpiece.
3. Mountain House
What makes this house special and unique is that it is built on the side of a mountain.
DiddiHD's mountain house is an elevated construction made in a way that it hangs from the cliff of an alp.
Looking like a beehive, it is made of wood with lots of windows attached to it. This design is a very promising concept and a must try to build in survival mode!
4. Woodland Mansion
The step-by-step crafting of this combined medieval and rustic architecture can be found in Danny's YouTube channel.
This woodland mansion is made of stones and logs making a strong foundation that can get you through threats in survival mode.
If you're into natural and earthy designs, this is one of the best Minecraft house ideas for you.
5. Small Modern House
For those who are more of an attention-to-detail type of gamer, this small but elegant-looking starter house is worth a try.
This design by RainbowGamerPE proved that even a smaller home can rival the functionality of houses with plenty of space.
Consider building this one if you want a practical yet beautiful stylish design.
6. Japanese House
Without the need to travel over long distances, you can now experience owning a Japanese homestead – thanks to the traditional Japanese house design by BlueNerd!
By simply collecting oak, stones, and pristine slabs, you can achieve this signature eastern house design.
Imagine living like an anime character in survival mode. How cool is that?
7. Aquarium House
There is no lie that this design is one of the most peculiar and captivating.
SheepGG showcased how exciting it is to build an aquatic house. The house requires quite a lot of quartz with the entrance exhibiting a wall of aquarium filled with fishes, and plants.
You won't be seeing one like this in any survival mode, so it's quite a feat if you pull it off.
8. Apartment House
To live like a millionaire is a dream of the many, and you can get a piece of it by building this best Minecraft house idea by HALNY.
This fancy multi-story apartment house is a two-story apartment but you can go wild and build multiple floors to your liking.
The apartment can be constructed anywhere so it can be built even in survival mode, the freedom is absolutely yours.
9. Underground Survival House
When simplicity is beauty but survival is your top priority, this amazing survival house is yours to own!
disruptive builds gives you the ultimate survival hideout featuring the automatic sugar cane farm, a well-built aquarium, a super smelter, animal pens, and a ton of things stuffed in an underground house.
It's a unique and loaded starter underground house that can get you through survival mode.
10. Oak Survival Farm House
If you think underground bases are overrated, then try this iconic fortress elevated by the stylish effect of wood planks.
Despite having a complicated design, the house does not require a lot of resources.
To guide you in building this ultimate Oak house, SheepGG got you covered.
Also Read:
11. Gracium Modern House
One of the largest mansions in Minecraft is the Gracium Modern House and a tutorial can be found on JINTUBE's channel.
This massive house is designed with its high verticality and gorgeous infinity pool.
Not just the size of it that makes this house luxurious but mostly the high-functioning feature and design made to utmost perfection.
12. Medieval Mansion
Perfecting a medieval mansion by BigTonyMC made stone bricks the main material in constructing this massive house in medieval fashion.
The mansion's base structure is made of oak logs and stone breaks to make it perfectly stable.
Players can add towers, workstations, hanging lanterns, and flowers that complement the stone walls of the mansion.
13. Water Modern House
Wanna build a modern house surrounded by water? Here's the perfect house for you!
This design of Random Steve Guy is a combination of simple architecture where you can see the clear and beautiful body of water from the inside.
Obviously, the house base is made underwater with precision, while half of the house is exposed, giving it an atmosphere different from the common land designs.
14. Pirate Base House
While we are on water-based houses, why not take it to the extreme by trying this Pirate Base House by DiddiHD?
This pirate ship was made using spruce, oak wood, and planks. Add a black banner on top of the mast to complete your pirate look.
15. House with Swimming Pool
A house with a swimming pool is a sign of the owner's lavish lifestyle.
HALNY's tutorial is designed to make your dream house construction a little bit closer to reality.
The design may be ambitious, and one of the most beautiful houses yet the required are easy to find.
16. 5×5 Modern House
If you wanted a small but effective household, JUNS MAB Architecture Tutorial created a minimalistic design with only 5 blocks in height and width, and all the essentials needed in a starter survival house.
Due to its size, all the floors and areas of this starter house are essentially functional and no space is wasted upon use.
17. Spruce House
This house is mostly fitted to ones who aim to build a more modern design by Folli.
One feature that best describes this house is that it is not difficult to repair when damaged as it was made with ease-to-replace basic materials, which is perfect for survival mode.
Its large windows are a great addition if you want natural light to illuminate the interior sections of your house.
18. Beach House
Aside from its popular take in the real world, a beach house is also one of the favorite modern house ideas in Minecraft.
Stevler's Minecraft beach house design is overall a simple build with captivating features.
Not only that this house is surrounded by the waters but it also contains a swimming pool inspired by a classic beach house with modern aesthetics.
19. Cherry Blossom House
This eye-pleasing design from SheepGG showcases a lovely house surrounded by cherry blossoms that emanates enough Japanese vibes to the area.
A soft combination of wood slabs and cherry blossoms made this design highly exceptional, especially for those who want to create the cutest houses around.
20. Modern City House
In terms of being sophistication, this modern house idea easily tops our list.
Its modern house design offers an aesthetically pleasing view from the large open windows and a floating top floor.
Moreover, this another creation by JINTUBE is the perfect house for those who love extremely upscale builds.
Conclusion
Those are the best Minecraft house ideas for this year. We hope the houses we featured will keep your creative juices up and running as you create your dream abode.
With enough effort and creativity, you can bring these designs to life and perhaps even come up with your very own personal touches so you can truly call them your own.
Who knows? You might even be able to make these incredible house designs better in survival mode.
If you're looking for more Minecraft lists, tutorials, guides, tips, and tricks like this one, you can always check out our Minecraft section.
Or if you have a specific question, you can ask us in the comment section below.