Live a peaceful farm life with friends and family. Is Stardew Valley cross-platform in 2023?
In a world dominated by dazzling graphics and hyper-realistic gameplay, there exists a humble oasis known as Stardew Valley.
This enchanting pixelated realm stands apart from the glitz and glamour of modern high-graphic games, offering a refreshing experience that captivates players with its simplicity and heartfelt charm.
Enjoying this change of pace with friends can be very relaxing. That's why many players have been asking, is Stardew Valley cross-platform? To learn more about this revolutionary gaming feature, check out our article "What Is Cross-platform In Gaming?".
With that being said, let's delve deeper into Stardew Valley and see whether it's cross-platform or not.
A Quick Intro to Stardew Valley
Stardew Valley is a country-themed farming RPG that takes you to a haven of opportunity and untamed nature awaiting your touch.
Inheriting your grandfather's old farm plot, you embark on a remarkable journey armed with nothing but hand-me-down tools and a few coins.
Can you transform these overgrown fields into a thriving home, mastering the art of living off the land?
Your journey from a struggling greenhorn to a master farmer will take you through five distinct areas of expertise.
As you toil away in the fields, delve deep into the mines, hone your combat skills, cast your line in the shimmering waters, and explore the bountiful wilderness for valuable resources, you'll gradually level up and unlock new abilities.
Discover hidden cooking and crafting recipes, venture into previously inaccessible areas, and tailor your path by choosing from various professions that suit your unique playstyle.
Playing Stardew Valley with Friends
But you don't have to embark on this adventure alone. Stardew Valley welcomes you to invite up to three friends to join you in a multiplayer game, transforming the humble farm into a bustling cooperative endeavor.
Work together to build a thriving agricultural empire, sharing resources, knowledge, and the fruits of your labor. With more hands tending to the fields, the challenges become more remarkable, and the rewards even sweeter.
Stardew Valley is available to play on the following gaming platforms:
PlayStation 4
Microsoft Windows
Xbox One
Mac OS
Google Stadia
Android/ iOS
Nintendo Switch
Xbox Cloud Gaming
PS Vita
Stardew Valley would be awesome with cross-platform play being available on so many platforms. But is Stardew Valley cross-platform? Let's find out.
Is Stardew Valley Cross-Platform in 2023?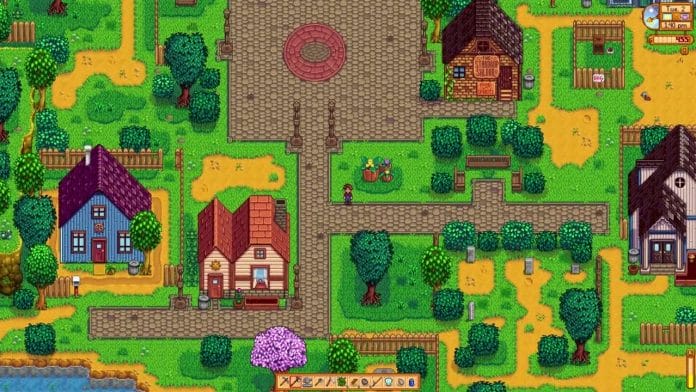 Sadly, no. Stardew Valley does not offer cross-platform play, preventing players who own different gaming systems from joining forces and embarking on farming adventures together.
So if you are on a PC, you can't play with friends who are on the console.
Each platform has distinct specifications, mechanics, and functionalities, making seamless integration a big challenge.
Also Read:
Is Stardew Valley Cross-Platform Between Nintendo Switch and PC?
No. Stardew Valley is not currently cross-platform play compatible with the Nintendo Switch and PC.
This means that players from these platforms won't be able to cultivate their farmlands together even if they play the game on Nintendo Switch online.
Is Stardew Valley Cross-Platform Between PC and PS4?
Still no. Stardew Valley does not offer cross-platform support for the PC and PS4 console players. The difference between the two system's mechanics and features makes it hard for the developers to add cross-platform capabilities.
Is Stardew Valley Cross-Platform Between PC and Mobile?
No. PC and Mobile players will not be able to play together in Stardew Valley since it doesn't have cross-platform support for the two gaming platforms.
Will Stardew Valley be Cross-platform in the Future?
Ever since its release in 2016, ConcernedApe hasn't released any updates regarding the addition of cross-platform play to the game.
So, before making any hardware or software purchases, consider what platforms you and you're friends will be playing on.
Is Stardew Valley Cross-progression?
No. With the lack of cross-platform functionality and features, cross-progression is not available. Saves cannot even be transferred manually from PC to mobile.
Conclusion
The bad news is Stardew Valley is not a crossplay game. Stardew Valley's multiplayer mode is limited to players who own the same platform. But you can still enjoy the game's wonderful single-player and co-op mode.
What about your favorite game? Is it cross-platform yet? Do you want a specific game to be featured?
You can comment below, and we'll look at your requests. Or you can visit our cross-platform section.