Take on the ultimate sandbox experience with your friends! Is Terraria cross-platform? Let's find out.
What makes games so remarkable is the fact that they let you explore a whole new world and let your imagination run wild. Terraria takes this delight to a whole new level and gives you an entire universe filled with adventures from your wildest dreams.
With all the things you can do in Terraria, it's already a given that multiplayer would be a blast to try. That's why many players have been asking if they can enjoy the game with friends using a different gaming platform. So, is Terraria cross-platform? This article will tell you the answer.
Cross-play has significantly improved and revolutionized modern gaming. It eliminated the need to play on the same platform just to enjoy a game together. You can learn more about cross-platform play and other features in our article: "What Is Cross-platform In Gaming?"
A Quick Intro to Terraria
Terraria is an action-packed adventure open-world sandbox game with crafting and building elements. It offers exploration, battle, and building in a vibrant 2D environment. You control a character as he explores a seemingly endless world looking for resources for survival.
As you struggle for life, fortune, and glory, the entire fantasy universe is at your disposal. Will you explore the depths of vast caverns in pursuit of gold and the essential components needed to create ever-evolving tools, machines, and aesthetics?
Maybe you'll decide to seek out ever-more formidable adversaries so you can prove your mettle in battle. Or maybe you'll want to build your own city to shelter the numerous mysterious allies you might meet while traveling.
Terraria is a creative gaming experience where both the journey and the destination are entirely in the player's control, fusing elements of classic action games with the freedom of sandbox-style creativity. True to form, the Terraria experience is as distinctive as the players themselves.
Terraria is developed by a team composed of Re-Logic, Pipeworks Studio, 505 Mobile S.r.l, Engine Software, DR Studios, and Codeglue. It was initially released on May 16, 2011, and is currently playable on the following platforms:
PC
macOS
Xbox One
Xbox Series X
PS5
PS4
iOS
Nintendo Switch
Android
Is Terraria Cross-platform in 2023?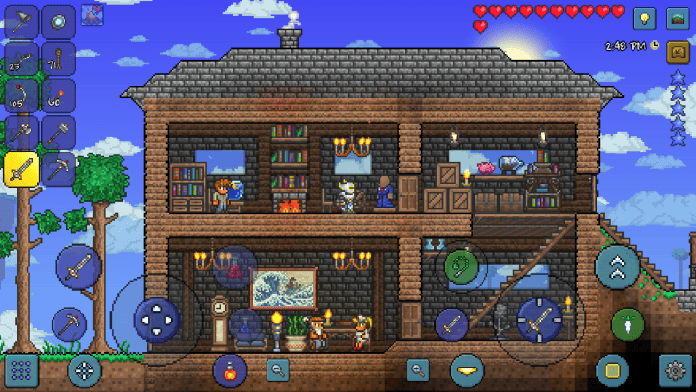 Yes, but it is limited. Terraria is aging quite well, but its progress on cross-platform play is slow. Terraria does have cross-play available but only for the PC and mobile devices. This means that PC, macOS, Linux, iOS, and Android users can play the game together. However, it's sad for console players because they were left out.
Is Terraria Cross-platform Between PC and Xbox One?
No. The PC and Xbox versions of Terrarria are not cross-platform compatible. So you won't be able to play with friends if you two are using one of each of these consoles.
Is Terraria Cross-platform Between IOS and Android?
Yes. Terraria is cross-platform between IOS and Android. Smartphone players can enjoy the game together no matter what OS they are using.
Is Terraria Cross-platform Between PS4 And Xbox One?
No, Terraria cannot be played between PlayStation consoles and Xbox consoles because it is not cross-platform compatible with these devices.
Is Terraria Cross-platform Between PC and Android?
Yes. Terraria can only be cross-played between the PC and smartphones. So the PC version is cross-platform with Android, and the same can be said for iOS.
Conclusion
The developers of the game have not announced any news regarding the addition of cross-platform play for other gaming platforms. Terraria is already aging, and the developers might not want or even have the resources to make complete cross-play possible.
What about your favorite game? Is it cross-platform yet? Check out our cross-platform section to find out. Or comment down below which game you want us to feature next.