Grow your farm into a crop empire with friends. Is Farming Simulator 19 cross-platform?
If farming and gardening is your hobby, then you will passionately love Farming Simulator 19. With a complete overhaul of the graphics engine, the best-selling franchise makes a significant advancement while providing the most striking and immersive visuals and effects, along with the most in-depth and realistic farming experience ever.
Combine this with cross-platform features, and you have a game that you can wonderfully enjoy with anyone in the family or your friends.
If you want to learn more about cross-platform play, you can read our article  "What Is Cross-platform In Gaming?". With that said, let's take a closer look at Farming Simulator 19.
A Quick Intro to Farming Simulator 19
Farming Simulator 19 offers brand-new American and European settings for you to develop and expand your farm in, as well as a variety of entertaining new farming activities like brand-new machinery and cotton and oat crops.
Take care of your pigs, cows, sheep, and chickens, or learn to ride your horses to get a fresh perspective on the vast area surrounding your farm. Get on your horses and explore the vast areas offered by enormous open worlds filled with farming activities.
But the most distinct feature that comes with Farming Simulator 19 is the plethora of farming vehicles. With the largest vehicle roster in the franchise's history, Farming Simulator 19 makes the biggest advancement yet!
You'll be in charge of replica vehicles and equipment from all the top manufacturers in the sector, including Case IH, New Holland, Challenger, Fendt, Massey Ferguson, Valtra, Krone, Deutz-Fahr, and many others, including for the first time John Deere, the largest manufacturer of agricultural machinery in the world.
The game was developed by GIANTS Software and was initially released on November 19, 2018. It is currently playable on the following platforms:
PlayStation 4
macOS
Microsoft Windows
Xbox Series X and Series S
Google Stadia
Macintosh operating systems
You can develop your farm online with up to 16 other friends. But is Farming Simulator 19 cross-platform in 2023? Let's find out!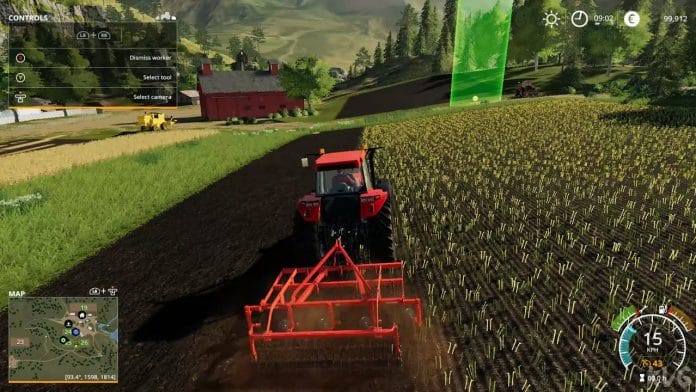 Is Farming Simulator 19 Cross-platform In 2023?
No. Farming Simulator is not cross-platform compatible, unfortunately. Though it is available on many platforms and offers co-op gameplay for a large number of players, they are still limited to playing with those on the same platform as them.
Is Farming Simulator 19 Cross-platform Between PC and PS4?
No. Farming Simulator 19 is not cross-platform between the PC and PS4. Due to different hardware, you and your friends won't be able to play the game together. But you can still enjoy it together if both of you have a PC.
Is Farming Simulator 19 Cross-platform Between PS4 and Xbox?
Sadly, no. You can't play Farming Simulator 19 across different consoles. PS4 and Xbox players would not be able to develop their farms together online.
So you will have to consider this when buying a console or game from now on.
Is Farming Simulator 19 Cross-platform Between PC and Xbox?
Still a no. Microsoft's gaming platforms don't support cross-play. The PC players are stuck with others on the PC, and the same goes for Xbox players, who can only play with players on the same console.
Also see:
Conclusion
It's kind of disappointing that all 16 players have to be on the same platform to play together. Developing your farm would be so much quicker and more efficient if players from other platforms could join.
No news about adding cross-platform features to the game has been released just yet.
What about your favorite game? Is it cross-platform yet? Do you want a specific game to be featured? You can comment down below, and we'll take a look at your requests. Or you can visit our cross-platform section.