Escape the onslaught and get to live another day. Is Friday The 13th crossplay?
Let's find out.
Friday The 13th was a classic horror series that sent shivers down our spine, especially during the 80s and 90s. But now, it's the gamers' turn to experience the adrenaline rush through its video game adaptation.
In the darkness covering Camp Crystal Lake, a killer lurks in the shadows, waiting to rip off your body in the most artistic and brutal way.
If you're an avid horror fan, what more can you ask for?
Aside from being the prey, you also have the chance to play as the ruthless killer.
This amazing game has been up and running for quite some time now, leading many to become curious if Friday The 13th is a crossplay-compatible game.
If you haven't heard about the crossplay feature yet, you better read our article about what cross-platform means in gaming.
Having said that, let's explore the terror of Friday The 13th.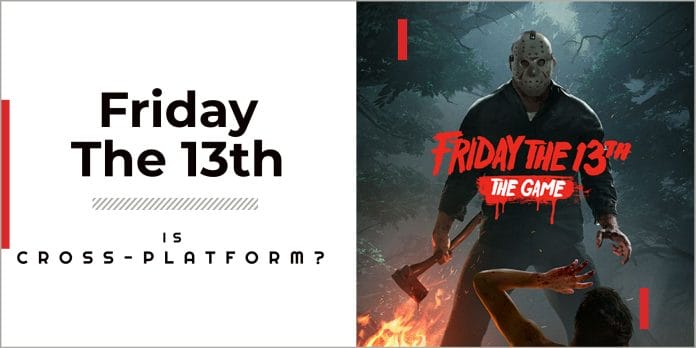 A Quick Introduction to Friday The 13th
Friday The 13th is a survival horror video game set in the Camp Crystal Lake where you can play from the third-person perspective.
Players will be selected randomly to take part as victims, otherwise known as counselors, or the serial killer Jason Vorhees, the game's iconic character.
After choosing their characters, the victims must take all necessary precautions to ensure their survival, including devising escape plans using the available resources.
Victims may also attempt to momentarily subdue the murderer to avoid being subjected to his most gruesome methods of execution.
After every game, you also have the option to play as the notorious killer whose goal is to find and kill all the victims in sight.
As the killer, hunting and tracking skills are a must if you want to put your victims to their demise as fast as possible.
There are nine playable versions of Jason Voorhees in the game, all based on his overall appearance in the franchise, and there are 14 characters to play as victims.
Still, only one of them, Tommy Jarvis, is armed and strong enough to kill Jason.
Will you be able to escape and survive in this terrifying game?
Playing Friday The 13th With Friends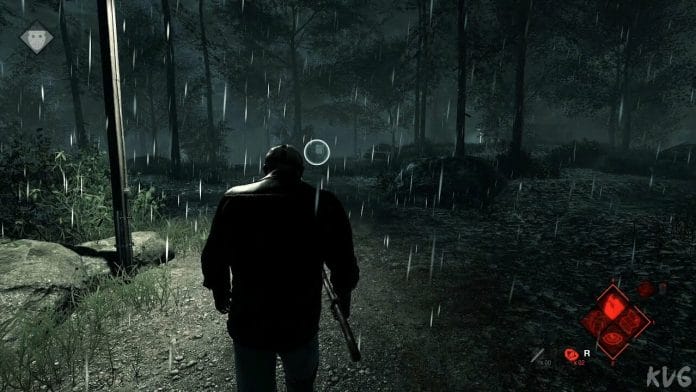 Playing co-op mode with friends while one of you is a killer is a thrilling yet enjoyable experience.
You can also increase your chance of surviving by working with your buddies on an escape plan.
Friday The 13th is available on these gaming platforms:
PC
PlayStation 4
Nintendo Switch
Xbox One
Online multiplayer mode with friends is one of the reasons why many people play this game. But is Friday The 13th cross-platform?
Is Friday The 13th Crossplay?
No. Sadly, cross-platform play is not available on Friday the 13th. Making it impossible for gamers with different gaming platforms to team up and survive the harrowing experience.
Consequently, if you use a PC, you cannot start multiplayer games with friends who use consoles.
The unique specs, mechanics, and features of each major gaming platform make it difficult to harmonize them properly.
Also Read:
Is Friday The 13th Crossplay Between PC and PlayStation?
No, cross-platform is not possible. Due to the server technicalities between the two gaming platforms, it is not possible to enjoy Friday The 13th with a PlayStation and a PC.
Is Friday The 13th Crossplay Between PC and Xbox?
No. For Friday the 13th, crossplay is not possible on the same platform.
Players on the PC will be unable to initiate multiplayer games with Xbox players while playing this game.
Is Friday The 13th Crossplay Between PS4/PS5 and Xbox One?
No, Cross-platform play between PS4 or PS5, and Xbox One is not achievable since the game is only limited to playing with other players on the same gaming console.
Despite being compatible with new-gen consoles, Xbox One and PlayStation 4/5 gamers are unable to play together in this game.
Is Friday The 13th Crossplay Between Nintendo Switch and PS4/PS5?
No. Friday the 13th is not crossplay compatible between the PlayStation and Nintendo Switch.
Players can only play with other players on the same platform.
Is Friday The 13th Crossplay Between Nintendo Switch and Xbox One?
No, Friday the 13th does not support cross-platform play between Nintendo Switch and Xbox One.
Players are only allowed to play with other people who use the same platform.
Will Friday The 13th Be Cross-Platform in the Future?
Due to a legal dispute between the game developers and the original creator of the series, this game won't be accessible for purchase any longer by December 2023, and the servers will be totally taken down in December 2024.
As a result, it's difficult to see how the developers will go about making this game cross-platform.
Right now, this game isn't cross-platform, so if you want to play with a friend, you need to use the same system.
Is Friday the 13th Cross-Progression?
There is no cross-progression on Friday the 13th, which is unfortunate.
To put it another way, if you want to log in to a new platform, your game progress on one platform isn't transferable to another.
Final Thoughts
Friday the 13th is undeniably an awesome horror game, and the thrills you can experience with friends in this game are priceless.
But it's sad to know that such a fun and iconic game doesn't support a crossplay feature. Even its dedicated servers have long been decommissioned since November 2020.
What's even more disheartening is that it's nearing its end. So enjoy it fully while you still can.
What about your favorite game? Is it cross-platform yet?
Check out our cross-platform section to find out. Or comment down which title you want us to feature next.