Tired of regular house ideas and looking for something new? Check out these cool Minecraft houses!
Minecraft started with 30 simple blocks in the original version. But now, there are over 800 blocks available in the game! Imagine what you can achieve with this many materials at your disposal.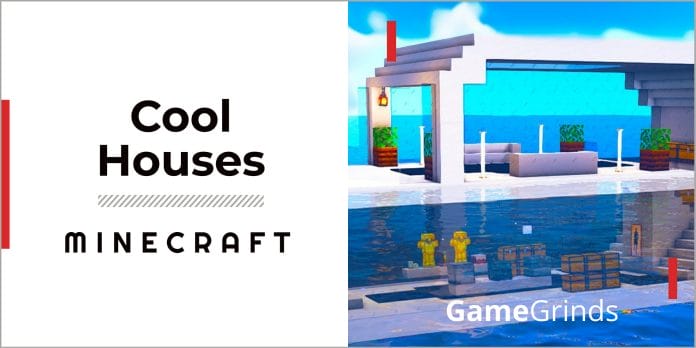 There is literally no limit to what builds you can achieve and what themes you can apply. So why stick with boring designs if you only have your imagination as your limit?
But we're not always architects when it comes to designing houses.
That's why we have compiled 10 cool Minecraft houses to give you some inspiration for your next build.
10 Cool Minecraft Houses
Consider building these amazing suburban houses the next time you play Minecraft Survival Mode:
1. Water Modern House
If making a house above water doesn't sound cool, we don't know what will.
This design from Random Steve Guy is a unique yet simple build that combines the aesthetics of a modern house with the beautiful view of the water.
Imagine coming home to this serene place. Everything about it is cool! From the temperature to its design and aesthetics.
2. Japanese House
If you're into Eastern architecture, this Japanese house idea from Nanaroid is quite an amazing one.
You only get to see these houses in Japanese documentaries, movies, or anime, and now you can make your one for a Minecraft house.
3. Ultimate Underground House
Any secret base is cool and awesome no matter what game you're playing, and this survival house idea from disruptive builds is not just any base; it's the ultimate Underground base.
It comes with everything you need for your Minecraft survival playthrough, and the best thing is it's hidden underground, making it harder for other players to spot you.
4. Minecraft Treehouse
Imaging being embraced by the safety of a huge tree and having a view of the entire forest for yourself.
his cool house idea from DiddiHD is her own take on a tree house.
While this project may sound intimidating, this guide will teach you through every stick and branch.
5. $500 Million Mega Mansion
We don't know about you, but being rich and having plenty of space is definitely cool. And what better way to flex your goods than a giant mega-mansion.
This is one of the most expensive builds in Minecraft, with over 30 unique rooms making modern mansions look like starter houses.
It is located on a private island, complete with its own helicopter, boat, massive storage space, and submarine! Inside the villa, you have your own nightclub, bowling alley, and even a boxing arena.
A house design well-suited for billionaires, and you can have it in Minecraft for free. How cool is that?
6. Ultimate Wooden House
Not all of us are looking for something as flashy as the previous house idea.
This survival house from Blockical uses much simpler materials and design but has everything you need for your adventure.
Under your house, you have two farms for both crops and cattle, so you'll never run out of food. Inside, there are tons of room for your chests and storage.
You even have a Nether Portal right inside your home.
7. Underwater House
You wanna know what's even cooler than a floating house? A submerged one!
This beautiful house takes you on a dive under the sea.
You're also far away in the ocean and completely safe from those pesky creepers.
8. Minecraft Beach House
Your Minecraft house is your retreat from this ever-perilous world. So why not make it a getaway?
This beach house is a summer delight and will make you want to always come home.
Chill in your own swimming pool while appreciating the nice beach view, and forget about all those zombies and skeletons.
9. Perfect Starter House
Being cool doesn't always have to be complicated and time-consuming. After all, the point of Minecraft is to survive, and progressing through the game is cool in its own way.
This starter house idea from Gorillo is one of the best Survival houses you can build to kickstart your Minecraft adventure.
10. Dark Forest Mansion
I're someone who's not made for regular houses and mansions, then this dark medieval castle from EWEN Minecraft might be for you.
It features Blackstone and Dark Oak to create that dark theme, making you look like an evil final boss in his lair.
Nothing's cooler than a good guy with villain vibes.
Related Articles:
Conclusion
Those are 10 cool Minecraft houses that you can try for your next build. With some effort and patience, you can pull them off in Survival Mode.
But make sure you practice in Creative Mode first.
If you want to get your hands on more recommendations and lists related to Minecraft, then make sure you check out our Minecraft section.
GameGrinds is your number-one resource for guides, tutorials, and everything about Minecraft.
Also, feel free to comment any questions you have below.