Experience the fatality in the evolved fighting classic with friends. Is Mortal Kombat 11 cross-platform? Let's find out!
Ever since the first Mortal Kombat game in 1992, the franchise has been a legendary hit. That's why even though having an 11th main installment in a single franchise is almost impossible to do, Mortal Kombat was able to pull it off with Mortal Kombat 11.
Mortal Kombat 11 has evolved dramatically from its predecessors. From the gratuitous bloodshed to the now epic story that comes with the classic gory action that fans loved.
We all have nostalgic memories of fighting against our friends; that's why a lot of players have been wondering, is Mortal Kombat 11 cross-platform?
There are a lot of factors that the developers have to consider and hurdles that must be overcome before making a game cross-platform. If you want to learn more about cross-platform play, you can read our article  "What Is Cross-platform In Gaming?."
A Quick Intro to Mortal Kombat 11
Mortal Kombat 11 is the next evolution in the iconic franchise. Twenty-five years in the industry and Mortal Kombat never failed to deliver the classic action that players long for. The game features amazing fast-paced action with a high skill ceiling that will hook both beginners and veteran players.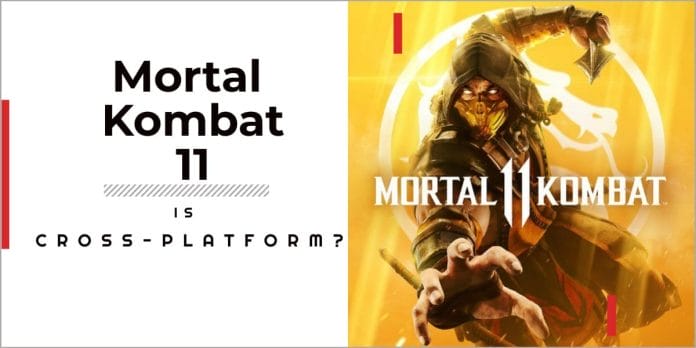 Mortal Kombat 11 is a fighting game where you must beat your opponent in Kombat using a wide variety of attacks. The combos in this game are almost endless, with one character or fighter having tons of different combos to memorize.
Each fighter has a unique skill set, personality, animations, and playstyle. Of course, we can't forget about the grisly animations from fatalities, babalities, to stage fatalities and X-ray moves.
The game requires extreme precision, timing, wits, and incredibly fast hands. Pulling off your combos is one of the most addicting parts of Mortal Kombat 11. After you're through with its epic story mode, you'll be a force to be reckoned with.
Mortal Kombat 11 is developed by NetherRealm Studios and published by Warner Bros. Interactive Entertainment. It was initially released on April 23, 2019. You can play it on the following platforms:
PlayStation 4
PlayStation 5
Microsoft Windows
Xbox One
Xbox Series X and Series S
Google Stadia
Each device has its own specific controls for the game. So, is Mortal Kombat 11 cross-platform?
Also Read:
Is Mortal Kombat 11 Cross-platform in 2023?
The short answer to this question is yes. However, there are some limitations. Mortal Kombat 11 is cross-platform play enabled on some platforms and devices, but some are left out of the conversation.
This is due to the huge difference in mechanics and control, which will negatively impact the game's balance.
Is Mortal Kombat 11 Cross-platform Between PC and Xbox One?
Sadly, no. Mortal Kombat 11 is not cross-platform between PC and Xbox One. Because of the huge difference in their input devices, PC players won't be able to join Xbox One and Xbox Series X/S players in a game.
Is Mortal Kombat 11 Cross-platform Between Xbox One and PS4?
Yes. Mortal Kombat 11 is cross-platform play compatible with the Xbox consoles and PlayStation consoles. So whether you're using an Xbox One, Xbox Series X/S, PS4, or PS5, you and your friends can still play Mortal Kombat together online.
Is Mortal Kombat 11 Cross-platform Between PC and PS4/PS5?
No. Too bad that the controller of the PS4 and PS5 is too different from the PC's mouse and keyboard. That's why the game is not cross-platform between these devices, and players will be unable to cross-play with these platforms.
Conclusion
Mortal Kombat is definitely a legendary fighting game that has enormous influence in the genre. The developers have done a really good job in adding cross-platform-play despite the complex difference in controls.
What about your favorite game? Is it cross-platform yet? Do you want a specific game to be featured? You can comment down below, and we'll take a look at your requests. Or you can visit our cross-platform section.