Brawl it out in an epic platform fighter! Is Brawlhalla cross-play? Let's find out!
Whether you like to fight like a lone wolf in a one-on-one battle or duke it out in a rumble, Brawlhalla has the perfect fight just for you. With millions of active players worldwide across different platforms, a lot of them have been asking, is Brawlhalla cross-play?
Cross-play has significantly improved and revolutionized modern gaming. It eliminated the need to play on the same platform just to enjoy a game together. You can learn more about cross-platform play and other features in our article: "What Is Cross-platform In Gaming?".
A Quick Intro To Brawlhalla
Brawlhalla is an astounding platformer where up to 8 players can participate locally or online, whether playing in unranked matches, casual free-for-alls, or private rooms with friends.
This brawl has but one purpose- to decide who is the best. Witness the greatest warriors in history engage in a titanic struggle for strength and prowess. Strong tools and weapons are used in these brawls. Each new weapon you acquire alters the way you play.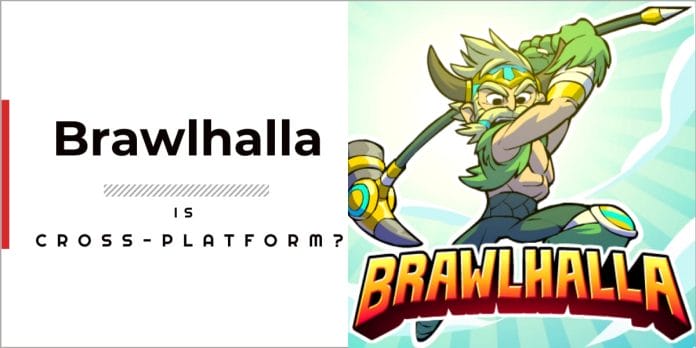 The main objective is to remove your opponent from the stage until only one person or team is left in the fight. It can take some getting used to Brawlhalla because it is a platform fighter that moves fairly quickly and is quite technical. However, it is a lot of fun to play once you have a handle on the mechanics.
Thanks to its multiple game modes, you will never be bored with repetitive gameplay. Keep things fresh with Brawlball, Bombsketball, Capture the Flag, Kung-Foot, and many more fun party game modes.
Trai yourself to be the strongest in the training room. Practice deadly combos and analyze detailed frame data, hitboxes, hurtboxes, and sharpen your skills. Nobody got to the top without rigorous training, after all.
You can enjoy this platformer on multiple platforms, including:
PC
macOS
Xbox One
Xbox Series X
PS5
PS4
iOS
Nintendo Switch
Android
Which platforms can brawl it out against each other?
Is Brawlhalla Cross-play In 2023?
Yes. Brawlhalla offers cross-play in 2023. This means that you can hop on any platform or gaming device with Brawlhalla in it and enjoy it with everyone else who plays the game, even on other platforms.
Thanks to its simple mechanics and gameplay, Brawlhalla can be enjoyed by everyone in a fair manner.
Is Brawlhalla Cross-play Between PC and PS4?
Yes. Brawlhalla is cross-play between PC and PS4. This is great news for players on these platforms as they will be able to duke it out in the platformer no matter where they are playing.
Is Brawlhalla Cross-play Between PS4 and Xbox?
Yes. Players from these consoles will be able to play Brawlhalla together thanks to the availability of cross-play for the PlayStation and Xbox consoles.
Is Brawlhalla Cross-play Between Android and PC?
Yes. Thanks to full cross-platform support, cross-play is possible between the PC and mobile devices such as Android and iOS. This means that players from any platform can play the game together.
Conclusion
Brawlhalla is definitely one of those games that prove less is more. With its simple mechanics and gameplay, players are able to enjoy the game without any hardware limitations and worries.
You can rarely see a game that supports cross-play across all its platforms, especially when mobile devices like Smartphones and Switch enter the conversation. So a huge thumbs up to the developers for that.
Meanwhile, if you're looking for a specific game, you can check out our cross-platform section or comment down below the title you want us to cover next.