Can you save a country from falling into the hands of Santa Blanca drug cartels? Is Ghost Recon Wildlands crossplay In 2023? Let's find out.
Tom Clancy's Ghost Recon Wildlands introduced a brand new action-packed experience in the popular series. Its award-winning storyline and plot set it apart from other shooting games.
Through Operation: Kingslayer, the renowned U.S. Elite Special Ops "Ghost" was tasked with inflicting havoc between the corrupt government and drug cartels in the fictionalized country of Bolivia.
What more could a die-hard lover of action video games want? It's up to you now to oust the scheme of evil and bring peace and justice.
You can ask your friends to aid you in this crucial mission. But many people have been asking: Is Ghost Recon Wildlands crossplay?
In terms of modern gameplay, this feature is rather groundbreaking. However, if you're not very familiar with crossplay or cross-platform, please read our article What Is Cross-Platform in Gaming?
With that being said, let's look deeper into the world of Tom Clancy's Ghost Recon Wildlands.
A Quick Intro to Tom Clancy's Ghost Recon Wildlands
The open-world tactical shooter Ghost Recon Wildlands plays from the third-person view.
Instead of using a futuristic setting like Tactical Warfighter and Futuristic Soldier, the game takes place in the present day, much like the first Tom Clancy's Ghost Recon.
The game's equipment is modeled around the weapons and ammunition that militaries worldwide use frequently.
The game presents new types of unique equipment, such as UAV Drones, which can be used to identify and display the highlighted criminals and targets.
With nine kinds of terrain, including mountains, woods, deserts, salt flats, and a dynamic weather system, the game's sequel is the first to incorporate an open-world environment, particularly in Bolivia, with a map that's 440 km sq. in size.
In Ghost Recon Wildlands, there are 21 provinces to discover as players attempt to subvert the Santa Blanca Cartel.
There are 114 missions in total for gamers to complete in the game. Two of the cartel's four facets: security, influence, smuggling, and production must be subverted by players.
An alternative ending can be unlocked by completing all four.
A four-player cooperative multiplayer mode is included in the game, allowing players to explore the game's universe and carry out the campaign's objectives with the help of three additional players.
The game may also be played solo, in which case the player will be joined by three AI colleagues the user can command.
Are you capable of carrying out the missions?
Playing Ghost Recon: Wildlands With Friends
To fully execute missions in the game, a strong team of soldiers is a necessity.
This game supports multiplayer, so you can make the most of it by teaming up with your friends to take on the corrupted government and narco-terrorists that are dominating the nation.
The following gaming platforms support Ghost Recon Wildlands:
Can't wait to play this game? You need to know first; is Ghost Recon Wildlands crossplay?
Is Ghost Recon Wildlands Crossplay?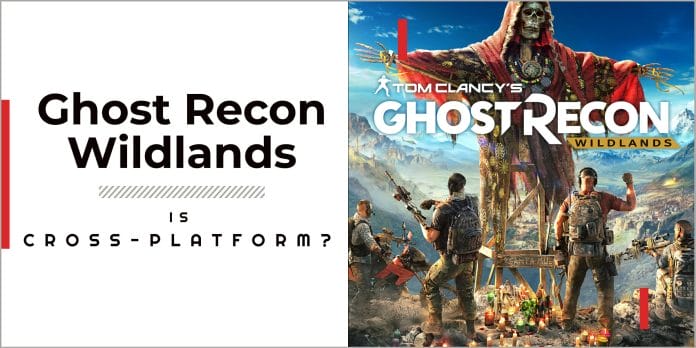 Ghost Recon Wildlands does not have cross-platform support.
Although it's playable on the Xbox One, PlayStation 4, PlayStation 5, and PC, one must purchase the same platform and be on the same server to join a game together.
Also Read:
Is Ghost Recon Wildlands Cross-Platform Between PS4/PS5 and PC?
No, the PS4/PS5 and PC versions of Ghost Recon: Wildlands don't support cross-platform play.
As a result, you will not be able to play with your pals using a different platform.
Is Ghost Recon Wildlands Crossplay Between Xbox One and PS5?
No. Ghost Recon: Wildlands doesn't support cross-platform gaming on these two systems.
With that said players on the PS5 and Xbox One won't be able to play together. You would have to be on the same console family to initiate multiplayer games.
Is Ghost Recon Wildlands Cross-Platform Between PC and Xbox One?
Ghost Recon Wildlands doesn't support cross-platform play for the Xbox One and PC.
Therefore, you must purchase the game for both platforms if you want to play alongside someone.
Is Ghost Recon Wildlands Cross-Progression?
Sadly, Ghost Recon Wildlands also doesn't allow cross-progression. Therefore, you can't begin playing the game on one platform and then switch to another.
Whether you play on an Xbox, PS4, or PC, your data from games is linked to the account for that platform only.
Conclusion
Sad to say, Ghost Recon Wildlands' cross-platform feature is not available.
Gamers would be sad to know there is no news about adding the feature to the game anytime soon.
Meanwhile, you can still enjoy multiplayer with players on the same gaming platform.
What about your favorite game? Is it cross-platform just yet?
You can always check our cross-platform section to find out. Comment down below what game you would like us to cover next.