Shoot your way to safety with three other friends. Is Generation Zero cross-platform?
Set in Sweden in 1989, when the residents of Stertörn awake to discover robots tramping unrestricted, staying alive meant everything. Whether you're playing alone or with up to three friends, slip, forage, and shoot your way to safety across a vast, varied landscape that is as fascinating as perilous.
But can you play Generation Zero with players from other gaming platforms? Cross-platform has totally revolutionized modern gaming. So if you aren't familiar with it yet, you can learn everything from our article "What Is Cross-platform In Gaming?".
A Quick Intro to Generation Zero
Generation Zero is a first-person shooting video game developed and published by Avalanche Studios under the brand Systemic Reaction. It is set in a world filled with lethal machines that cause devastation.
Where did the robots originate? What are they seeking? How will you survive? Seek the answers to these questions as you strive to live, destroy these machines, and venture into a world ravaged by unknown machinery.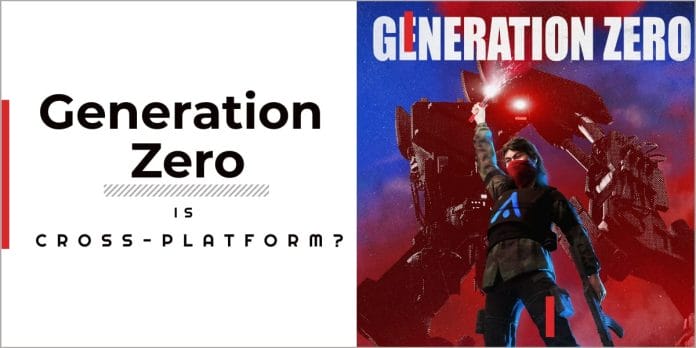 The world of Generation Zero is rich and rewarding to explore, and there are mysteries to solve. It is a hybrid of stealth and action. Play by yourself or with up to three friends on a sizable open-world map that will test your ingenuity and resourcefulness.
Generation Zero was initially released on March 26, 2019, and it is currently playable on the following platforms:
PlayStation 4
Xbox One
Microsoft Windows
Xbox Cloud Gaming
Generation Zero is also open-world. So you can really expect an epic anti-mecha journey with your friends in this game. But what if they are on a different gaming platform than you? Is Generation Zero cross-platform? Let's find out!
Related Articles:
Is Generation Zero Cross-platform In 2022?
No. Generation Zero is still not fully cross-platform compatible. However, it supports cross-pay between the PC and Xbox One. However, it is limited to those two devices only. This means that if you are playing on a PS4, you can't connect with other players from different platforms.
Is Generation Zero Cross-platform Between PC and PS4?
No. Generation Zero doesn't support cross-platform features for the PC and PS4. So no co-op games for players if they are using these devices to play. Pc players can only play with those on the PC and Xbox One but not with players on the PS4.
Is Generation Zero Cross-platform Between Xbox One and PS4?
Still a no. Generation Zero doesn't have cross-play support for the Xbox One and PS4. You can only play with players on the same console as you, except for the Xbox One and PC. So PS4 players won't be able to join their friends on the Xbox One in this game.
Is Generation Zero Cross-platform Between PS4 and PS5?
Yes. For some good news, Sony's consoles do have cross-play available for Generation Zero. This means that you can play with friends on the PlayStation console whether you are on the PS4 or PS5.
Conclusion
Though it's good that PC players and Xbox players can play Generation Zero together, it's a shame for those who have the game on other platforms but didn't receive cross-play. So it's a win for Microsoft this time. On the other hand, Sony is working hard to add cross-play to its games.
What about your favorite game? Is it cross-platform yet? Check out our cross-platform section to find out.