Can you slay together with friends in Back 4 Blood? Is Back 4 Blood cross-play? Let's find out!
When it comes to games, boys love two things: fighting and monsters. And that is exactly what Back 4 Blood is all about. This game is another pride from the creators of the Left 4 Dead franchise.
It clearly has taken inspiration from Left 4 Dead's success, but Back 4 Blood offers a whole new thrilling and adrenaline-inducing experience that will take you back to the good old days. Besides improved graphics and a new set of characters and monsters, it also offers features that we haven't seen from its predecessor.
The game was designed for co-op multiplayer play. That's why a lot have been asking, is Back 4 Blood cross-play in 2023?
Cross-platform features are sought after by gamers nowadays because of their convenience. If you would like to know more about what cross-platform brings to the table, then you can read our specially curated article "What Is Cross-platform In Gaming?."
A Quick Intro to Back 4 Blood
Back 4 Blood rises from the developers of the internationally successful Left 4 Dead series. This time, they're back at it again with another exhilarating cooperative first-person shooter. The battle against the Ridden is focused on you. Your choices, your story.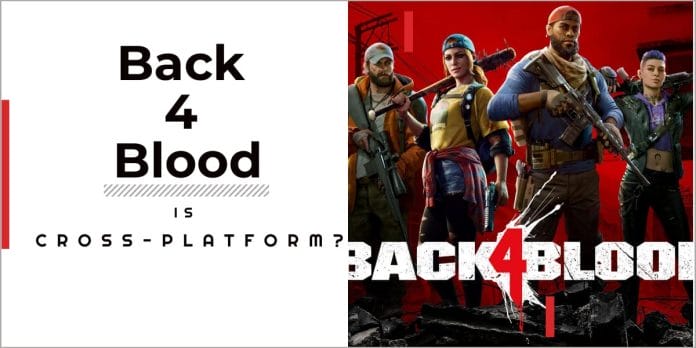 The lethal infection that once infected these once-human hosts has transformed them into dreadful monsters determined to devour what is left of civilization. You and your comrades must engage the enemy head-on, exterminate the Ridden, and retake the globe in order to prevent the annihilation of humanity.
Switch between playing as a Cleaner with different specialties and the dreadful Ridden. Each side offers unique weapons, characteristics, and specialties. It features a new "rogue-lite" Card System that allows you to have new experiences every time with its custom decks.
Back 4 Blood was developed by Turtle Rock Studios and published by Warner Bros. Games. The game was initially released on October 12, 2021, and is currently playable on the following platforms:
PC
PS4
PS5
Xbox One
Xbox Series X/S
Xbox Cloud Gaming
This game was built to be played with friends in co-op mode. But the big question is: is Back 4 Blood cross-play? Let's find out.
Related Articles:
Is Back 4 Blood Cross-play in 2023?
Yes. You'll be glad to know that one of the things that make Back 4 Blood awesome is the fact that it offers cross-platform features and cross-play compatibility right out of the box. Ever since it was initially released, Back 4 Blood has offered cross-play across all platforms it is available on.
Is Back 4 Blood Cross-play Between Xbox One and PS4?
Yes. Back 4 Blood is cross-play between Xbox and PlayStation consoles. This means that you can hunt the Ridden down with your friends even if you are on different types of consoles.
Is Back 4 Blood Cross-play Between PC and Xbox One?
Yes. Both of these devices from Microsoft can play Back 4 Blood and supports cross-play between the two. So, players from PC and Xbox can play together in this co-op zombie shooter.
Is Back 4 Blood Cross-play Between PC and PS4?
Yes. Back 4 Blood is cross-play between PS4 and the PC. This means that Microsoft Windows users and those on the PS4 and PS5 can play this game together and partake in matches even if they are on different consoles or devices.
Conclusion
Cross-platform play is almost a necessity in gaming nowadays. That's why Back 4 Blood players are really excited and glad that the game's thrilling experience is further improved by the availability of cross-play.
If you are also interested in other games, you can check out our cross-platform section to see if they offer cross-play. Or comment on which game you want to see us cover next.