Survive another zombie apocalypse with friends. Is State of Decay 2 Cross-platform?
As the dead rises, civilization falls. You must gather survivors, scavenge for supplies, and build a community in a post-apocalyptic world now that the zombie apocalypse has occurred. You get to choose what it means to survive in this realistic zombie simulation.
Cross-platform features have become a standard in the modern gaming industry thanks to its practical and game-changing options. So if you aren't familiar with cross-platform just yet, you can learn everything you need from our article: What Is Cross-platform In Gaming?.
With that out of the way, let's take a closer look at State of Decay 2.
A Quick Intro to State of Decay 2
The zombie apocalypse has arrived! The dead who are in a state of decay are here- what will you do? Will you look for survivors first? Perhaps look out for yourself by gathering resources and weapons. Or will you go and let loose by killing every zombie you come across?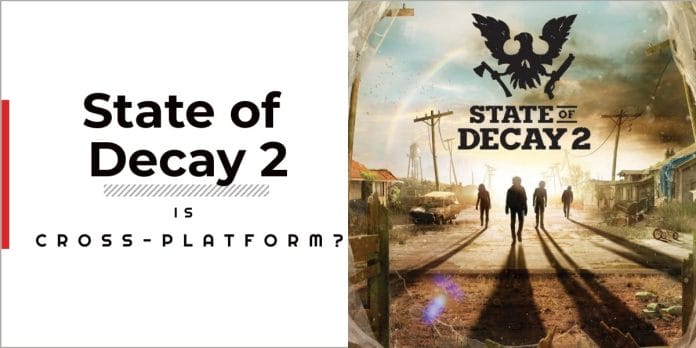 Bring your apocalyptic survival fantasy to life and give your own definition of what it means to survive.
You make the calls on who to add to your team, where to build your community, how to upgrade and fortify your base, and when it's time to leave for better lands. You decide which survivor to use to defend your base from the zombies and who to take with you on a scavenging expedition for the food and ammunition you require.
You get to decide how you'll interact with newcomers to your community. Will you aggressively defend your territory, or will you be cordial and welcoming?
Every player's experience in the sandbox is unique. Each character in your community has their own special set of skills and traits, so no two communities are ever the same. The challenges you face also vary from game to game, based on who you recruit and the decisions you make along the way.
The game can be played on the following platforms:
Xbox One
Xbox Series X and Series S
Microsoft Windows
You can visit your friends' communities and assist them in getting through a difficult situation with the help of co-op multiplayer support, bringing back rewards for your own communities later.
So, is State of Decay 2 cross-platform? Let's find out!
Related Articles:
Is State of Decay 2 Cross-platform in 2023?
Yes. You'll be happy to know that State of Decay supports cross-platform features with the platforms it is available on. This means that even if you and your friends are playing on different gaming devices, you can still enjoy multiplayer and co-op gameplay.
Is State of Decay 2 Cross-platform Between Xbox One and Xbox Series X/S?
Yes. Cross-generation play is available for Xbox One and the Xbox Series X and S. So, no matter which of these Xbox consoles you are using to play State of Decay 2, you can still enjoy the game together.
Is State of Decay 2 Cross-platform Between PC and Xbox?
Yes. Thanks to cross-platform support, you can play State of Decay 2 across the PC and the Xbox Consoles. Microsoft Windows, Xbox One, and Xbox Series X/S are all cross-platform play compatible.
Conclusion
State of Decay 2 is a Microsoft-exclusive game. Thankfully, it is available for cross-play on all the available platforms. The game is not available on PlayStation. These are things you must consider when buying a game or gaming device.
What about your favorite game? Is it cross-platform yet? Find out using our cross-platform category. You can also comment below which game you want to be discussed next time, and we'll be sure to look into it.