Wondering how to get headless in Roblox? This article will teach you everything you need.
Roblox is one of the most famous online gaming platforms/communities worldwide. The socialization and wide array of games to choose from are just some of the reasons why tons of players love it.
But, of course, who doesn't enjoy the creativity and personalization that cosmetics offer?
One of the head-turners in Roblox is a certain cosmetic that allows your avatar to appear without a head.
If you want to learn how to get headless in Roblox, keep reading.
What is Headless Horseman in Roblox?
The Headless Horseman in Roblox is a cosmetic published in the avatar shop on October 31, 2013.
It comes as a part of the Headless Horseman Bundle, along with a shirt, pants, jacket, gloves, boots, and a Halloween pumpkin in its hand.
As of this article's time of writing, the Headless Horseman has garnered a total of 1.4 million favorites.
Its unusual appearance gives your headless avatar a creepy vibe. So far, it is one of the most sought-after cosmetic items in the game.
It's also technically the smallest head in Roblox, standing at 3.43×10-7 cubic studs or 343 cubic mill studs, followed by the unavailable Peabrain.
How to Get Headless in Roblox?
You can get the Headless Horseman Bundle through trading with a player or buying it in the cosmetics shop.
The Headless Horseman is priced at around 31k Robux. This is the in-game currency that you use to buy game items.
Because of the rarity of the Headless Horseman Bundle and the immense popularity of the Headless Horseman, it's naturally expected to have a very high price.
Plus, it's not always available for purchase in the store.
Also Read:
Getting Headless in Roblox: Preparing for the Purchase
Preparing for purchasing the Headless Horseman in Roblox requires a thorough understanding of this item's value, market demand, and limited availability.
Research the headless avatar, its rarity, general in-game prices, and user experiences to make informed decisions and avoid unnecessary purchases.
Familiarize yourself with the Roblox Marketplace, trading options, and seller precautions.
Of course, you need to have sufficient Robux for the purchase, at least 31k Robux. Or if you are planning to trade with another player, make sure you have something of value to trade for the Headless Horseman.
You also need a membership to be able to trade with other players.
Once everything is ready, you can now choose how to acquire your Headless Avatar.
Where to Buy the Headless Horseman in Roblox?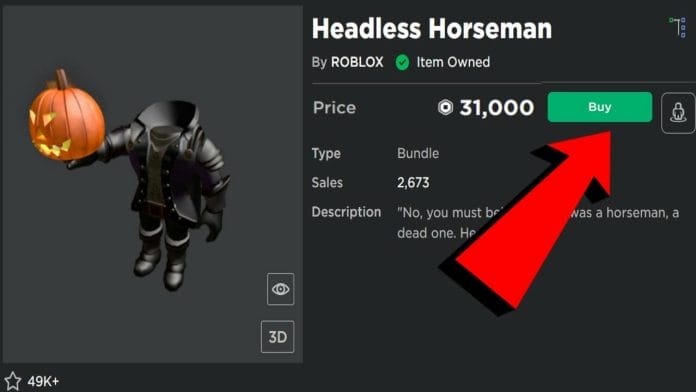 You can get the Headless avatar and the Headless Horseman bundle from Roblox's cosmetics shop.
You'll notice that most of the time, this item won't be available for purchase, making it rare and valuable.
Since it's a Halloween item, it's usually up for sale from October to November. So make sure you have enough Robux during this time to be able to acquire a Headless Horseman Bundle.
How to Trade With Another Player
Note that this option is only available for players who have memberships.
Also, both players need to have the trading option enabled in their account settings.
Then, simply follow these steps to trade for the Headless Horseman Head.
Go to the player's profile page.
Click on the three dots in the profile's top right section.
Choose "Trade Items" from the options.
A screen labeled "Trade with Roblox Player" will appear.
Pick the items you wish to trade from your inventory and select the item you want in return – to make your offer and request.
Click the "Make Offer" button on the screen and double-check the offer before confirming it.
That's all you need to trade with someone else.
Conclusion
Now you know how to get Headless in Roblox.
The Headless Horseman bundle is quite expensive and rare. That's why it's one of the most coveted game items in Roblox.
Whether you'll wait for it to be available in the shop or trade with another player, we're sure this article would tremendously help in obtaining your item.
If you want to see more Roblox guides, tips, codes, and more, you can check out our Roblox section.
GameGrinds is dedicated to helping fellow gamers with their favorite games. So make sure you bookmark our site and visit often.
Don't forget to comment any questions you may have down below, and we'll be sure to answer them.