Are you looking for an exciting and action-packed tower defense game in Roblox? Look no further, as Ultimate Tower Defense is here!
If you're a new player to the game, be sure to check out the Ultimate Tower Defense codes to get yourself started right.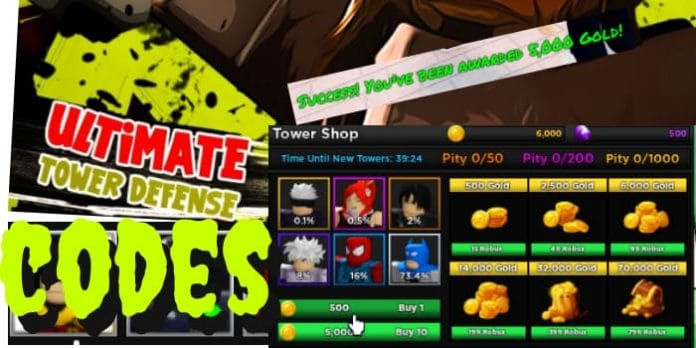 Whether you are a casual tower defense gamer or a seasoned veteran, you'll surely find something challenging about Ultimate Tower Defense.
Do you have what it takes to survive the longest? Can you put your name on top of the leaderboards to flaunt your tower defense superiority?
One thing's for sure: this is the right avenue to prove yourself.
Looking for more Roblox game codes for free? Check these out:
Ultimate Tower Defense Codes List
It's time to put what you've learned to good use. Go ahead and copy the following codes before they expire!
Remember that we have entered a new month, so there's a possibility that some of the codes listed here may not work anymore.
Let us know in the comments section which codes are already expired so we can update this database for you.
Active Codes
TheOnePieceIsReal – Redeem for a 24-hour 1.5x Gold Modifier (New)
leaderboardreset6 – Redeem for 75 Gems
UPDATE2023 – Use for 100 Gems
Expired Codes
750MillionVisits – Redeem for 200 Gems
easter2023 – Redeem for 75 Gems
350KLikes – Redeem for 5k Gold
360kLikes – Redeem for 5k Gold
370KLikes – Redeem for 5K Gold
100mVisits – 2,000 Gold
BREN0RJ7 – BREN0RJ7 YouTuber Tower
Easter2022 – Gold & Gems
280KLikes – 5,000 Gold
500MillionVisits – 5,000 Gold
180KLikes – 2,500 Gold
90KLikes – 2,500 Gold
50KLikes – 2,000 Gold
Gravy – GravyCatman YouTuber Tower
Betero – Betero YouTuber Tower
Inemajohn – Inemajohn YouTuber Tower
60KLikes – 2,500 Gold
Blueio – Blueio YouTuber Tower
Valentines2022 – 500 Gems
ValentinesDay – 2,000 Gold
230KLikes – 3,000 Gold
140KLikes – 2,500 Gold
120klikes – 2,500 Gold
20Updates – 100 Gems
310kLikes – 5,000 Gold
70KLikes – 2,500 Gold
130KLikes – 2,500 Gold
240KLikes – 3,000 Gold
300mvisits – 10,000 Gold
200Mvisits – 5,000 Gold
600kGroupMembers – 150 Gems
MillionMembers – 500 Gems
Veyar – Veyar YouTuber Tower
190KLikes – 2,500 Gold
100Gems – 100 Gems
290KLikes – 5,000 Gold
Anime – 1000 Gold
50mVisits – 1,500 Gold
200Klikes – 10,000 Gold
250mVisits – 7,500 Gold!
260KLikes – 5,000 Gold
StayGreen2022 – 200 Gems
Tofuu – Tofuu YouTuber Tower
MerryChristmas – Christmas Spidey
270KLikes – 5,000 Gold
210klikes – 3,000 Gold
220Klikes – 3,000 Gold
150KLikes – 2,500 Gold
80KLikes – 2,500 Gold
170kLikes – 2,500 Gold
250KLikes – 5,000 Gold
100KLikes – 2,500 Gold
Sub2PlanetMilo – Planet Milo YouTuber Tower
Patrick – 5,000 Gold
300kLikes – 5,000 Gold
Christmas2021 – 200 Gems
110KLikes – 2,500 Gold
Pro-Tip: Be sure to check these expired codes from time to time as game developers may re-activate some of these Ultimate Tower Defense codes.
What is Ultimate Tower Defense?
Ultimate Tower Defense is a popular tower defense game for Roblox that allows players to group up and use different heroes to fight various enemies while making sure no one invades your territory.
If your gates become too overwhelmed with enemies, you lose the game.
While you would need to spend in-game money and gems to upgrade your heroes, using ultimate tower defense codes can help level your heroes up faster.
Key Features
Play as your favorite heroes
Merge heroes to make a stronger hero
Play with friends and win together
Become the strongest tower defender ever
Compete and set a record for the highest wave possible
Get free emotes, gems, and other rewards regularly
Are you intrigued enough to give Ultimate Tower Defense a shot? Be sure to learn how to add game codes first!
How to Redeem Ultimate Tower Defense Codes
If you already used a game code from a Roblox game before, then the process for redeeming Ultimate Tower Defense codes is pretty much the same.
The most basic way of doing so is by searching for the Twitter icon under the settings menu.
Here's how to do it step by step:
Step 1: Launch Roblox and open Ultimate Tower Defense
Step 2: Once you're in the menu screen, look for the settings icon.

Step 3: Click on the Twitter icon to launch the code entry box
Step 4: Enter the code and click Redeem. Congratulations! Now you can enjoy the freebies!
Pro-tip: If you want to stay up-to-date with the latest Ultimate Tower Defense codes, be sure to follow BronzePiece on Twitter and all his social media accounts.
Conclusion
Now that you have all the goodies to get started, be sure to take advantage of all the Ultimate Tower Defense codes by purchasing something worthwhile for your heroes.
Try to use as many codes as you can to form an even stronger hero.
Do you have personal tips when it comes to playing tower defense games in Roblox? Be sure to share some in the comments section, and we'll make sure to feature you in our next post.
What are you waiting for? Start your own adventure today! For more codes like this, see our Roblox Game Codes Compilation section.