Playing Roblox can both be a fun and frustrating experience, especially when you encounter the Roblox error code 610. Regardless of the game mode that you attempt to join in, this error code could happen to you at any time.
While it's very understandable for massively multiplayer online games to have hiccups with game stability and performance every now and then, it's also important to check if the problem you're experiencing is server-side or client-side.
If you're quite sure that your connection is solid and your internet settings are up-to-date, then it's time to learn more about error code: 610 and how we can get past it.
Understanding Roblox Error Code 610
It's very important to understand the root cause of the issue. Fortunately, with Roblox, identifying and fixing the error messages is very doable. However, error code: 610 is somewhat different. It could either mean a server outage, or it could be your internet acting up. Either way, we're here to shed some light.
According to several users from the Roblox community, here are the common issues that come along with Roblox Error Code 610: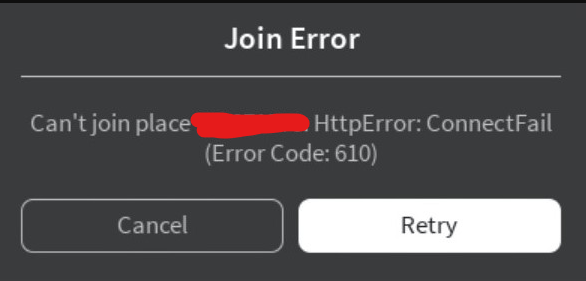 There's an ongoing server issue or outage
We recommend checking Roblox's official server status page for further info.
The Web Version is going undergoing maintenance
There are cases where Mobile App servers, Xbox App servers, and Avatar servers are working fine while the Web Version is undergoing maintenance. If you get a bad request or error 610, then check the server status.
It could be caused by an unstable internet connection
Since Roblox is an online platform, error messages are usually seen when you have a poor internet connection. Try troubleshooting your internet connection.
It could be caused by poorly executed network configurations
Are you using VPN? Do you have a custom DNS address? It might be conflicting with Roblox.
Corrupted DNS Cache
Aside from a weak internet connection, having corrupted DNS cache files can really affect your connection from your computer to Roblox servers. Try resetting to default and identify problematic network issues.
An Account Glitch
If you've owned your account prior to the 2018 game-breaking glitch that affected a lot of users, your account might have been compromised. We suggest logging out and logging back in or creating a new account to see if it replicates the same errors.
More Roblox guides
Possible Fixes for Roblox Error Code 610
Now that we know about Roblox Error Code 610, it's now time to find a solution for it. But first, let's set your expectations. Unlike other Roblox error messages (see how to fix Roblox Error Code 524), there are not a lot of solutions you can do. 
Here are some effective solutions that you can try out yourself:
Try multiple games servers
If the server status shows no issues, we encourage trying private servers or other games servers accessible to you. Take note of the connection attempt and see if Roblox error code 610, is followed by a bad request error that occurs everywhere you play. Sometimes, an unknown error from one game doesn't necessarily mean it would happen everywhere else. 
The problem with public servers is that a lot of them are already populated to the brim. Joining a private game server can help narrow down the issue, especially when the server isn't full. However, if it's also happening in other game modes, then the simplest solution to try is going to the next logical solution.
Refresh IP Configuration and DNS Settings
Learning how to flush your DNS and refresh your IP configurations is not only beneficial in Roblox but for everything internet-related. While this is not an official fix, plenty of users around the community swear by this method. It may look tricky at first, but it's worth learning on PC.
If you're unsure about how to do it, don't worry and just follow these simple steps:
Step 1
Press Windows Key + R to open Run.
Step 2
Type cmd to launch Command Prompt
Pro-Tip: Bypass Run by typing 'cmd' on Windows Search.
Step 3
Once Command Prompt is open, type 'ipconfig /flushdns'

Step 4
Wait for the procedure to finish. Once done, close Command Prompt
Step 5
Restart the computer and launch your default browser. Then, log in to Roblox and join your favorite games. Check the server status and observe if you still experience Roblox error code 610 by waiting for the dialog box to appear.
Uninstall/Reinstall Roblox on Windows 10
If refreshing your DNS settings and IP configuration didn't help, then it's best to reinstall Roblox just to see if it can get rid of Roblox error code 610.
Step 1
Type Apps & Features on the Windows Search bar and access the advanced settings to uninstall Roblox games. Users can also go to Control Panel to access Apps & Features.
Step 2
Download Roblox Player on their website. Install the app and wait for it to finish
Step 3
Join a game session and check if you still get Roblox Error Code 610
Create a new Roblox account
More of a sanity check than anything else. If you've tried every game mode and it's still giving you Roblox error code 610, then it's probably time to try something that involves creating new user credentials. If what you're experiencing is account-related, then making a new account can help you identify it.
Incidents like this have happened in other online games, and Roblox is no exception. While this is not the most effective solution, especially if you've already spent real money on it, we still believe it's worth a try. What can this achieve? It will give you actual evidence to use when reaching out to Roblox Support.
Also see: How to fix Roblox error code 279 the right way
Conclusion
Being affected by Roblox error code 610 can be quite annoying, especially when it happens when you're very eager to play. On the bright side, the greater majority of gamers experiencing this issue are caused by actual server issues, which means it's only temporary. As always, check the Roblox server status whenever a bad request error comes from time to time.
How many times do you experience error code: 610? Was it because of a server outage, or was it from something else? What did you do to recover your account? We'd love to hear your story, so share your thoughts in the comments section. We'll be more than happy to feature your story and solution in our future posts!