Looking for a Project Slayers Trello link? Get that and more in this article. Wield your blade and join the battle against darkness. Or join the dark side?
Project Slayers is a Roblox game based on the popular anime Demon Slayer: Kimetsu No Yaiba. It takes you to a world where a group of swordsmen called the demon slayers protect the world from demons with god-like abilities.
From the color-changing blades and glorious breathing styles to godly strength and deadly blood demon arts, the Demon Slayer verse is filled with epic powers and abilities.
You can choose between two sides by becoming either a Demon Slayer or a Demon. Regardless of your selection, you will embark on an adventurous journey to become a stronger fighter.
If you want to learn the essentials of this Roblox anime game, Project Slayers Trello will help you out.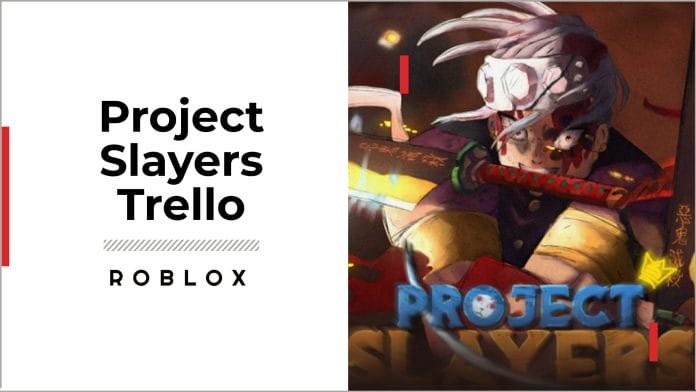 Project Slayers Trello Official Link
If you want to go to the official Project Slayers Trello, simply click on the button below:
What Is Project Slayers Trello?
Trello is an online project management tool where you can edit cards and put in information. The game's creators utilized this tool to create Project Slayers Tello and teach players about the game's mechanics.
Project Slayers Trello board contains information about trainers, equipment, game mechanics, quests, locations, races, items, game currency, NPCs, game pass, clans, weapons, bosses, demon blood arts, and more.
The board also provided important details about different types of breathing techniques, such as Water Breathing, Insect Breathing, Thunder Breathing. and Wind Breathing.
So whether you're just starting out or want to get better at Roblox Project Slayers, their dedicated Trello link will surely benefit you. It's free, and you only need the link to access it.
Project Slayers Wiki and Discord
Project Slayers also has a Wiki, which is run by fans and players aiming to provide and share information with others. However, the game devs do not contribute any content to the wiki.
If you have questions that aren't answered in the Wiki and Trello, you can ask the experts at Project Slayers Discord channel.
Project Slayers Trello [New] – Daily Spinner
Project Slayers introduces the Daily Spinner, a thoughtfully designed system aimed at rewarding dedicated players with daily bonuses.
The spinner encompasses four equally weighted categories, each with a 12.5% chance of being selected. These categories include:
Wen – If your spin lands on the Wen category, you'll receive a random amount of wen, with the potential to earn up to 500 wen. The rarity of the reward increases with the amount of wen obtained.
Clan Spins – In the Clan Spins category, a successful spin grants you a random number of clan spins, potentially reaching up to 25 spins. The rarity of the reward correlates with the quantity of clan spins won.
Demon Spins – When the spinner points to the Demon Spins category, you'll be rewarded with a random quantity of Demon art spins, reaching a maximum of 25 spins. The rarity of the reward escalates with the number of Demon art spins secured.
Random Items – Landing on the item category guarantees you a random game reward. The item's rarity determines how likely it is to obtain through the spinner. Players may acquire any item available in the game, and the rarer the item, the more elusive it is to pull from the spinner.
Project Slayers Codes
If you want to reset your race or breathing style or want to get free spins, then you need to see our Project Slayer codes:
ThxFor400MVisits – Redeem for 35 Clan Spins, 5 Art Spins, 1 Daily Spin
1millfavs – Redeem for 100 spins, 30 BDA Spins
1millfavsbreathreset – Redeem for a Breathing Reset
1millfavsracereset – Redeem for a Race Reset
Who Runs the Project Slayers Trello?
Unlike the wiki, the Project Slayers Trello board is run by the game's developers. Not all of them, however, contribute to the Trello channel.
Here is the list of the game's devs and the ones responsible for running their Trello:
Project Slayers Developers
Knoxity
Ather
Lynx
Note
TBGlitch
Kazama
Erza
con
Acylene
Project Slayers Trello Board
Leo
Dland
Halls
Broly
Ice
Pas
Also Read:
Conclusion
Now you know how to access the Project Slayers Trello. It's time to learn everything you need about the amazing fighting game.
So copy the link onto your browser and kickstart your Project Slayers adventure.
If you want to see more articles about Project Slayers and all of your favorite Roblox games, then take a look at our Roblox section.
GameGrinds is home to free codes, guides, tier lists, and other goodies for Roblox players.