Get your hands on free gems, crystals, and materials using our Anime Warriors codes!
Anime Warriors is an action-filled adventure where you can team up with your friends and famous anime characters. Dominate this gacha game by summoning and upgrading the most legendary protagonists in the anime multiverse.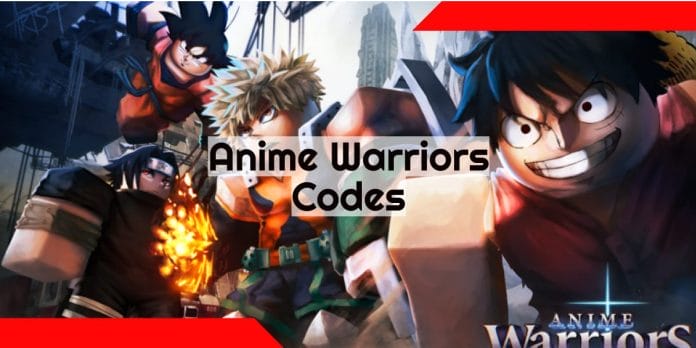 But just like any gacha game, upgrading your heroes would take a lot of time and resources. And this is where our Anime Warriors codes come into play. Using them, you'll get tons of free resources like gems, crystals, and other random goodies that will help you create stronger characters.
Everybody wants free stuff, so you have to take them while you still can. These codes come and go pretty quickly.
But we got you covered. We regularly publish new codes and keep them updated. This article will also guide you through the entire process of redeeming your Anime Warriors codes.
Related Articles:
Anime Warriors Codes List
Active Codes:
UPDATE2—Redeem for 250 Gems and Quest Beater Item (New)
Follow@oreI_orL—Redeem for 50 Gems
Follow@Mirzoldyc—Redeem for 50 Gems
Follow@NyxunRBX—Redeem for 50 Gems
Follow@_DevCrow—Redeem for 50 Gems
Follow@Robro1030—Redeem for 50 Gems
Follow@9sNoxxy—Redeem for 50 Gems
Follow@ZartaniaRBLX—Redeem for Gems
Follow@dev_exile—Redeem for 50 Gems
Follow@EchoZenkai—Redeem for 50 Gems
Expired Codes:
BOOM350k—Redeem for 350 Gems
CRAFTINGSHERE—Redeem for 150 Gems
ULTIMATES400KMATS—Redeem for 40 Random Materials
ULTIMATES400KGEMS—Redeem for 400 Gems
TWITTERWENTCRAZY150K—Redeem for 250 Crystals
2022RELEASE—Redeem for 150 Crystals
RELEASE—Redeem code for 150 Crystals
125KTHUMBSUP – Redeem for 200 Crystals
UPDATE1MH – Redeem for 300 Crystals
THANKS4100KLIKES – Redeem for 150 Crystals
WOAHFiftyKLikes – Redeem for 150 Crystals
Twenty5kLikes – Redeem for 150 Crystals
5kL1kes – Redeem for 30 minutes x2 Yen boost
RELEASE – Redeem for 150 Crystals
Incredible10k – Redeem for a free boost
SeventyFiveK – Redeem for 100 Crystals
How to redeem Anime Warriors codes?
Getting your freebies and resources is fairly easy. Just follow these steps to redeem your Anime Warriors codes:
Open Roblox and Launch Anime Warriors
Look for the codes button on the right side of the screen
Before you can enter your codes, you have to put in your Twitter account in the format @your_handle
After that, enter any of the codes above
Hit Redeem/Enter
Enjoy your rewards
When will new Anime Warriors codes come out?
These codes are only produced and disabled by the game's developer. If you want to find more codes, the first thing you have to do is bookmark this page and make sure you visit often.
We upload new codes as soon as they come out. You can also follow the game's official Twitter accounts at @AnimeWarriorsBZ and @BlockZone_.
What Are Anime Warriors codes?
Anime Warriors codes are redeemable codes for the Roblox game Anime Warriors. Using these codes, players can get freebies such as crystals, gems, and random materials. These codes can only be added or removed by the developer of the game.
What is Anime Warriors all about?
Anime Warriors is a Roblox gacha game that features an epic anime multiverse where you can work with your friends and collect your favorite anime characters.
Experience legendary battles, solve bewildering puzzles, and test your strength against other players.
How to play Anime Warriors?
You can join this epic anime setting by opening the Roblox website and searching for Roblox Anime Warriors in the game directory. Or simply head to Anime Warrior's page directly to make things easier.
Conclusion
That sums up everything you need to redeem your Anime Warriors codes and get your free resources. You better hurry though. These codes won't be available for very long. Make sure to check back always since we update the codes regularly.
Meanwhile, check out other awesome Roblox codes like Grand Piece Online Codes, Robloxian High School Codes, Anime Fighters Simulator Codes, and more in our ROBLOX GAME CODES section. Or comment down which Roblox game you want secret codes for next.