Can you join the battlefield of the gods with your friends? Is Smite cross-platform? Let's find out.
Different games have adapted the concept of having a god. Most titles have one or few godlike entities that are a cut above the rest. But what if all the characters in one game are all gods? That's exactly what Smite is all about.
Make lightning rain on your foes as Zeus or turn them into stone as Medusa. With over 100 playable gods and deities, Smite is a hit amongst MOBA players. That's why a lot have been asking, is Smite cross-platform?
Cross-platform is a revolutionary feature in gaming. So if you haven't learned about it yet, it's about time you get into this trend. You can learn everything you need to know about this feature by reading our article "What Is Cross-platform In Gaming?."
A Quick Intro to Smite
Smite is a third-person MMORPG that features over 100 mythological icons, each with different skills, weapons, strengths, and weaknesses. Unlike other MOBAs, Smite features a new perspective and point of view.
With its third-person action perspective, SMITE thrusts you right onto the battlefield. A new pantheon of tactical options awaits, from aimed shots to blind-side ambushes. You'll never know what to expect.
If you can't get enough of mythical tales and legends, then your cravings will definitely be satisfied by Smite. You can choose from a wide variety of over 100 entities.
From greek gods that possess immortal powers, a monkey king with his handy abilities, to an assassin who lies in the dark like Loki.
With Titans and portals making the game more mythologically accurate, your search for a uniquely inspired game may come to an end.
Smite is developed by Hi-Rez Studios and was initially released on March 25, 2014, for the PC. But because of its popularity, Smite later made its way to other platforms:
PC
PS4
Xbox One
Amazon Luna
Nintendo Switch
Smite is quite a popular multiplayer game and is available on numerous platforms. But, is Smite cross-platform?
Related Articles:
Is Smite Cross-platform in 2023?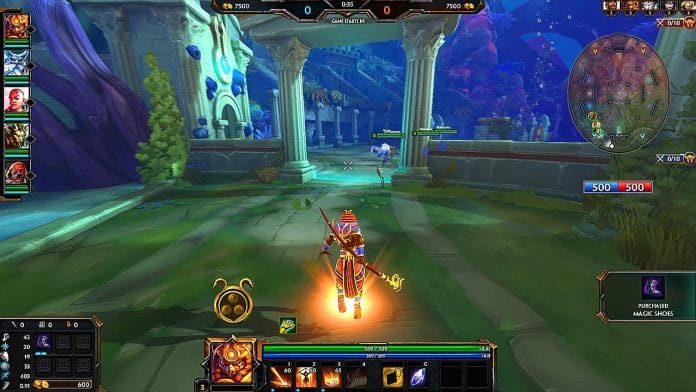 Yes. Smite is cross-platform. Due to heavy demand and the game's popularity, the developers have granted their wishes and added cross-platform play to the game. This means that if you are playing on the PC, you may join your friends on the console.
Is Smite Cross-platform Between PC and PS4?
Yes. Smite is cross-platform between PC and PS4. This means that PC players can play Smite together with those on the PS4. This is quite great news for PC and PS4 Smite players.
Is Smite Cross-platform Between Xbox One and PC?
Yes. Smite is cross-platform between Microsoft Windows PC and the Xbox One. So if you are planning to play Smite with friends on other platforms, then you may certainly do so without more hassle and requirements.
Is Smite Cross-platform Between PS4 and Xbox One?
Yes. Smite supports cross-platform play between the PS4 and Xbox One. This means that players from these two consoles can enjoy the game together and partake in matches with each other.
Conclusion
Smite offers players a whole new MOBA experience with its unique third-person point of view, making it all the more popular. And now, thanks to the availability of cross-platform play, the satisfaction of players is guaranteed.
As the demand for cross-platform play is increasing and more developers are working hard to add it to their respective games, we can expect to see more cross-platform games in the future.
If you want to see more cross-platform titles, you can check out our cross-platform section. Or comment on its title down below so we can cover that game next time.