Are you ready to plunge into an abyss filled with vicious monsters? Is Monster Hunter Rise cross-platform in 2023?
Let's find out.
Inspired by folklore and myths, Monster Hunter Rise depicts the world of monsters along with the brave men who plead to take a dangerous challenge.
In the lush settlement of Kamura Village, townsmen and skilled hunters alike work together to fight monsters who threaten peace and security.
In a diverse environment, you're challenged to survive the harshness of nature and face the most ferocious beasts.
If you're an avid fan of action role-playing video games, what more can you ask for?
However, in this battle for survival, you may choose not to battle alone. Thus, its loyal player base have been asking this question: is Monster Hunter Rise cross-platform?
If you haven't heard about the cross-platform feature yet, here is an article just for you: What is cross-platform in gaming?
Without further ado, let's take a look at the world of Monster Hunter Rise.
A Quick Intro to Monster Hunter Rise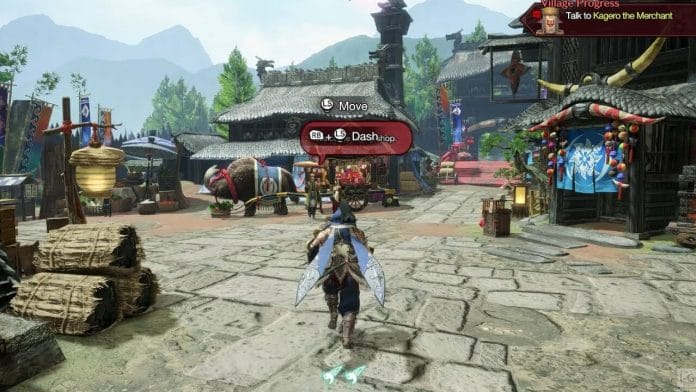 The most recent game in the critically acclaimed and best-selling Monster Hunter series, Monster Hunter Rise is an RPG set in a Japanese-inspired Kamura Village where you play as a hunter.
You get to explore brand-new places and use a variety of weapons to defeat terrifying monsters and earn materials to craft stronger weapons.
You will hunt down an array of monsters with unique characteristics and lethal ferocity in this game. Be quick on your feet and understand each creature's special traits if you want to succeed.
You can also customize your hunter, select from 14 different weapon types, and enlist the help of Palico Felyne and Palamute Canyne.
Moreover, you need to equip yourself with the necessary hunting gear while exploring various expansive and exquisitely-detailed hunting environments.
Smart difficulty scaling ensures a fair and exciting battle, whether you like to play alone or with a four-person squad.
Each successful monster hunt grants you the materials needed to create and improve your arsenal of weapons and armor.
The game's emphasis on multiplayer will enable you to hunt more difficult monsters and earn more valuable resources.
Will you be able to rise at the top of the food chain?
Playing Monster Hunter Rise With Friends
The opportunity to play with your friends together is one of the best features this game can offer.
Indeed, your chance of survival will inevitably increase when you have allies to lend you a hand.
Monster Hunter Rise is available on the following platforms:
PS4/PS5
Windows PC
Xbox One/XS
Nintendo Switch
Given the diversity of platforms available for this game, one question remains: is Monster Hunter Rise cross-platform?
Is Monster Hunter Rise Cross-Platform?
The answer to this question is something between yes and no. Cross-platform play is limited in Monster Hunter Rise.
The devs, however, tried to make some workarounds in the game.
Capcom's Monster Hunter Rise development team has announced plans of adding cross-save/cross-play previously, but upon looking deeper at the development process, they decided to cancel the project.
While cross-platform gaming isn't currently possible on all platforms, it's vital to be aware that there are some platforms on which systems can interact with one another.
Also Read:
Is Monster Hunter Rise Cross-Platform Between PC and PS4/PS5?
Monster Hunter Rise permits cross-platform play between PC, PS4, and PS5 as of 2023.
This enables PC gamers to easily collaborate with their PS4 and PS5 gamers for exhilarating monster hunts while utilizing Steam or Windows PCs.
Is Monster Hunter Rise Cross-Platform Between PC and Xbox?
Yes, Monster Hunter Rise allows both Xbox and PC to enjoy crossplay options.
This enables smooth multiplayer gaming sessions between gamers utilizing Windows PC, Steam, and Xbox One/XS. This is only available to Microsoft's family of devices.
Is Monster Hunter Rise Cross-Platform Between PS4/PS5 and Xbox?
Yes. PS4 and PS5 players and Xbox users can fight together in Monster Hunter Rise.
The gaming community has praised Capcom's decision since it makes it possible for players on various platforms to work together to hunt monsters.
Is Monster Hunter Rise Cross-Platform Between PC and Nintendo Switch?
No. Nintendo Switch and PC cross-platform gaming are not supported by Monster Hunter Rise.
Even though the game is accessible on both platforms and supports crossplay features in some configurations, this particular pairing continues to be incompatible.
Is Monster Hunter Rise Cross-Progression?
Monster Hunter Rise, as of writing this article, does not enable cross-progression. As a result, players are unable to access their cross-saves between different platforms.
If you wish to engage in Monster Hunter Rise on more than one platform, you must start afresh and create new characters for each one.
Conclusion
As of now, Monster Hunter Rise's cross-platform play feature is very limited.
Cross-save functionality, on the other hand, remains not available for this game.
This is one of the factors you should consider with your friends before deciding to buy the game and hardware if you are serious about playing together.
What about your favorite game? Is it cross-platform yet? Do you want to see more cross-platform games? How about gaming guides?
You can comment below, and we'll look at your requests. Or you can also visit our cross-platform section to learn more.