Being stranded on an island and having to fend for yourself with nothing but sticks and stones has never been fun.
Well, except when it's with friends, and that's precisely what Ark: Survival Evolved is all about. Is Ark cross-platform in 2023?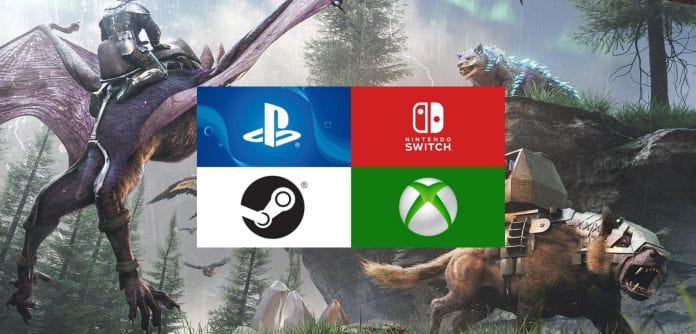 This article will tell you everything you need to know about the game and its cross-platform capabilities.
Before you proceed, just in case you are not familiar with the term cross-platform in gaming, you can check out this article: "What Is Cross-platform In Gaming?" It will tell you everything you need to know about cross-platform gaming.
A Quick Intro to Ark
Ark: Survival Evolved, commonly known as Ark, is an open-world survival MMORPG. The game begins with you being shipwrecked on the shores of a mysterious island called ARK.
To survive, you must gather resources, hunt, craft goods, grow crops, research technology, and build shelters to protect yourself from the elements.
To survive, rule, and escape, you'll need to use your cunning and resources to kill, tame, and breed the leviathan dinosaurs and other ancient monsters wandering the area.
You can kill, tame, or breed dinosaurs to utilize their size and prowess and survive on the island. The game is super fun to play with all sorts of people and forces out the creativity and survivor in you. So there's no question that this would be an epic game to share with friends and family.
The graphics, gameplay, and overall feel of the game is spectacular, and this is no surprise since Studio Wildcard developed itd, Efecto Estudios S.A.S., Virtual Basement, Instinct Games, Abstraction, and Instinct Games S.A.E. in a joint effort.
It was initially released in 2017, and the game can be played on the following platforms:
PlayStation 4
Xbox One
Nintendo Switch
PC
Xbox Series X/S
Android
Mac
The game offers an amazing multiplayer experience. But the big question : is Ark cross-platform in 2023?
Ark Cross-platform Play Frequently Asked Questions (FAQs)
Is Ark Cross-platform?
Yes. Ark does offer cross-platform features for some platforms, but not for all.
This means that players from other platforms will be able to play together, but some will be limited to playing with those who are on the same platform as them.
Ark is an awesome multiplayer game, so it would be a delight for those who have cross-platform support on the device they're playing on and a huge disappointment for those who are unlucky. To find out if Ark has cross-platform features on your devices now.
Is Ark Cross-platform Between Xbox and PS4?
No. Unfortunately, Ark is not cross-platform between these consoles.
This means that if you want to play with friends who don't have the same console as you, you would have to get a new one that's the same as the one they're using.
Is Ark Cross-platform Between Xbox and PC?
Yes. Ark does have cross-platform features between the PC and Xbox consoles.
This means that you can play with your friends if you use a PC, Xbox One, or Xbox Series X/S.
Is Ark Cross-platform Between PS4 and PC?
Yes. As per the update, You can play together with your pals if you use a Steam-based server.
On your PlayStation 4 and PC, you must select the "Selected" hosting option from Studio Wildcard.
Is Ark Cross-platform Between Android and iOS?
Yes. Mobile players can play together, whether they are on Android or Apple devices.
However, mobile gamers cannot play Ark with those on consoles or PCs.
Conclusion
Ever since The Forest came out, we have seen many survival games. The genre is more popular than ever, and many players are wanting to try it out with their friends.
Ark's cross-platform support is currently limited, but we believe that the developers will be able to come up with something about this area where the game lacks.
Cross-platform functionality is increasingly being incorporated into popular video games, especially those that have already established a following. What's your favorite video game, and why? Is cross-platform support currently available for that game?
You can find out by browsing our cross-platform section.