See how hilarious physics can be with friends. Is Human Fall Flat cross-platform? Let's find out.
In today's gaming scene, where action and FPS games dominate the market, Human Fall Flat serves as a nice change of pace.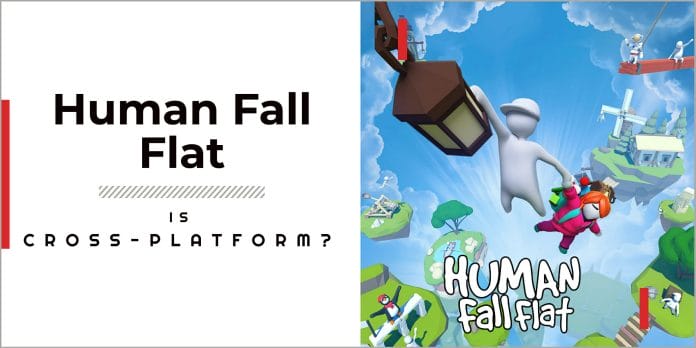 It's ragdoll avatars and fun gameplay are definitely a stress reliever and a source of laughs for most players.
That's why many gamers are wondering, "Is Human Fall Flat a cross-platform game?"
Cross-platform or crossplay is a revolutionary feature in the gaming community.
It's essentially a digital game distribution service that enables players on different devices to compete against one another or to carry their progress to another platform.
But if you're not yet familiar with this term, you can read our article: What is Cross-Platform in Gaming?
With that said, let's take a closer look at Human Fall Flat and its cross-platform features.
What Is Human Fall Flat?
Human Fall Flat is a unique and challenging platformer that features mind-boggling puzzles.
It has a physics-based and open-ended gameplay with different puzzles that have multiple solutions.
The player takes control of a featureless, minimalist, all-white human named Bob.
You can control him and make him grab stuff with his hands, make him climb ledges, jump around, and more.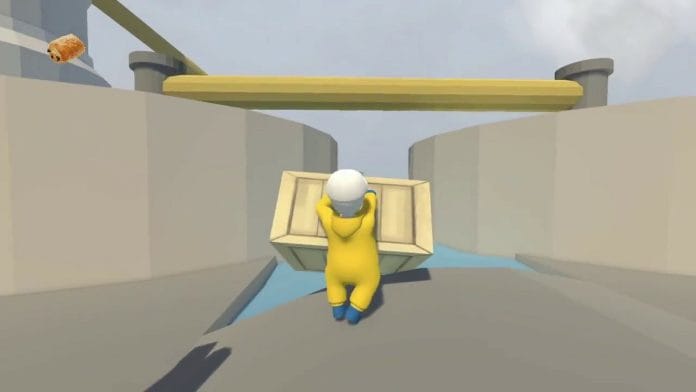 Bob is basically a normal human without any special powers. Your role is to guide Bob across different platforms and stages, getting through them while keeping the laws of physics in mind.
You can customize Bob's default appearance and team up with up to 8 players for amusing havoc.
Its fun and hilarious gameplay lets you socialize with others, which sets it apart from other puzzle games.
Human Fall Flat was developed by No Brakes Games and was released on July 22, 2016.
It is available on the following gaming platforms:
Windows
macOS
Linux
PlayStation 4
Xbox One
Nintendo Switch
iOS
Android
Stadia
Xbox Series X/S
PlayStation 5
It can be enjoyed by many players across all of these platforms. But is Human Fall Flat cross-platform?
Is Human Fall Flat Cross-Platform?
As of 2023, Human Fall Flat is partially cross-platform.
What this means is certain gaming platforms have cross-platform compatibility, while some are left out of the conversation.
For example, Windows and Xbox players can play Human Fall Flat together, but PlayStation users won't be able to join them.
Is Human Fall Flat Cross-Platform Between PC and Xbox?
Yes. Human Fall Flat has cross-platform play for these platforms.
You'll be glad to know that Windows (Steam) players can play the game together with Xbox One and Xbox Series X/S users.
This means that with these devices, you can join forces with your buddies and solve these intricate puzzles.
Is Human Fall Flat Cross-Platform Between PC and PS4?
Sadly, no. Human Fall Flat doesn't have cross-platform play for the PC and PlayStation.
This means that Windows users and players on the PS4/PS5 won't be able to enjoy this game together.
Is Human Fall Flat Cross-Platform Between Xbox and PS4/PS5?
No. this game doesn't support cross-platform play for the Xbox and PlayStation consoles.
So if you're using a different console family than your friends, you won't be able to hop into the same game with them.
Is Human Fall Flat Cross-Platform Play Between PC/Console and Mobile
To our disappointment, this game doesn't have cross-platform play for players on the PC and Mobile gamers.
This means that if you play on a phone, you can only play with other mobile players and you won't be able to join a game with friends on the PC or console.
Will Human Fall Flat Become Cross-Platform in the Future?
While the current cross-platform compatibility of Human Fall Flat is limited, the game developers are constantly working to improve the game and its players' experience.
However, there is no official announcement of adding cross-platform play to the game. So make sure you keep an eye out for the latest news and updates on their official channel.
Also Read:
Conclusion
PC and Xbox Human Fall Flat players will be delighted to know that they have cross-platform play.
Sadly, we can't say the same for other major platforms. All we can do is wait patiently for the game devs to take action while we enjoy the available multiplayer options.
What about your favorite game? Is it cross-platform yet?
Do you want a specific game to be featured?
You can comment below, and we'll look at your requests. Or you can visit our cross-platform section.