With the rise of games like PUBG and Fortnite, the Battle Royale genre has been more popular than ever.
Fall Guys is one of those high-intensity titles. But is Fall Guys cross-platform in 2023? Find out now by reading through the end, and you'll have a surprise waiting for you.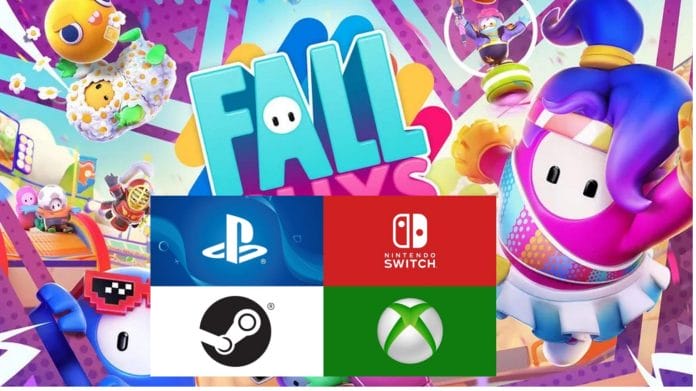 In case you're not familiar with the term, "cross-platform" refers to the ability of a game to facilitate interaction or competition between players who are using multiple types of gaming devices.
It's essentially a digital game distribution service that enables players on different devices to compete against one another or to carry over their progress to another platform.
A Quick Intro to Fall Guys
Fall Guys is a Battle Royale that promotes less violence. It takes 60 players and pits them against one another in a giant obstacle course to be the last man standing.
To win, you must complete mini-games and get through the different obstacles on the field.
Also read:
The challenges are really simple but fun to do. The color palettes are minimalistic, but it works really great. It offers fun, engaging, and competitive gameplay that can be enjoyed by anyone at any age.
Fall Guys: Ultimate Knockout was initially released on August 4, 2020, by Devolver Digital, and it was available on Microsoft Windows and PlayStation 4. Because of its sheer popularity, it was also released on the Nintendo Switch, Xbox One, PS5, and Xbox Series X/S.
With Fall Guys being such a fun multiplayer game, the big question is: is Fall Guys cross-platform?
Fall Guys Cross-platform Play Frequently Asked Questions
Is Fall Guys Cross-platform On PC and PlayStation?
Yes, Fall Guys can be enjoyed by PS4 and PC players together. You simply have to download the game on both devices and set up a match.
With 60 players, this game should be a blast, and the cross-platform support really amps up the experience.
Is Fall Guys Cross-platform On PC and Xbox?
Yes. As recent update, Fall Guys does support cross-platform between PC and Xbox.
Players can now enjoy the game together with their friends.
Is Fall Guys Cross-platform On PlayStation and Xbox?
Yes, it's a great news where players can enjoy the game together which players from PlayStation and Xbox can finally compete each other.
This update has been the most long awaited and finally, it is has been implemented.
Will Fall Guys Be Cross-platform In the Future?
Since Fall Guys' release and up to this date, the game only supports cross-platform between the first two devices it released, Windows and PlayStation.
But on a recent announcement on the Fall Guys website, we discovered that the game would finally offer cross-play, cross-progression, and cross-platform support across all devices.
This would be the best and most long-awaited update that every Fall Guys player dreamed of.
Conclusion
Fall Guys is definitely a party-maker on its own. But with the addition of cross-platform support, the fun will be elevated to a whole new level.
Not to mention that it will be free to play. We would probably be seeing the new Fall Guys hit a new all-time high. For more information, see Fall Guys Cross-Platform Progression page.