Most games are joining the bandwagon of competing for better graphical fidelity and extreme attention to detail.
But not Castle Crashers, with its simple 2D hack-and-slash fun that aims to satisfy you and your friends. A lot of you have been asking, is Castle Crashers cross-platform?
The functionality is so convenient that it has had a huge demand in the industry. So if this is the first time you've heard of the term or just want to know more about cross-platform features, check out our article: What Is Cross-platform In Gaming?
If you know everything you need about cross-platform gaming, dive deeper into Castle Crashers.
A Quick Intro to Castle Crashers
Castle Crashers is an award-winning 2D Hack and Slash video game developed by The Behemoth that lets you enjoy the arcade adventure it offers.
The plot of Castle Crashers centers on the exploits of one to four knights as they try to track down the Evil Wizard and his army after they rob the palace of a gigantic magic crystal and kidnap the four princesses.
The four princesses are each being kept hostage by a different evil, each of them in different locations.
As noble knights, you and your friends are responsible for rescuing the princesses and taking down the evil beings that captured them.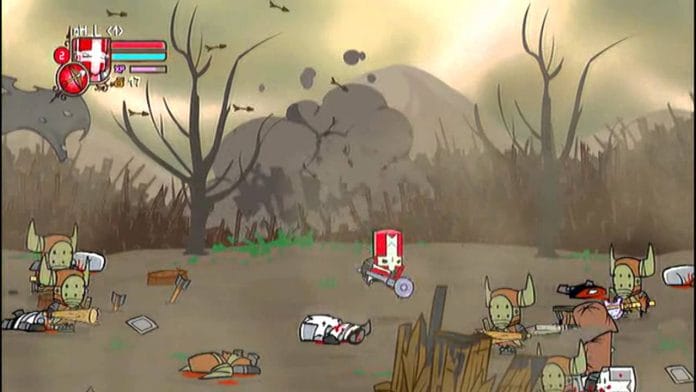 Defeat barbarians, a cyclops, an ice wizard, a necromancer, and a lot more in an epic journey with your friends. You can play co-op with up to 4 players using the following platforms:
PC
Xbox One
PS3
PS4
Nintendo Switch
PS5
Xbox Series X/S
Mac OS
Also see: Is Forza Horizon 5 Cross-platform?
Is Castle Crashers Cross-platform in 2023?
As a result, many players cannot play Castle Crashers simultaneously on various gaming platforms.
The goal of this game is for the player to earn the highest score possible to unlock additional characters and weapons that are more on the single-player side.
The game is available on so many platforms, and it's quite reasonable why gamers expect it to be cross-platform. Unfortunately, not at all.
Is Castle Crashers Cross-platform Between Windows PC and Mac OS?
Fortunately, yes. If you want to play Castle Crashers with your friends online, you'll be happy to know that crossplay is supported by these platforms. Enabling seamless multiplayer experiences between the Windows PC and Mac OS.
Is Castle Crashers Cross-platform PC and PS3/PS4/PS5?
Unfortunately, No. Castle Crashers doesn't allow players on PC and PlayStation platforms to play together.
The game's multiplayer feature is mainly intended for local co-op and online multiplayer within the same platform.
Is Castle Crashers Cross-platform Windows PC and Xbox One?
No, Castle Crashers cannot be played on both the Xbox One and the PC because it is not cross-platform. This implies that your Xbox One-owning friend will be unable to join you if you play the game on a PC.
Is Castle Crashers Cross-platform PS4/PS5 and Xbox One?
Castle Crashers does not, as of 2023, cross-platform support play between PS4 and Xbox One. As a result, if you are playing the game on a PS4 system, your friend who has an Xbox One console is unable to join you in the game.
Is Castle Crashers Cross-platform Nintendo Switch and Windows PC?
Sadly, Castle Crashers is not a cross-platform game for PC and Nintendo Switch. Because of that, this game is incompatible for cross-play with Nintendo Switch and PC gamers.
Conclusion
Disappointing as it is that crossplay is only supported on Windows and Mac OS. We can only wait and hope for the cross-platform feature to be added to Castle Crashers to other platforms.
The game offers fun and adventurous gameplay that's perfect when hanging out with your buddies. Thus the lack of cross-platform is a huge thumbs down.
Nevertheless, you can still enjoy Castle Crashers with players on the same platform. In the meantime, hone your skills so you'll be legendary when cross-platform does come.
The game also doesn't support cross-generation gameplay. So PS4 to PS5 gameplay is not supported, and the same goes for Xbox One and Xbox Series X/S.
What about other of your favorite games? Is it cross-platform yet? Check out our cross-platform section to find out.