The Forza Horizon series has been long-known to bring race enthusiasts into a whole new open-world experience. The 5th installment in the series is sure to deliver a multitude of supersonic experiences for racers, especially in the multiplayer conversation. The game is available on Xbox and PC, and that's why many of them are wondering, is Forza Horizon 5 cross-platform?
If you're not familiar with the term "cross-platform," it refers to a type of game that lets players engage with or compete against one another on different gaming platforms. In essence, it's a method for sharing digital games that let people play together or across a variety of platforms.
A Quick Intro to Forza Horizon 5
Forza Horizon 5 will take you on a breathtaking horizon adventure in a diverse open world. This time, you will venture through the horizons of Mexico in fast-paced and intense driving action.
You will be able to experience the world's finest collection of cars and immerse in a comprehensive campaign that has hundreds of tasks and rewards you for doing the things you enjoy. Discover new characters and influence how their quests in Horizon Story turn out.
This long-running and ever-evolving series has put out yet another magnificent racing escapade. Experience stunning beaches, enormous gorges, live deserts, lush rainforests, historical cities, secret ruins, and a towering snow-capped volcano in a vast open world.
Forza Horizon 5 is a racing game that was developed by Playground Games and Xbox Game Studios. This is the 6th installment in the Forza Horizon series and the 12th for the Forza Series. It was initially released on November 4, 2021, and it is playable on both the Xbox Series X and Series S, Xbox One, and Microsoft Windows. So, Is Forza Horizon 5 cross-platform?
Is Forza Horizon 5 Cross-platform in 2023?
Yes. Forza Horizon 5 does have the capability to support cross-platform between all the latest consoles in the Xbox family and the PC. This means that you would be able to play Forza Horizon 5 with your friends regardless of what platform you're on.
This is a big advantage for those who have different devices as their friends but are still looking to play together. So if you're looking for a racing game to play with a Microsoft user, Forza Horizon 5 is the one.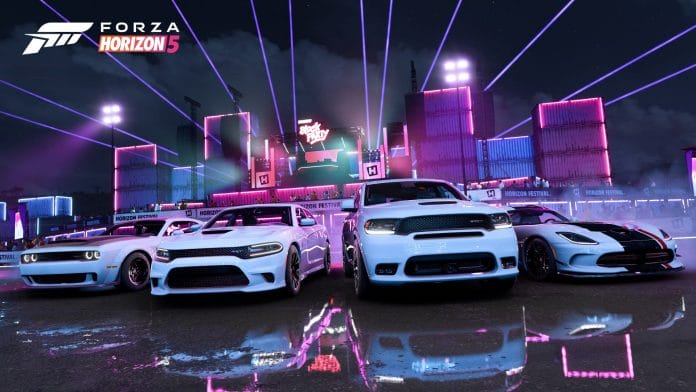 However, even though it has cross-platform support, there are still some limitations. So keep reading to learn more about this feature in Forza Horizon 5.
Is Forza Horizon 5 Cross-platform Play Compatible?
Yes. Forza Horizon 5 allows players to play with anyone no matter which platform they are on. This means that you can play with and against your friends, whether they have an Xbox console or Windows PC.
However, Forza Horizon 5 only allows you to save and share your progress across Xbox devices. So if you're a Steam user, you will be able to play with Xbox users but not share progress.
Does Forza Horizon 5 Support Cross-progression?
Yes and no. Forza Horizon 5 does have cross-progression between the Xbox family of consoles, but sadly, not on Steam. PC users cannot transfer their progress in Forza Horizon 5 into their Xbox if they have the console. This means that you must be extra careful in making the decision of which platform to play on.
Because even though you can play with friends, you will not be able to transfer your progress to a different platform, and all your data will be lost forever.
Conclusion
Given that Forza Horizon 5 is only available to Xbox and the PC and that they are both from Microsoft, adding the cross-platform feature is a little bit easier. We hope that this feature will be available to more titles and platforms in the near future.