Get the latest Project Baki 2 Trello Link, Wiki, and Discord in our complete resource guide!
Project Baki 2 is a Roblox fighting game derived from Keisuke Itagaki's world-famous anime/manga series, Baki.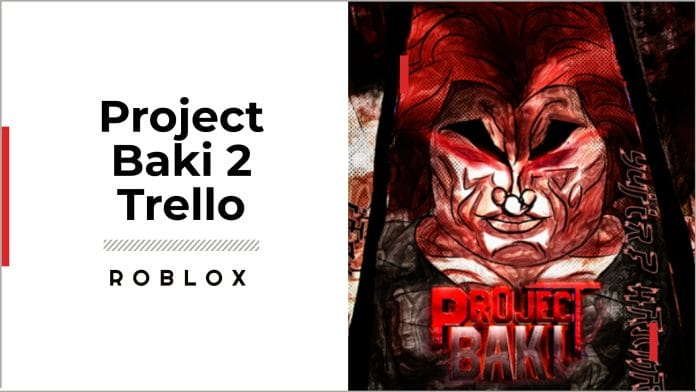 If you're into some action involving gargantuan muscles, martial arts, and street fighting, this game is for you.
Become the best warrior on the face of the earth by developing your raw strength, combat mastery, strategic fighting, and discipline.
With rigorous physical training and relentless dedication, you can become the most powerful fighter ever known.
The only question is, "Where do you start?"
Well, you're in luck because we're here to help you. Using the Project Baki 2 Trello, you will grasp the foundations of this game.
Project Baki 2 Trello Official Link
If you want to go to the official Project Baki 2 Trello, simply click on the button below:
What Is the Project Baki 2 Trello?
The Project Baki 2 Trello is a Trello board that aims to give players information about the game and help them grasp the basics better than a Wiki.
Trello is an online project management tool where you can make cards to organize information. The creators and developers of Project Baki 2 took advantage of this tool to help players.
Most Roblox games have a Trello Board and you can access them for free as long as you know the link. The official Project Baki 2 Trello contains all the useful information you need.
For starters, it has basic general info like important links related to the game, and it also answers most of the frequently asked questions.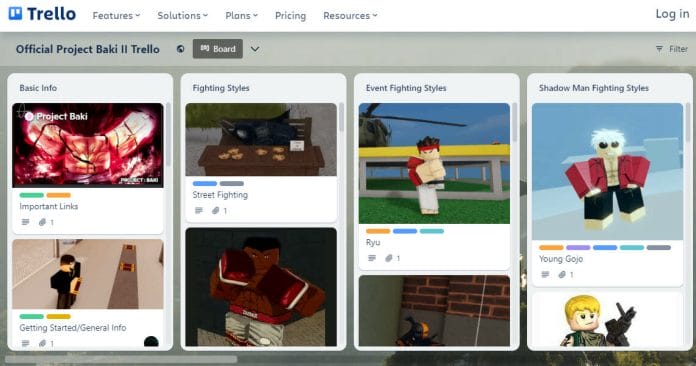 It also describes the different fighting styles like Karate, Muay Thai, Boxing, Street Fighting, and more.
Here, you can also find details about NPCs and bosses, game map and locations, gang turfs, training, and job requests.
This Trello board will be extremely useful for Project Baki 2 players, both beginners and experts alike.
Project Baki 2 Wiki and Discord
Besides the Project Baki 2 Trello, you can also get trustworthy information about the game from their Wiki and Discord server.
Even though the Project Baki 2 Wiki is not directly run by the developers, the huge and loyal player base is responsible for making this collaborative encyclopedia where players help players get more knowledgeable about their favorite game.
If you can't find the information you need on the Trello board or Wiki, you can join the Project Baki 2 Discord channel and connect with other players and the devs.
How to Use the Project Baki 2 Trello
Using the Project Baki 2 Trello is very simple. The Trello board consists of multiple cards and sections that discuss different topics.
Every information provided on the board is well-organized, so you can find the topic you want pretty easily.
Here are the sections in the Project Baki 2 Trello board:
Basic Info
Fighting Moves/Styles
Event Fighting Styles
Shadow Man Fighting Styles
Unobtainable Event Fighting Styles
Locations/Important Locations
NPC/Bosses
Map/Annotated Map
Training/Jobs/Quests
Items
Relics
Implants
Titles
Types of Gamepasses/DevProducts
Other – Credits
Project Baki 2 Controls
The developers want players to enjoy a game full of fighting and action without the complicated controls. Project Baki 2 is super easy to learn once you get the gist of it.
Here are the controls for the game:
CONTROLS:
Q – Dash
G – Rage (LOW HP)
F – Block
W+W / Left Control – Run
Z / X / C / V / B – Abilities
Project Baki 2 Codes
Tired of fighting in-game foes or working as a forest watcher to earn game currency?
If you want to get literal boosters for your character, make sure you try out these Project Baki 2 codes:
LIONPRIDEBABY—Redeem code for five Stat Resets
ALLMIGHTOURSAVIOUR—Redeem code for 2.5 million Yen
MONKEYMODE—Redeem code for a Title and three million Yen
FREEYEN—Redeem code for five million Yen
RYOMABABY—Redeem code for 19 color rerolls.
CODESFIXED—Redeem code for one million Yen
YAKUZAPARTTWO—Redeem code for 2.5 million Yen
ROBLOXBACK—Redeem code for Rocket Launcher Relic and one million Yen
ALLMIGHTGONE—Redeem code for one million Yen
STATRESETSFORSOMEONETHATASKED—Redeem code for three Stat Resets
SHAWNANDWISE—Redeem code for 10 color rerolls
AKIYAMAISHERE—Redeem code for 2.5 million Yen
RELICRESETTIME—Redeem code to reset your Relic
GOHANSOON—Redeem code for five Stat Resets
SHAKE—Redeem code for a Shake Emote
PICKLEJAR—Redeem code for five Stat Resets and five million Yen (New)
LATEJULY4THUPDATE—Redeem code for five Stat Resets
BAKI2BESTGAME—Redeem code for five Stat Resets
Other Trello Links:
Conclusion
Now, you can go to the Project Baki 2 Trello anytime. If one is born as a male, at least once in his life, he'll dream of becoming the strongest man alive.
So get out there and become the strongest fighter in human history!
If you want to see more articles about Project Slayers and all of your favorite Roblox games, take a look at our Roblox section.
GameGrinds is home to free codes, guides, tier lists, and other goodies for Roblox players.