Looking for the A One Piece Game Trello link? This article is all you need. The voyage of Luffy and his crew of Strawhat Pirates is loved by millions all over the world.
The epic quest of finding the most coveted treasure, the One Piece, has continued to capture countless adventurous hearts.
If you've ever dreamed of becoming a free soul like our heroes, wandering the vast seas, looking for treasures, and meeting new friends along the way, A One Piece Game is the reality escape you need.
AOPG is a Roblox RPG based on the anime and manga One Piece.
If you are just starting off and want to learn the ropes or get the best possible experience out of this game, you need to see the A One Piece Game Trello channel.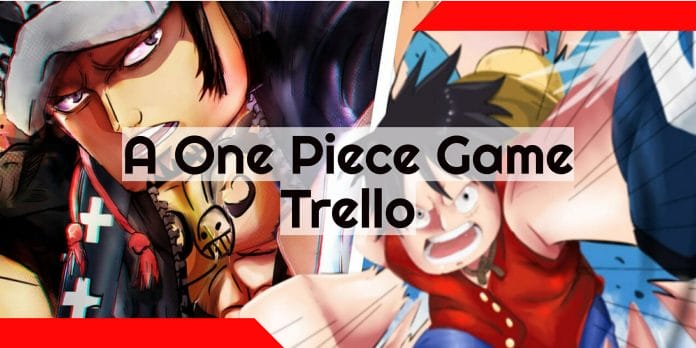 A One Piece Game Trello: AOPG Trello Official Link
If you want to go to the official A One Piece Game Trello, simply copy the link below to your browser:
https://trello.com/b/BEO9Bwhh/aopg-trello
What is A One Piece Game Trello?
A One Piece Game Trello is an official Trello made by game developers aiming to help players understand the game better.
Most Roblox games have an official Trello channel, such as this Reaper 2 Trello Link. These Trello boards contain the most reliable information and are better than the fan Wikis.
A One Piece Game Trello will contain complete details about SEA maps, quests, NPCs, bosses, raids, devil fruit, dungeons, updates, and more about the game.
A One Piece Game Wiki and Discord
A One Piece Game does have an official wiki. However, developers do not contribute information to this site.
Instead, it is run by an active community of players, including those who have major roles in A One Piece Game Discord. This means that the info here can be trusted and useful as well.
What is A One Piece Game?
A One Piece Game is a Roblox RPG based on the well-renowned anime and Shonen manga, One Piece.
It allows players to jump into the world of Monkey D. Luffy which is filled with pirates, marines, mysterious devil fruit powers, and massive explorable islands.
It is developed by Boss Studio and has one of the biggest player bases in Roblox.
Also Read:
A One Piece Game Trello: First Sea Locations
Luffy's Island
Punk Hazard
Ice Island
Started Island
Desert
Phoenix Nest
Skypiea
Shells Town
Arlong Park
Orange Town
Impel Down
Wilderness
Syrup Village
Arena
Marine Ford
Flamingo's Island
A One Piece Game Trello: Second Sea Locations
Nobleman Island
Onigashima
SEA Bear Nest
Enies Lobby
Sengoku's Domain
Dawn Island V2
Zou Island
Wano
Pirates Paradise
Volcano Biome
Photon Zone
Outlaw Isle
Dressrosa Island
A One Piece Game Trello: Fruits List
Doku Fruit
Quake Fruit
Ice Fruit
Suna Fruit
Operation Fruit
Lightning Fruit
Bara Fruit
Smoke Fruit
Light Fruit
Invisible Fruit
Fire Fruit
Bari Fruit
String Fruit Awakened
Gas Fruit
Gravity Fruit
Gura FRUIT V2
Ice Fruit V2
Dragon Fruit
Rubber Fruit
Dark Fruit
Phoenix Fruit
Buddha Fruit
Magma Fruit Awakened
Light Fruit
Bomb Fruit
Magnet Fruit
Tori Fruit
Mochi Fruit
String Fruit
Magu Fruit
Paw Fruit
A One Piece Game Trello: Accessories List
Marine Hat
Blackbeard Cape
Kaido's Cape
Shinichi Skull
Lion Cape
Farmers Hat
Samurai Helmet
Metal Boots
Marine Cape
Blood Automail Arm
White Mustache
Kids Hari and Goggles
Golden Hook
Flamingo Cape
Sniper's Hat
Goggles
Shinichi Horns
Candy Scarf
Kuma's Hat
Sign of the Strongest
White Scarf
Lucci Top Hat
Straw Hat
Oni Mask
Law's Hat
Spy Cloak
Royal Cape
Horns
Ronin's Tusk
Shell Necklace
Seabeast Armor
Spy Fedora
Martial Artist Gloves
A One Piece Game Trello: Raids List
Fujitora Raid
Maze
Easter Raid
Gear 4 Dungeon
Candy Raid
Law Raid
Akoiji Raid
Shanks Raid
Conclusion
Now you have access to the official A One Piece game Trello, you can have all the information you need for your voyage.
Another thing you would surely love is our collection of A One Piece Game codes.
After that, you can also check out other Roblox codes like Dragon Blox Codes, Slayers Unleashed Codes, Anime Fighting Simulator Codes, and more.
If you are looking for more hidden gems and goodies for your favorite Roblox games, make sure you take a look at our Roblox section.
Here at GameGrinds, we aim to provide gamers with the best gaming resources.
So bookmark our site and visit often, and don't forget to comment any questions you might have; we'll be sure to answer them.