Score free diamonds, coin boosts, and tons of other stuff with our Pet Simulator X Codes. Pet Simulator X is a popular companion-collecting game from Roblox, much similar to Adopt Me.
You start off by collecting coins and opening eggs and then raising them with tender loving care to see them grow.
Eggs can hatch into cute and furry baby cats or dogs or magical beasts like dragons and unicorns.
You can have your dream pet in this game. But acquiring them comes at a price, and some of them require you to have tons of gold and diamonds.
This is where our Pet Simulator X Codes come in handy. Using this code list, you can have an enormous amount of diamonds and tons of other freebies, and you'll have your favorite pets in no time.
Also Read:
Pet Simulator X Codes List
Active Codes
As of the moment, there are no active Pet Simulator X codes available. Check back soon!
Expired Codes
These codes are no longer working:
FreeDiamonds0
Triple275k
Ultra225k
MoreCoins180k
EzDiamonds150k
Easy125k
Release
Super25k
Triple80k
Lucky50k
404Roblox – Eight triple coin boosts
1Mfollowers – Five triple coin boosts
happyholidays – Three triple coin boosts
tonsofcoins – Three triple coin boosts
im2lucky – Three ultra luck boosts
TripleCoins999 – Triple coin boost
1mplus300k – Two ultra lucky boosts
happysaturday11 – Three triple coin boosts
yaydiamonds2 – 50k diamonds
alienpets – Two ultra lucky boosts
1billion – Five triple count boosts
yaydiamonds – 50k diamonds
its1million – 100k diamonds
xmas – Four Triple damage boosts
santapaws – Four Triple damage boosts
pumpkin333 – Free diamonds
bandsundrbidn – 30k diamonds
sorry4thewait – Triple coins boost
VoiceChat – Triple coins boost
triple800 – Triple coin boost
steampunkpets – Triple coin boost
easyboosts – Triple coin boost
700kDiamonds – 25k diamonds
anothertriple – Triple coin boost
Underworld – Free diamonds
Clouds – Boost
halfamillion – Free diamonds
plaid1234 – Triple coin boost
big1234 – Triple coin boost
morecodes3 – Ultra lucky boost
Back2Back – Free diamonds
blamedavid – Triple coin boost
SuperUltra1 – Ultra lucky boost
FirstUpdate – Boost
morecoins4u – Two triple coin boosts
How Do I Redeem Pet Simulator X Codes?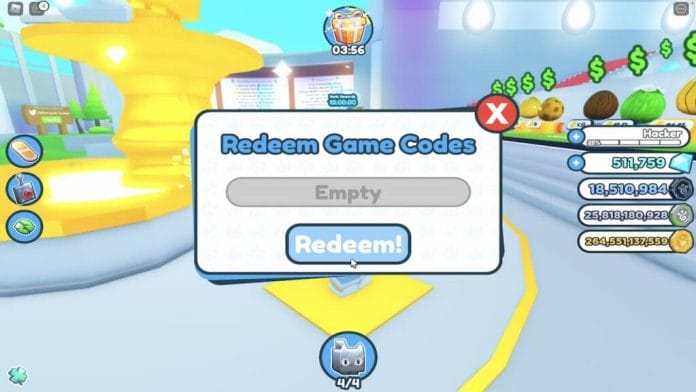 Redeeming your Pet Simulator X codes is pretty simple. Simply follow these steps:
Open Pet Simulator X
Click on the Pet icon located at the lower part of your screen
Press the Star icon
Scroll to the bottom and look for the "Redeem Codes" section
Enter your code
Enjoy your rewards!
But remember, you have to reach Basic Rank first before you can redeem codes. Simply click on the piles of gold coins on the Spawn Map as the game launches.
This way, you'll increase your rank in no time.
Pet Simulator X Frequently Asked Questions
What are Pet Simulator X Codes
These are codes that give you free items and boosts that will let you enjoy the game more and have a better experience.
When will the next Pet Simulator X codes come out?
Since codes that are expired can't be used, the new codes will come out when the game reaches 2.5 million likes.
How to Play Pet Simulator X?
You can head to the Roblox website to play the game. But Pet Simulator X can be hard to find in the game directory because of the number of ripoffs and fake versions of the game.
You can make things easier by going directly into Pet Simulator X's address.
Conclusion
That's basically everything you need to know about Pet Simulator X codes. Our list is always updated, and new codes might come in at any time.
So, you'd better check it out frequently, be the first to use these codes, and reap your rewards.
We also have codes for other Roblox games such as Blox Fruits Codes, Ghost Simulator Codes, Bee Swarm Simulator Codes, and a lot more. Get all these items and gold for free, and you must visit our list frequently.