Explore, build, and survive with friends. Is Rust cross-platform in 2023?
What would you do if you woke up butt-naked on a mysterious island with nothing but rocks at your disposal? Rust is a 10-year-old game, but the survival experience it offers never gets old.
With everything around your surroundings wanting to kill you, this can be a thrilling and scary journey at the same time.
But put your friends into the mix and you have a survival game that's sure to offer countless hours of fantastic gameplay.
That's why a lot of players have been asking the question; "Is Rust a cross-platform game?" It's a game-changing feature that is sought after by players when looking for a new game.
However, if you're not yet familiar with the feature, you can read our post titled "What Is Cross-platform In Gaming?"
For this article, we'll tell you whether Rust is cross-platform or not.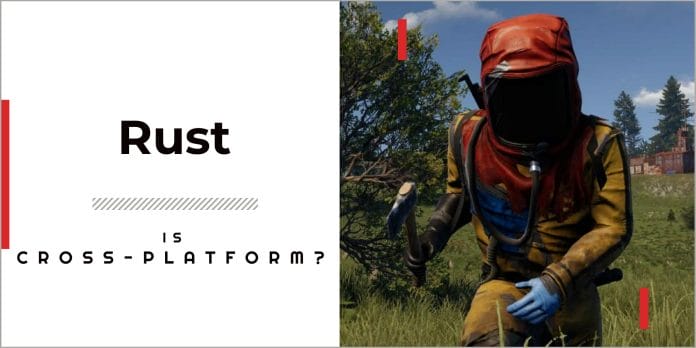 A Quick Intro to Rust
Rust is a 2023 multiplayer survival video game from Facepunch Studios. This popular game will take you on an immersive and thrilling adventure as you awaken on a mysterious island, stripped of everything but a rock and a torch.
Your survival instincts will be put to the test as you confront the harsh realities of nature designed to take your life.
Stay alive against scorching heat, bone-chilling cold, unquenchable thirst, and the constant threat of starvation.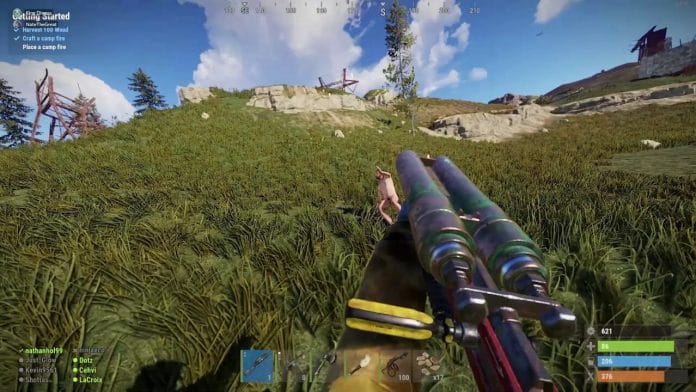 As you navigate the island, you'll realize how important food, shelter, and resources are. Engage in a breathtaking competition as you scavenge for necessary supplies while maintaining vigilance.
Beyond the perils of the environment, the island is crawling with other survivors who pose an imminent threat.
With everyone and everything wanting to kill you and nobody to guard your back, will you be able to survive this treacherous island?
Rust is available on the following gaming platforms:
macOS
Windows
PlayStation 4
Xbox One
Braving this game with your friends would definitely be a fun experience. But is Rust cross-platform? Let's find out.
Is Rust Cross-platform?
Yes. You'll be glad to know that, as of date, Rust does have cross-platform-play available. This means that Rust players from different platforms can enjoy the game together.
However, it is also important to note that Rust is not universally cross-platform compatible.
Console players may join together despite being on different console families. However, PC players are left out of the conversation.
Read on to find out more about the cross-platform functionality that Rust offers.
Is Rust Cross-platform Between PS4 and Xbox One?
Yes. Currently, console players can enjoy cross-platform play even if they own different console versions.
This means that PS4 players can play Rust and be matched with players from the Xbox One.
Is Rust Cross-platform Between PC and Console?
Sadly, no. The cross-play feature is not available for PC players. Meaning, players cannot join in the fun with console players.
So if you have a PC, you can only match with other PC players.
Will Rust Ever be Cross-play with PC?
Facepunch Studios has done tons to improve the game and even added crossplay to Rust.
However, the main reason why PC players can't receive this feature is because of the unfair advantage that will rise from the differences in the mechanics between keyboard players and console players.
As of now, there is no official announcement regarding crossplay for Rust PC.
Is Rust Better on PC or Console?
When it comes to actual gameplay and controls, it really depends on the player's personal preference.
However, console players can enjoy cross-platform functionality while PC players cannot.
Is Rust Cross-progression?
Yes. Rust is indeed cross-progression. So when you play across different platforms, your items and game data can be carried over.
This means that as long as your account details are secured, you can play across any platform.
Also Read:
Conclusion
That's everything you need to know about Rust and its cross-platform feature.
Console players will be delighted to know and enjoy the availability of crossplay for their platforms. On the other hand, PC players can only hope to get it, perhaps in a future update.
If you want to see more crossplay guides for other multiplayer games, you can always visit our cross-platform section to find out.
GameGrinds is your number one resource for anything related to gaming. So make sure you bookmark and comment any questions you have below.