Hunt with everything on the line. Is Hunt Showdown crossplay? Find out in this article.
Hunt Showdown is an epic combination of different gaming genres and features that brings out the competitive predator in every player. Set out on a high-stakes hunt with friends and put everything on the line as you strive to be the best hunter in the forest!
With heavy PvE and PvP elements, this game is a sure blast to play with your buddies. That's why many players have been asking; "Is Hunt Showdown crossplay?"
This article will answer that question for you.
However, if you're unfamiliar with the feature, you can read our post titled "What Is Cross-platform In Gaming?" Crossplay is one of the most revolutionary features in modern gaming, proven by giants such as Fortnite and Minecraft.
That said, let's take a closer look at Hunt Showdown and its crossplay compatibility.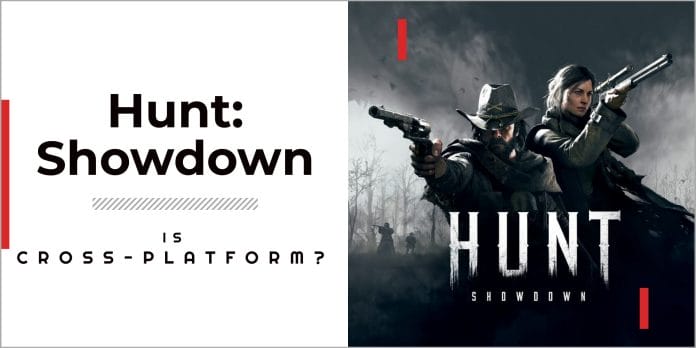 A Quick Intro to Hunt Showdown
Hunt Showdown is a first-person shooter game set in the darkest times of 19th-century Louisiana. Take your guns and gear to eliminate vicious monsters for cash and become the most feared bounty hunter.
Hunt Showdown features bounty-hunting gameplay that combines exhilarating PvP mechanics and heart-racing PVE encounters. The matches pit players against perilous environments riddled with deadly monsters while they compete against each other to be the best team in the wild.
Navigate through dense swamps, eerie forests, and decaying villages as you guard your back against both the supernatural and fellow hunters. Every decision matters and every step could be your last.
Will you take the risk and engage in a ferocious firefight, revealing your position to both the monsters and rival hunters? Or you will remain hidden, using cunning and patience to outmaneuver your enemies and strike in the deciding moment?
Choose your own loadout that suits your playstyle. You have a wide variety of weapons at your disposal, from trusty revolvers and shotguns to explosive crossbows and deadly traps. But remember, ammunition and supplies are limited, and every bullet counts.
Hunt Showdown is available on the following gaming platforms:
Microsoft Windows
PlayStation 4
Xbox One
Xbox Series X/S
PlayStation 5
Rally the best team of hunters and dominate the Hunter Showdown. But on to the question: can this game be played across different gaming platforms?
Is Hunt Showdown Crossplay?
As of date, Hunt Showdown is partially cross-platform compatible. This means that some players can enjoy cross-platform play while others cannot. Crossplay features are currently available for console players only.
For instance, Xbox players can play with PlayStation players and enjoy the game together. However, PC players won't be able to join in the crossplay fun.
Another important thing to note is that Hunt Showdown's crossplay only supports random matchmaking. So no pre-made teams can play the game together.
Also Read:
Is Hunt Showdown Crossplay Between PC And PS4?
No. Hunt Showdown is not cross-platform between PC and PS4. PC players can only play with others who are on the PC. Meanwhile, PS4 players can join a match with Xbox players and other PlayStation users.
Is Hunt Showdown Crossplay Between Xbox One And PS5?
Yes. Hunt Showdown is definitely cross-platform between the Xbox One and PS4/PS5. Console players may enjoy the game together despite being on different console families or console generations.
Is Hunt Showdown Crossplay Between PS4 And PS5?
Yes. Since Hunt Showdown is cross-progression compatible, PS4 and PS5 players can play with each other, given that they are from the same region. The same goes for Xbox One players and Xbox Series X/S players.
Is Hunt Showdown Crossplay Between Nintendo Switch And Android?
No. Hunt Showdown is not available for Nintendo Switch and mobile gamers. However, with some tricks, you can play the game on your Android phone. Cross-platform play, however, is not available for these devices.
Will Hunt Showdown be Crossplay in the future?
As of now, Hunt Showdown's cross-platform features are limited to console platforms and it doesn't allow you to team up with friends.
You could increase the chances of joining the same match with them by setting the same primary server, but it would still be very slim.
There is no news or updates yet, but hopefully, the developers will address this issue in the future.
Conclusion
It's nice to know that cross-platform play is somehow available for console players in Hunt Showdown.
But a game that requires immense teamwork and coordination is highly flawed without a proper matchmaking system and team building.
What about your favorite game? Is it cross-platform just yet? You can always check our cross-platform section to find out. Comment down below what game you would like us to cover next.