Deep Rock Galactic is one of those FPS games that are more focused on cooperative team play.
This means teamwork makes the dream work, and it's best played with friends. Having great multiplayer capabilities, is Deep Rock Galactic cross-platform in 2023? Let's find it out.
If you're unfamiliar with the term "cross-platform", it refers to a game that allows players to engage or play with other players on multiple gaming platforms. See What Is Cross-platform In Gaming?
It's essentially a digital game distribution system that allows gamers to play together or continue their work on multiple platforms.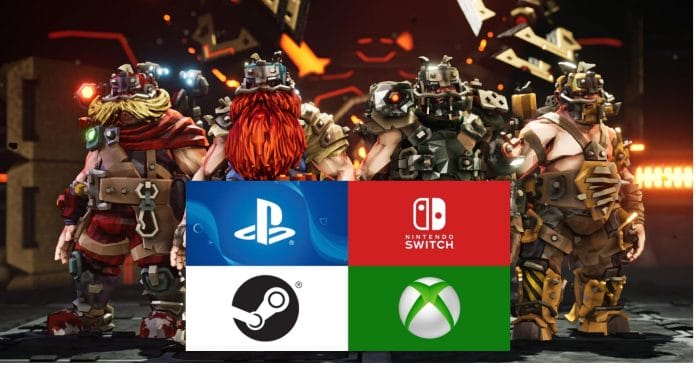 A Quick Intro to Deep Rock Galactic
Deep Rock Galactic is a first-person shooter that features the coolest space dwarves on a completely destructible alien world. The game has a PvE gameplay that focuses more on teamwork and coop.
Also read:
It offers a nice change of pace in FPS games since they are mostly about killing other players.
But here, you gain nothing by hurting other players, and you have to work together if you want to survive the hostile caves ahead of you.
Deep Rock Galactic offers 1-4 player co-op gameplay with unique classes of dwarves to fill different roles.
Your goal is to make it through perilous alien caves filled with tons of resources and hostile monsters.
The twist is there is no right way to get through since everything is destructible. So you can follow a path or make your own by blowing things up.
Deep Rock Galactic was developed by Danish studio Ghost Ship Games and published by Coffee Stain Publishing, and it was initially released on February 28, 2018.
You can play the game on the PlayStation 4, Xbox One, PlayStation 5, and Microsoft Windows.
It definitely has thrilling gameplay and lots of room for multiplayer enjoyment. But is Deep Rock Galactic cross-platform?
Is Deep Rock Galactic Cross-platform on PC and PlayStation?
No. Deep Rock Galactic doesn't offer cross-platform support between PC and the PlayStation consoles.
This means that you wouldn't be able to play with friends who are not on the same platform as you.
This may be disappointing to PS4/PS5 owners who want to experience the game with their PC buddies.
But the good news is it allows up to 4 players, so you can definitely invite them to come over and play together on your console.
Is Deep Rock Galactic Cross-platform on PC and Xbox?
No. Despite the fact that they are both made by Microsoft, these devices are unable to play Deep Rock Galactic together.
As a result, if you're playing on a PC, you're confined to playing with other PC users. The same can be said for other syst
Is Deep Rock Galactic Cross-platform on PlayStation and Xbox?
Unfortunately no. Xbox and Playstation players will not be able to join each other in playing Deep Rock Galactic.
Not having this feature can be a huge hole in the enjoyment of many players who have friends with different consoles.
Is Deep Rock Galactic Cross-platform on PS4 and PS5?
Yes. Luckily, Deep Rock Galactic allows crossplay between PlayStation owners. This means that players on the PS4 and PS5 can play together and enjoy the co-op gameplay of the game.
Is Deep Rock Galactic Cross-platform Between Xbox One and Windows 10 Store Version (Microsoft Store)?
Yes. If you buy Deep Rock Galactic from the Microsoft Store, you can play it on both Xbox One and Windows 10.
You can also play with others who have the game on Xbox One or Windows 10.
However, if you have the Steam version, you can only play with others who also have the Steam version. Your progress is saved across both Xbox One and Windows 10 versions. More information here.
Conclusion
Deep Rock Galactic is a multiplayer-focused game, and it should definitely be cross-platform.
Sony has been slowly implementing the feature unto its games, and Deep Rock Galactic is one of the latest titles to get it. Let's just hope to see cross-platform support more in the future.
Cross-platform gaming is a massive business that will only continue to expand. The cross-platform gaming sector is valued at more than $30 billion.
This is fantastic news for gamers, as it means that they will be able to play with their friends and family from anywhere in the world.
Deep Rock Galactic appears to be on the right road for a successful cross-platform release so far.
Are you looking forward to it? Please let us know in the comments section below!