Can you and your friends survive in the world of Conan the Barbarian? Is Conan Exiles Cross-platform?
How will Conan the Barbarian match up against sorcerers? Can your sword beat their magic wands and deadly incantations? Build your home into a kingdom, dominate your foes in single-player or multiplayer mode, and survive in a massive open-world sandbox.
Conan Exiles offer a new take on the classic story we loved for ages. If you and your friends are playing this game, you might be wondering, is Conan Exiles cross-platform?
Most gamers today search for cross-play and cross-platform features, particularly when looking for a new game to spend hours playing. However, if you're not yet acquainted with the feature, you can read our post titled "What Is Cross-platform In Gaming?".
With that out of the way, let's look closer at Conan Exiles.
A Quick Intro To Conan Exiles
Conan Exiles is a multiplayer online survival game using sorcery that is set in the world of Conan the Barbarian. Enter a massive, open-world sandbox and construct your own house or even a shared metropolis while collaborating with friends and other players.
Maintain your character's development from scavenging survival to formidable barbarian and potent sorcerers while enduring extreme cold temperatures, exploring loot-filled dungeons, and engaging in epic siege wars to conquer your foes.
The game starts after Conan personally saves your life by chopping you down from the corpse tree. Now, you must swiftly master survival skills. Sandstorm-scouring weather, protective clothing against scorching heat, and animal hunting for food and resources.
Discover a large and seamless environment that ranges from the northern highlands covered in winter to the southern blazing desert. As you battle to regain and rule the Exiled Lands, forge your clan's heritage.
Create anything from a little house to enormous cities piece by piece with a robust building system. Battle your foes in epic battles while wielding swords, sorcery, bows, and siege weaponry. You may even take control of enormous god avatars to destroy their dwellings.
Conan Exiles was released on January 31, 2017, and it is currently playable on:
PlayStation 4
Xbox One
Xbox Series X and Series S
Xbox Cloud Gaming
Microsoft Windows
Are you ready to survive and battle with friends? Is Conan Exiles cross-platform?
Related Articles:
Is Conan Exiles Cross-platform In 2023?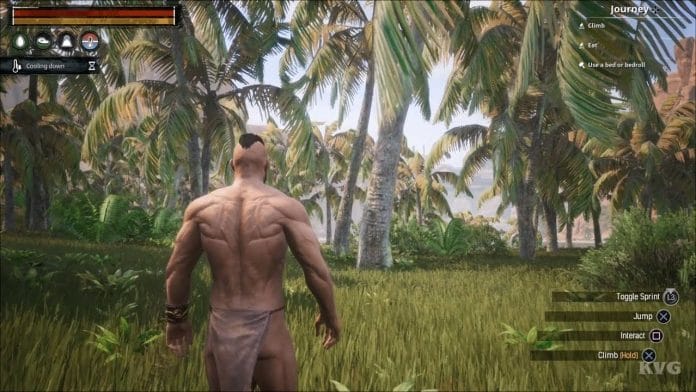 No, Conan is not cross-platform as of now. But the good news is that the developers from Funcom said that they might just add the feature to the game. This is quite possible because Conan Exiles allows cross-progression or transferring your progress across platforms.
Is Conan Exiles Cross-platform Between PS4 and Xbox One?
No. Players of Conan Exiles on the PS4/PS5 and Xbox consoles are not able to cross-play. You can only play with people who use the same platform as you if you are using one of these two consoles.
Is Conan Exiles Cross-platform Between PC and PS4?
No, Conan Exiles is not cross-platform between PC and PlayStation. The game's PC and PS4/PS5 versions are incompatible with one another.
Therefore, players from these two platforms cannot play together. To play with your buddies, you must purchase a gaming PC or a new console.
Conclusion
Cross-platform play is a common feature for many games, and Conan Exiles would be a fantastic addition to the list of titles supporting it. Many fans have been asking for it, and adding it would surely make the game more well-liked.
Funcom has not specified a time frame for when this might happen, but we will let you know as soon as we do. Meanwhile, if you're looking for a specific game, you can check out our cross-platform section or comment down below the title you want us to cover next.