Google Chrome is one of the many browsers that you can use for your desktop computer, laptop, mobile device, and smartphone.
One of the functions that Chrome has is the Bookmark feature. The Bookmark feature allows people to save websites on Chrome.
They can conveniently access it later on by just clicking a few buttons, and you're done. Knowing where Chrome Bookmarks are stored is essential, so read ahead.
Also check: How to Disable Chrome PDF Viewer
Chrome Bookmarks Storage Location
When you want to look at where the Bookmarks are stored, you'll need to do a lot of work. Different systems also have other methods of looking for Bookmark storage.
Finding Chrome Bookmarks on Windows
You can start off by going to your C: drive. Even if you're not the main account or the system admin of the computer, if you know the password, then you can enter the folder. Just click on the following folders, and you can find the Bookmarks stored here.
AppData\Local\Google\Chrome\User Data\Default
Finding Chrome Bookmarks on Linux
There are two paths in Linux that you can use, but that depends on the version of Linux or Google Chrome you are using. If one doesn't work, then you can rely on the other.
/home/<your username>/.config/google-chrome/Default/
or
/home/<your username>/.config/chromium/Default/
Finding Chrome Bookmarks in a Mac OS
That path in the Mac OS is
/Users/<your username>/Library/Application Support/Google/Chrome/Default.
You can enable the hidden folders in the Finder option, and you can pretty much change, add, and remove your Chrome Bookmarks when you're not doing it on the Chrome browser.
Some Bookmarking Tips
How to save Bookmarks
Method 1
The first method is to click on the upper right corner of your browser, where a star symbol is located. Once you click on the star, it gives you an option to change the name of the link to make it more convenient for you.
Method 2
The next method is a bit longer, but it has the same effect. Go to the upper right corner and click on the three vertical dots.
Click on the Bookmarks option, and you have several commands to choose from, so choose Bookmark this page.
You get the save option from Method 1, where you can rename the link and store it somewhere else.
Method 3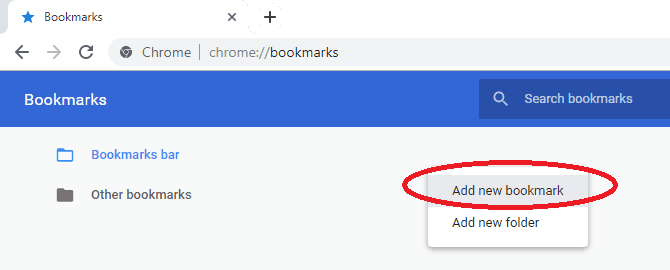 Open the Bookmark manager through the vertical three dots and open it. You can also use the shortcut keys being CTRL + SHIFT + O.
Then right click on the side where you can save the site and put a name of your own to bookmark a link that isn't even open.
Method 4
You can also just press the shortcut keys CTRL + SHIFT + D to automatically save the site as a Bookmark on its respective folder.
Using folders for your Bookmarks
Now that you know where are Chrome Bookmarks stored, you can use the trick where you can make folders and store these Bookmarks for convenience.
Go back to the three vertical dots and open the Bookmark manager. In the image above, in step 1, you need to right-click, and it gives you the option to create folders.
You can create and name folders depending on what you want. You can create a number of folders that contain the same sites to make things more convenient.
In the image above, in step 2, you have those folders that have different names. In the Comedy Youtube Videos folder would have funny videos on Youtube.
The Forex Trading Sites have stock exchange sites, and the Social Media Accounts folder has all of your social media accounts and passwords ready to go and logged in when you click on them.
You can make as many folders as you want where you can compile your sites quickly.
Tips you can use with Chrome Bookmarks
Utilize the shortcut keys
If you are quick with your fingers, you can easily bookmark websites, create folders, and open them right away with the shortcut keys based on the image below.
Using the Bookmark, all open pages open.
This is very convenient when you have a lot of sites open up, and you want to bookmark all of them in one folder.
Just go to the three vertical dots again and press the Bookmarks option and click on Bookmark; all pages open and sent to a folder of your choice.
Utilizing the Bookmarks bar
You can open the Bookmarks bar on the dots again. Click on the option, and you'll see all the Bookmarks and folders that have the other Bookmarked sites that you placed there.
You don't need to open any more options as you just click on the Bookmarked items based on the image below, and you'll open the sites in no time.
You can easily close the bar as well by right-clicking on it.
Syncing your Bookmarks to other devices
It is easy to Bookmark these sites on your computer. You can also use the same methods on your mobile device. The only thing you can't do on your phone is using the shortcut keys.
You can always Bookmark these things on your computer and link or sync them to your account.
When you use another device, you can log in to your account. All of those Bookmarked items will appear on the device.
Bookmarking your sites can be a very convenient thing to do. That's because you know where Chrome Bookmarks are stored.
When you get the hang of it, you can open up different sites in no time and bookmark new ones with ease.
Final Statement
That concludes our detailed tutorial on how to use Chrome Bookmarks. This should cover everything you need to know to start saving and viewing your favorite websites with just a few clicks.
Please let us know if you found this article useful in the comments area below. And if you have any questions about Chrome Bookmarks or other browser features, please don't hesitate to contact us — we're always pleased to help!