While computer users have enjoyed using Windows and Mac OS operating systems; Google has joined the tide of creating a new operating system and developed Chrome OS.
Chrome OS is an operating system with a different taste and although works like a normal computer but with different settings, unique environment, new hotkey combinations, and some new functions.
Whoever buys a new gadget or a computer is often eager to learn how to take screenshots, as this function can come in very handy. Every device has different shortcut keys such as the Chromebook.
In this post, we will tackle on different methods on how to take a screenshot on a Chromebook which a functionality that you will need every now and then.
2 Ways to Take a Screenshot on a Chromebook
There are two easy ways to take a screenshot on Chromebook depending on your screen capturing needs; whether you need to capture the entire screen or just a portion of it, keep reading to learn.
Taking Full-Screen Screenshot
Sometimes you need to capture the entire screen of your Chromebook, and to do this you have to press "Ctrl" and "Window Switcher" or (Ctrl + F5) together.
Taking Partial Screenshot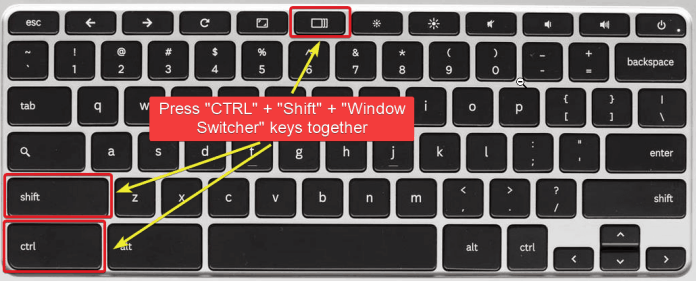 When you just only need to take a specific region of the screen, to do this simply add "Shift" key from the method above or (Ctrl + Shift + F5).


After pressing the screenshot key combinations, you will notice a quick flash and a notification message appears to confirm a successful screen capture has taken.

So pretty much it. Now, click on the notification message or browse on "Downloads" folder to view the saved screenshot image.
Conclusion
This is how taking a screenshot on Chromebook is done. The method mentioned above is the standard way of taking screenshots on a Chromebook when taking screenshots.
But, if you prefer the other and more advanced way, you can install Chrome extensions such as Full Page Screen Capture, Take Webpage Screenshots Entirely or Awesome Screenshot to enjoy extra functionalities.