"Is it possible to use multiple windows on Chromebook?"
"How do you Split Screen on a Chromebook?"
"Are there hotkeys for window mode side-by-side on Chromebook?"
We've been seeing these types of questions recently. It just goes to show how popular Chromebooks are in 2020. Students and professionals alike are finally seeing the benefits of using a thin and light device for daily tasks. Learning how to split screen on Chromebook can really turn things around.
However, is it really possible to see more things on a small screen? The short answer is "YES."
In this guide, we're going to cover all the common ways you can use multiple windows on your device. Plus, we also added an extension that will give you the flexibility to resize and reposition your windows as you see fit. Are you ready to learn more new ways to love your Chromebook?
How to Split Screen on Chromebook
Content creation is a lot faster to do when you can see multiple windows at once. Using Side-by-side windows just by using a touchpad can do wonders for your productivity. If you want to learn this method, just follow these simple steps:
Open Chrome Browser
If your app launched in full screen, double-click an empty part of the title bar or hit the "Restore Down"
Click on the + (New Tab) icon, click and hold the new tab and drag it away from the window.
Align the window on the other half of your desktop and release.
You can also do a window mode side-by-side by using the Maximize button on the upper right. Here's how to do it: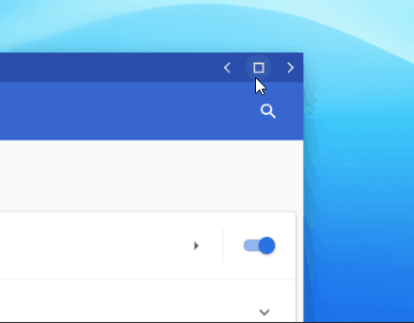 Press and hold on the Maximize button until you see arrow buttons around it
Press the direction you want your window to be moved using the arrows
The window should snap into the direction you chose
How to Split Screen on Chromebook with Hotkeys
By now, you've probably realized that resizing and readjusting your browser windows on a daily basis can cost you some time. One way of lessening the burden is learning the hotkeys on how to split screen on Chromebook. It's very simple and straightforward to use:
On an open window, hit ALT + [ to resize and reposition your window to the left side and ALT + ] to resize and reposition the window to the right.
Either open a new tab or launch a new browser window and manually resize and reposition the window to fit on your desired location
How to Split Screen on Chromebook using Dualless Extension
No external monitor? No problem! The Dualless extension for Chrome is here to hook you up. If the bulk of your work revolves around multiple Chrome tabs, then you'll love this handy extension! Resize your window ratio by 3:7, 4:6, 5:5, 6:4 and 7:3 with ease!
The only downside is that this extension will only work on Chrome Browsers. If you are going to use a browser and an app, simultaneously, then you're better off with the standard method.
Here's how to use Dualless:
Add Dualless to your Chrome Extensions
Once added, launch the extension by hitting the icon on the upper right of the window
Choose the ratio that suits your preferences
Conclusion
Don't let the limited screen size affect your productivity. Chromebooks are more versatile than ever. Gone are the days where people view it ONLY as a tablet alternative. Now that you've learned how to split screen on Chromebook, we're fairly confident that you'll find more ways to maximize your device.
Do keep in mind that performance will vary depending on your RAM usage, as well as the hardware running Chrome OS. In most cases, you won't feel any performance hits, but for demanding tasks, you might need to optimize your workload to get the best of both worlds.
More resources