There are times when you need to see photos, videos, or any other documents from your Android smartphone on a larger screen.
This is beneficial for several reasons, and it's important to know how you can accomplish it.
If you are currently looking for ways to do just that, then you are in luck. You are being presented with several ways how to get it done, so follow instructions carefully.
How to Screen Mirror an Android Smartphone to Your Windows PC?
Thanks to the built-in Windows Connect feature, screen mirroring Android to PC is possible.
Step 1: Enable the Bluetooth. It is necessary to enable Bluetooth on both of your devices — your Android smartphone and your Windows 10 computer.
Step 2: Click Start. On the bottom-left part of your computer screen, hit the Start button.
Step 3: Go to the Settings icon. Upon clicking the Start button, it is now time to hit the Settings option.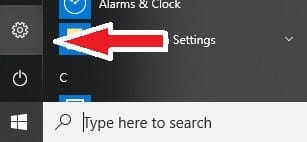 Step 4: Select System. Under your Settings, click the System. Under this particular option, you can configure your computer's display, notifications, and power. The system option is beside the Devices icon.
Step 5: Hit Projecting to this PC option. You can find this option on the bottom left part of your screen, under the settings tab.
Step 6: Select Available Everywhere option. It is the first drop-down menu under the Projects to this PC option.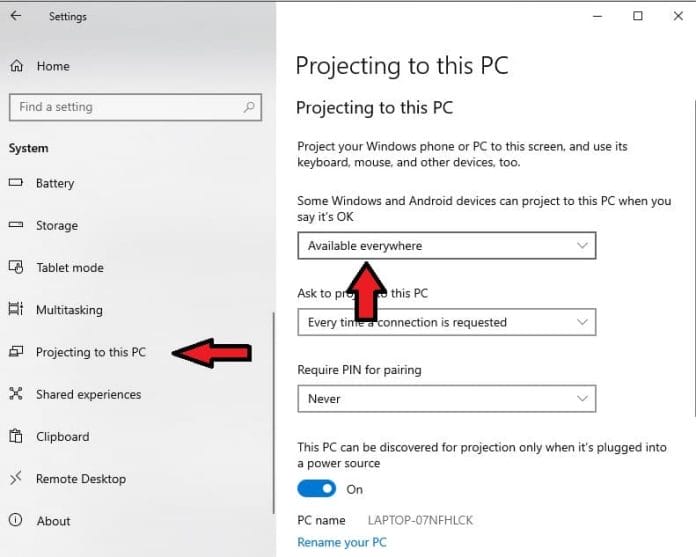 Step 7: Go to your Android Smartphone's Settings. Under your Settings, look for More Networks.
Now, look for the Screen Mirroring option so you can share your phone's screen with another device, such as your Windows computer.
Step 8: Scan for available devices. Your Android device will then allow you to search for available devices to share your screen with.
As soon as the name of your PC appears in the list, you will have to tap on it to successfully pair the two devices together.
A message on the screen will tell you that your Android phone is connecting to your computer.
Step 9: Accept the request to connect. On your Windows computer, there may be a request to allow your Android smartphone to pair with the computer. Hit the Yes option.
You are expected to see the Android screen on your computer. To navigate to your desired content, you have to use your Android smartphone.
Should you wish to end the screen mirroring, head on over to your Android Settings and hit the End Connection button.
Next, you will need to disconnect the current connection. Press the OK button to do so.
Perks of Mirroring Android Screen on Windows PC
There are quite a few advantages of mirroring Android screen on a Windows PC. Here are some:
You will have the chance to browse the Internet using a larger screen without having to use cables;
You need not upload videos and photos — or other huge files — to be able to view them on a huge screen;
Apart from streaming games, an Android gamer can also conveniently record their content to their Windows computer;
For developers, in the meantime, they can easily review the codes of their apps without reaching their smartphone through the help of this process; and
You can present a report that is made through your smartphone with the help of this nifty trick.
Third-Party Screen Mirroring Apps
Now, if you are asking for another way to screen mirror your Android smartphone on your Windows 10 computer, then here is good news: You may opt to use one of the popular and reliable third-party screen mirroring apps.
Among the most popular apps that can do the nifty trick include Vysor and ApowerMirror.
"Vysor lets you view and control your Android on your computer. Use apps, play games, control your Android with your mouse and keyboard," says the description of the app on Google Play. "Go wireless, and mirror your Android to your desktop; great for presentations."
In the meantime, ApowerMirror is an app for Android and iOS devices that can let you do the screen mirroring trick. The app's description on its product page says it has "full compatibility for Windows and Mac."
The requirement, though, is that your tablet or smartphone has to run Android 5.0 or higher and that it should support Chromecast.
"Any iOS device with AirPlay capability can also display cell phone screen on the computer using this tool," reads the page.
This powerful app allows users to stream video, photos, and other media files from their mobile device to their computer monitor.
On top of that, they will also have different display options: Landscape mode or Full-Screen mode. This then provides users with more options to pick from.
Conclusion
See? The process of how to screen mirror your Android phone on a Windows computer is a piece of cake.
By following the simple tricks mentioned above, you will absolutely do the process hassle-free and quickly.
Don't forget to share these tricks with your family and friends who might also need to know this trick.
You may also sound off in the comments section below if you have another trick in mind to make screen mirroring Android to PC a possible one.