There comes a time for every Chromebook user when your daily usage starts to feel slow and unresponsive. Performance hits like these are very common in computers with very limited storage. This is where learning how to Powerwash a Chromebook can make it feel like it's new again.
Resetting your Chromebook to factory default is one of the best ways to find out whether your issues are hardware or software-related. This saved me a lot of time with troubleshooting. Let this guide assist you with different options as well as methods to help restore your Chromebook's performance.
What do you need to Reset a Chromebook?
Make sure that you have tried all the tips and tricks to speed up the performance of your Chromebook before you reset it. I recommend disabling your Chrome extensions first to narrow down the culprit.
Use the Task Manager to monitor which ones are taking all the resources.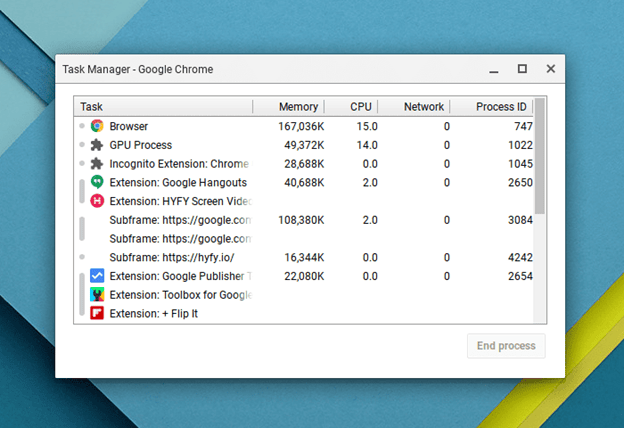 If all else fails, here are the things you will need to Reset a Chromebook:
Check Chromebook Model (some models have different ways of accessing Powerwash)
Owner's Google account logged in (see Logged-Out/Lock-Screen Method if not applicable)
New Owner's Google Account (for transfer of ownership)
Internet Access
Back-Up Storage (optional)
Important Note: when you reset your Chromebook, all the local files stored will be erased.
How to Powerwash a Chromebook – Logged-In Method
This is the most-recommended method especially for users who uses the local storage. This method will ensure that you have all your offline data before doing a hard reset. This is also perfect for people who aren't sure about the make/model of their Chromebooks. Here's what you need to do:
Open the Chrome browser and click the Menu  icon on the upper-right side of the window
On the drop-down menu, hit the Settings option as seen below:
3. Once the Settings tab is opened, click on the Advanced
4. Scroll through the bottom until you see Reset Settings. The Powerwash option should be seen at the bottom part
Pro-Tip: It can also be accessed by using the search feature located on top of the Settings page.
5. Confirm the system reset by hitting Restart. Be sure to back up your local files before proceeding
Wait for the Chromebook to reboot and to revert everything to factory settings. Once done, you should be able to see the setup page. Just follow the on-screen instructions and login with your Google Account
Important Note: When resetting a Chromebook to factory settings, the first Google Account you sign-in to will be considered to be the Owner account.
How to Powerwash a Chromebook – Logged-Out/Lock-Screen Method
This method is for people who have purchased used Chromebooks or obtained one from hand-me-downs. This is the quickest way to reset your device as you don't need anything else other than your own Google account. Here's what you need to do:
While on the lock-screen, press and hold CTRL + ALT + Shift + R Keyboard with Ctrl, R, Alt, and Shift keys highlighted
For newer models: press and hold ESC + Reload + Power . Press CTRL + D when the recovery screen opens up.
2. Choose restart and wait for the window to pop up
3. Select Powerwash via the options and hit Continue
4. Follow on-screen instructions and sign in to your Google account
Important Note: the Google account that you will sign-in to will be the default Owner's account for your Chromebook.
5. Complete the "Set Up Your Chromebook" by following the on-screen instructions.
Important Note: Do not Powerwash a Chromebook that is managed by an organization. Doing so will prevent you from re-enrolling your machine.
Should I Powerwash My Chromebook Regularly?
We all want the best performance possible on our Chromebooks. I can't stress enough how important – and easy – it is to maintain your device. Whenever you feel like your Chromebook is starting to lag, reset it. When you feel like the media playback is suddenly stuttering, reset it. If you feel like there are too many accounts in your Chromebook, reset it.
Conclusion
When you Powerwash a Chromebook, you are simply resetting the device in its original state. It means that all of the cache, temporary files, and internet junk you have accrued over its cycle will be wiped away. This process will leave you with an experience that is very similar to the time you bought it.
It's THAT simple.