Get the move objects cheat in Sims 4 and organize things your way!
Designing your dream house or organizing your very own aesthetic room is one of the most amusing real-life tasks. Arranging furniture, items, and objects can really soak you in and keep you engaged for hours on end.
The same is true for Sims 4. Being able to simulate the joy of designing without the physical exertion can be a very relaxing activity. But even though it's a video game, there are also some limitations.
Luckily, there's a way that you can bypass those rules!
In this article, we'll be focusing on the move objects cheat in Sims 4 and how you can utilize it for a better experience.
What is the Move Objects Cheat in Sims 4?
The "Move Objects" cheat in The Sims 4 (MOO) is a popular and powerful cheat that allows you to place and manipulate objects in ways that are not normally possible within the game's build and buy mode.
It basically allows you to break the rules of physics and do things that would usually be impossible in the game. Using this cheat, you can make items float in the air or overlap them with each other.
You can also make items as big or small as you want and place them literally anywhere. You can even make new designs and item appearances using this handy cheat.
This is one of the cheat codes that Sims 4 streamers use to create builds faster and better. And you should, too!
How to Use the Move Objects Cheat in Sims 4?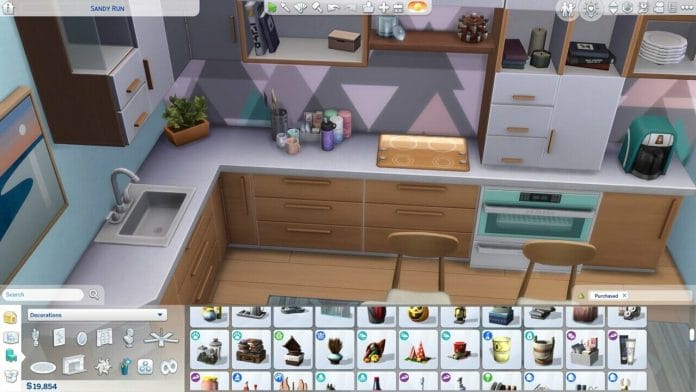 Incorporating this cheat into your builds is definitely a game-changing experience. So here's how to use the move objects cheat in Sims 4.
1. Enable Cheats
Before you can use cheat codes in the base game, cheats must first be enabled. You can do this by opening the cheat console.
To open the cheat console, you may need to press a different button combination depending on your platform:
Windows: Ctrl + Shift + C
Mac: Cmd + Shift + C
PlayStation: L1 + R1 + L2 + R2. (Hold all Shoulder Buttons)
Xbox: LB + RB + LT + RT (Hold all Shoulder Buttons)
The same command can be used to c;pse the cheat dialogue box.
Once the cheat box appears, type "testingcheats true" and press Enter. This enables the use of any cheat codes. You can skip this step if you've already enabled cheats in this session.
2. Use the Move Objects Cheat
After cheat codes have been enabled, you can now use the move objects cheats in Sims 4.
Open the cheat box once again then type in "bb.moveobjects on" and press Enter.
Congratulations! You have now activated the move objects cheat in Sims 4.
Now that the cheat is active, you can manipulate objects in the game by holding down the Alt key on your keyboard while placing, moving, or rotating objects.
Holding Alt will allow you to ignore grid placement and freely position objects wherever you want. You can also rotate objects freely by holding Alt while rotating the object.
If you are playing on a console, you can hold the L2 (PlayStation) or LT (Xbox) button instead.
Uses of the Move Objects Cheat in Sims 4
This cheat is actually more powerful than you think. Here are different ways you can utilize this to your advantage.
1. Custom Interior Design
This is one of the most enjoyable parts of Sims 4, and the MOO cheat just makes it even better.
Now, you can place objects anywhere you want, allowing for easier and faster interior designs and giving you more freedom in creating your own custom arrangements.
2. Clutter Tool
If you want to make a more realistic and lively environment for your Sims, the moveobjects cheat is perfect for you.
This cheat enables you to place smaller decorative objects on larger ones, like placing books on a bookshelf or placing clutter items on tables, to make your spaces feel more lived-in.
3. Custom Landscapes
This cheat is not for indoor use only – you can also use it outside! Now, you can create the perfect garden or backyard you've been dreaming about.
The MOO cheat will give you endless possibilities with your outdoor spaces.
You can place plants, rocks, and decorative items in unique and aesthetically pleasing designs.
4. Custom Furniture
With the power to place items however you want, you can now make new and unique designs for your home. You can merge different furniture and come up with bright and amazing ideas.
The only limit here is your creativity and imagination.
Conclusion
With the move objects cheat in Sims 4, you can now surpass the limits of physics and make your Sim world truly your own. There are no rules for using it, so we suggest you let your creativity run wild and experiment with it.
But remember that any cheat, when abused and used improperly, can lead to issues in the game. So proceed with that in mind.
If you're looking for more Sims 4 cheats, guides, and tutorials, GameGrinds is your number-one resource. So make sure you bookmark, and don't forget to comment your suggestions down below.