Material Girl by Saucy Santana is one of the most popular songs on Roblox and in fact, it's number one from our Roblox Music Codes list. For months, the music has been on the rise, and it's easy to see why! The ability to play licensed music through this gaming platform makes them much more thrilling than before.
Because you can get front row seats right next door at home while also playing with pals – how fantastic does that sound?
Why Material Girl Roblox ID is Popular?
Saucy Santana's pop-rap song Material Girl became even more popular in 2020 after TikTok's Material Gwoorl filter was released. Roblox's character moves in response to your actions, making it a fun way to pass the time for those who are bored or looking for something new to do while waiting!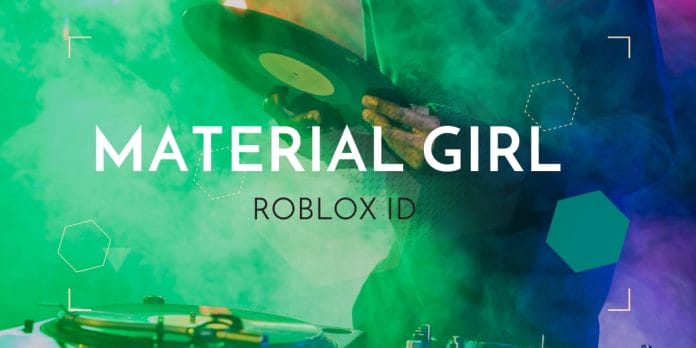 Material Girl by Saucy Santana has been around for a couple of years now and is still one of the most popular songs among Roblox players. Even if they have the same title as the version of Madonna which was released in 1984, what we are talking about here is the version of Saucy Santana.
Who is Saucy Santana?
Born on October 8, 1993, Bridgeport, Connecticut, United States. Though he was born as Justin Harris, Saucy Santana is most known for his music. He has released one studio album and two mixtapes while also making waves with "Material Girl" which became an Internet sensation thanks in part to its catchy tune!
Material Girl Roblox ID
You can find two versions of this song in Roblox, the pitched and a non-pitched version.
Non-pitched version: 7929110456
Pitched version: 3421152742
Note: We are unable to verify whether or not this song is licensed for use on Roblox. We're simply providing you with instructions on how to play this track in the game.
How to Play The Song Material Girl in Roblox
Purchase the "Boombox" in Roblox.
Or you can search the game for a world where players can use the Boombox for free.
Enter the Material Girl ID code as mentioned above and click Play to start the song.
Closing Statement
We strongly advise you to listen to Material Girl by Saucy Santana if you haven't already. This tune is sure to get your blood pumping, and it's been one of Roblox's most popular songs for months.
This Material Girl Roblox ID will give you first row seats right next door to the action, whether you're new to Roblox or have been playing for years. Let us know how this code worked for you in the comments section — we're eager to hear from you!