Legends of Speed is a Roblox Simulator game where players run to gain speed. This Legends of Speed Codes can provide you with the latest codes that you can redeem to get free gems and steps.
Gems and Steps are the essential items in the game as they are used to buy crystals and pets, and the latter is needed to be faster.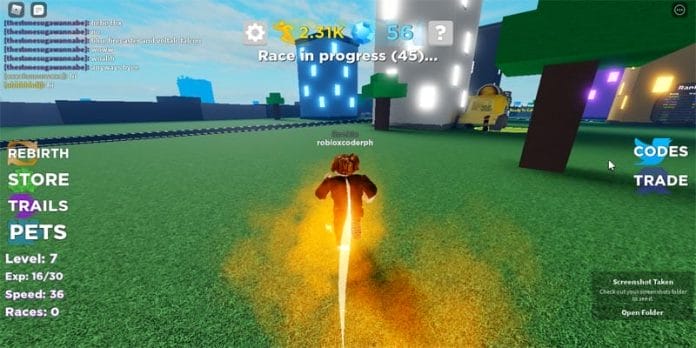 In Legends of Speed, you go against other players in different races in a variety of stages. The game has a lot of worlds to unlock, and these stages can give you better rewards while hoops increase while you are in a different world or after rebirth.
You also collect orbs, collect pets, go through hoops, unlock courses, and compete with your friends along the way.
If you want to get ahead of the game, then you should be getting a lot of Gems that you can use to buy pets and evolve them to have better stats.
You can get gems using real money or participating in races, but if you don't want to spend money or time, then you can use these Legends of Speed Codes to get free gems.
Check these other Roblox Games Codes:
Besides Gems, you also need a lot of Steps as this will allow your character to be quicker and faster, which is needed to be at the top of the game.
Legends of Speed Codes List
Active Codes
speedchampion000 – Rewards: 5,000 gems
racer300 – Rewards: 300 steps
SPRINT250 – Rewards: 250 steps
hyper250 – Rewards: 250 steps
legends500 – Rewards: 500 gems
sparkles300 – Rewards: 300 gems
launch200 – Rewards: 200 gems
Expired Codes
There are no expired Legends of Speed Codes as of the moment.
How to Activate Legends of Speed Codes
To redeem Legends of Speed Codes, just launch the game and click the Codes button on the right side of the screen. Copy and paste the code that you want in the text box and press redeem to get your free rewards.
Conclusion
Legends of Speed's main goal is for you to be the fastest in order to defeat other players. To achieve that, you need to compete in many races, unlock worlds, and level up to get additional steps and speed.
This Legends of Speed Codes is really a big help for new players as it will give you free gems and steps that are needed to catch up with pioneer players.
These codes will also reduce the time required for grinding to get gems and steps. For more codes like this, see our Roblox Game Codes section.