Can you go on an all-out ninja war with your friends? Is Shinobi Striker cross-play?
Duke it out with other teams online on a wild 4-man Shinobi battle. Rally up your comrades and combine your ninjutsu and fighting styles to come out on top as the most powerful ninjas in this Naruto game with graphics and mechanics built from the ground up.
With tons of changes from the classic Naruto Ninja Storm games, Shinobi Striker offers a whole new experience for Naruto fans. That's why a lot have been asking, Is Shinobi Striker cross-play?
If you want to learn everything you need to know about this awesome feature, then you can check out our article: "What Is Cross-platform In Gaming?".
A Quick Intro to Shinobi Striker
Naruto to Boruto: Shinobi Striker is set in the Naruto Universe. The best way to categorize Naruto to Boruto: Shinobi Striker is as a MOBA or multiplayer online battle arena. Two teams of varying sizes compete in these games in an effort to claim some sort of victory.
Each of these four-person teams in Shinobi Striker will have a unique set of skills, responsibilities, and abilities that will help them lead their respective teams to victory. But the most beautiful part is getting to create your own ninja and learning the jutsus and fighting style you want.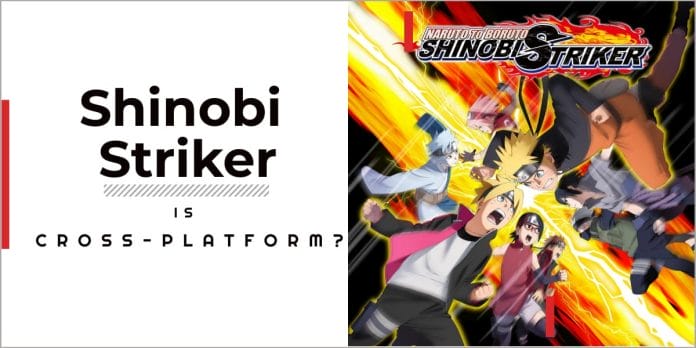 However, Naruto to Boruto: Shinobi Striker isn't a traditional one-on-one fighting game. You'll be facing off against a team of equal competitors in a 3D arena-like setting with three other friends or random strangers.
Yes, you will still be able to use simple attacks like light and heavy as well as strong jutsus, also known as ninja techniques, to deal damage to your enemies. Build up enough chakra to gain access to a powerful jutsu that will fundamentally alter the course of the battle.
Shinobi Striker is available on the following platforms:
PlayStation 4
Xbox One
Microsoft Windows
Is your team ready for battle? But what if you have different gaming platforms? Is Shinobi Striker cross-play?
Related Articles:
Is Shinobi Striker Cross-play In 2023?
Unfortunately, no. Cross-platform play is not supported by the game. None of the entries can play with one another because there are different versions of the game for the Playstation, Xbox, and PC. Therefore, if players want to make a joint purchase with their friends, they should make sure to communicate openly first.
This means that you can only team up with players who are on the same platform as you.
Is Shinobi Striker Cross-play Between PS4 and Xbox One?
No. Since Shinobi Striker is not cross-platform, cross-play is not available for the PS4 and Xbox One. This means that you can't team up with friends if you have different platforms. So put that into consideration first before purchasing the game.
Is Shinobi Striker Cross-play Between Xbox One and PC?
No. Shinobi Striker still doesn't have cross-play. This means that Xbox One and PC players won't be able to team up or participate in matches together.
Is Shinobi Striker Cross-play Between PC and PS4?
No. None of the platforms that Shinobi Striker is available on can support cross-play. So this means that PC and PS4 players won't be able to play the game together as a team.
Conclusion
Though Shinobi Striker has been around for quite some time, cross-play support is nowhere near the horizon. The developers are dropping no hints or news about adding cross-play to the game. But the good thing is a lot of discounts are popping out, and it's a good chance to grab the game now.
Meanwhile, if you're looking for other cross-play games, you can check our cross-platform section. Or you can also comment the title you want us to cover next in the comment section down below.