Express your style, discover fun games, and enjoy this new awesome virtual experience with your friends. Rec Room lets you show your creativity and socialize with millions of players in a room you create on your own. Is Rec Room cross-platform?
Cross-platform has completely revolutionized gaming with the flexibility and convenience it offers. If you aren't familiar with the feature just yet, it's about time you learn about it. You can learn everything you need to know about this feature by reading our article "What Is Cross-platform In Gaming?".
Now let's dive deeper into Rec Room and see what the hype is all about.
A Quick Intro to Rec Room
Rec Room is an online community that offers a wide range of entertainment and content for its users. You can't find a better place to construct something or play or even make a game than in Rec Room.
Gather with friends from all over the world to talk, hang out, and explore the millions of player-made rooms, or create something brand new and amazing to show off to everyone.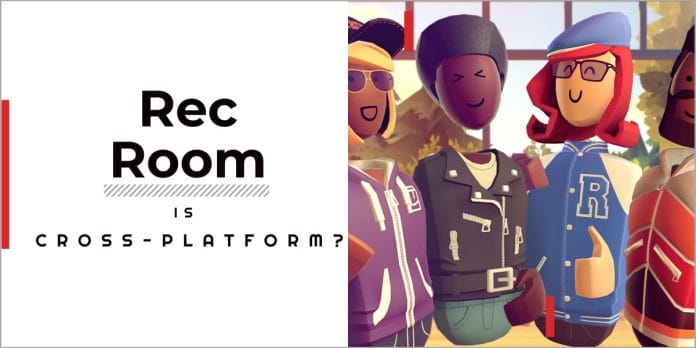 You can do whatever you want and love. Play around with the Maker Pen and create everything from puppies to helicopters to entire worlds. You can express your individuality by dressing up and accessorizing your own cute Rec Room avatar or exploring challenging, fun, or just plain weird games made by creators just like you.
Rec Room was developed by Rec Room Inc. and was initially released in June 2016. Rec Room is playable on a plethora of gaming platforms, including:
Nintendo Switch
PlayStation 4
Xbox One
Microsoft Windows
Xbox Series X and Series S
PlayStation 5
Andriod
iOS
Oculus Quest
With all these platforms and players, is Rec Room cross-platform?
Also Read:
Is Rec Room Cross-platform in 2023?
"Rec Room is free, and cross plays on everything from phones to VR headsets. It's the social app you play like a video game!"
So there you have it. It's a big yes! Rec Room supports cross-platform play across all platforms it is available on.
So whether you're playing on a PC and you're friends have a console, or you play on your phone while your friends are on a VR headset, you can still connect in Rec Room.
Is Rec Room Cross-platform Between PS4/PS5 and Xbox One?
Yes. The cross-platform features allow Rec Room to be played between PS4 and Xbox players. It's also cross-generation play compatible, so there shouldn't be any cross-play issues.
Is Rec Room Cross-platform Between PC and Mobile?
Yes. Rec Room is cross-platform between the PC and smartphones. Whether you are using an Android device or iOS, you can still play Rec Room with your friends on Microsoft Windows.
Is Rec Room Cross-platform Between PC and Nintendo Switch?
Yes. Rec Room is cross-platform on the Switch and PC. This means you can play with friends no matter which of these two devices you use.
Is Rec Room Cross-platform Between Oculus Quest and Mobile?
Yes. Even VR players can now play with mobile players. Because Rec Room is cross-platform, so you can play with PC, console, and Switch gamers while on a VR headset.
Conclusion
Virtual Reality and cross-platform features are great leaps in the gaming industry. It's amazing to see these two working hand in hand in Rec Room. Though most people don't have a gaming setup with these features, they are steadily becoming more available.
As a result, we have an awesome platform like Rec Room that connects millions of personalities all over the globe, and let's hope to see even more in the future.
What about your favorite game? Is it cross-platform yet? Do you want a specific game to be featured? You can comment below, and we'll look at your requests. Or you can visit our cross-platform section.