With all the fun and illegal activities we can do without any real consequences in GTA, it's no wonder that it would be a hit to play with friends.
The possibilities are endless, but is GTA cross-platform in 2023?
If you're unfamiliar with the term, "cross-platform" describes a game's ability to encourage communication or rivalry amongst players using various gaming platforms.
It functions simply as a digital game distribution service that enables players to challenge one another or move their progress to another platform while playing on various devices.
A Quick Intro to GTA
GTA is a 7-game open-world action-adventure video game franchise. Since the 1997 release of the first GTA, the series has gone on to sell more than 150 million copies, making it one of the most lucrative gaming franchises ever.
So it wouldn't be a stretch to call GTA one of the best video games of all time. GTA V followed 2008's Grand Theft Auto IV, it is the series' seventh primary installment and its fifteenth overall.
Shooting and stealing have never been and will never be legal in the real world. Luckily, we can let out the gangster in us in GTA. The city is in your hands. You can steal, kill, carnap, or engage in an all-out war against the police and FBI.
Or you could be a good samaritan and drive a cab. You can even help catch criminals. The real essence of GTA is being able to do what you want to do and being your own boss.
The series has a lot of entries, but this time, we will be taking a look at the latest installment, which is GTA V.
GTA V was developed by Rockstar North and published by Rockstar Games, and it is playable on multiple platforms, including PlayStation 4, Xbox Series X and Series S, PlayStation 3, Xbox One, Xbox 360, PlayStation 5, and the PC. So, is GTA cross-platform in 2023?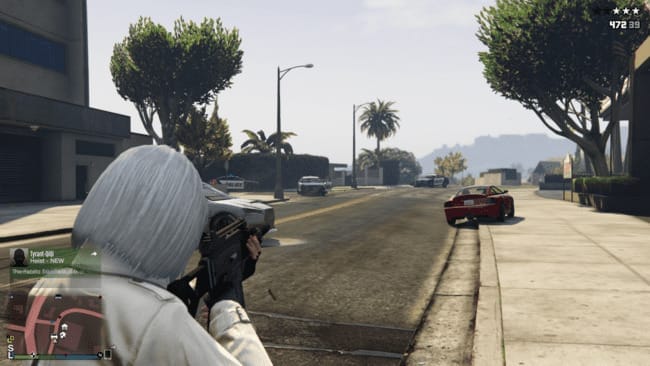 Is GTA Cross-platform in 2023?
Sadly, GTA V is not cross-platform in 2023. This means that friends with different consoles or systems cannot play together.
So if you're on the PS5 or PS4, you won't be able to join GTA friends on the Xbox or PC.
This can be very sad news for GTA players. But don't worry because you are not strictly limited to your PS4 only. Keep reading to learn more about cross-platform in GTA V.
Is GTA Cross-platform on PS4 and PS5?
Yes. Even though GTA V doesn't allow players from PS4, Xbox, and PC to play together, it definitely lets those on the PlayStation consoles enjoy the game together.
So if you have a PS4 and want to connect with GTA V players on the PS5, you can buy the game or try going online with them if you already have it.
Is GTA Cross-platform on Xbox One and Xbox Series X/S?
Yes. GTA 5 is compatible with both the Xbox One and Xbox Series X/S, and it supports cross-platform between the Xbox family of consoles.
This means that Xbox One console owners can play GTA V with Xbox Series X/S players.
Is GTA cross-platform in PlayStation/Xbox and PC?
Sadly, no. GTA V doesn't have cross-platform compatibility within these systems. The game doesn't allow console players to play together with gamers on the PC.
This means that you would have to get a PC if you don't have one. But that wouldn't be very practical.
Conclusion
GTA V's cross-platform compatibility is very limited, and players are asking for more.
With gaming companies and developers steadily working on adding cross-platform features into their games, we can only hope to see more of this in the future.