Strike for the goal as the crowd roars in unison! Is FIFA 21 Cross-Platform? Let's find out!
Just like the infamous sport it is based on, FIFA 21 is becoming more and more well-known these days. It's among the best sports games ever created thanks to its realistic gameplay, competitiveness, and the fact that it allows you to control the greatest footballers in history.
Playing soccer with your pals on a relaxing weekend sounds like a really nice gamer's holiday. That's why a lot of players have raised the question: "is FIFA 21 cross-platform?"
Cross-platform is slowly changing and revolutionizing gaming on any platform. If you're not familiar with this feature just yet, then you have to check out our article "What Is Cross-platform In Gaming?"
With that being said, let's take a closer look at FIFA 21.
A Quick Intro To FIFA 21
FIFA 21 is a soccer video game that simulates the football association. It is the 28th installment of the FIFA series and among the best video games to experience athletic game realism, comparable to NBA 2K and PGA Tour.
The games come with an engaging career mode that includes extras like club transactions and the ability to manage the rosters of young teams that can compete in the senior divisions. The game has received praise for its visuals, improved gameplay, AI, and expanded player database of footballers.
The career mode in FIFA 21 is where most of the focus is, allowing players to run their own football team for decades to win championships worldwide.
There are additional game modes as well, like FIFA Ultimate Team, where players can assemble a custom team by purchasing and selling real-world player cards on the transfer market and collecting them through card packs.
The game was created and released by Electronic Arts on October 9, 2020, and it has already received numerous nominations for awards. It is also one of the games that are currently dominating global tournaments. The following systems support FIFA 21:
PC
Nintendo Switch
PS4
PS5
Xbox One
Xbox Series X/S
Are you ready to score your first goal? But first, is FIFA 21 cross-platform? Read on to find out.
Related Articles:
Is FIFA 21 Cross-Platform in 2023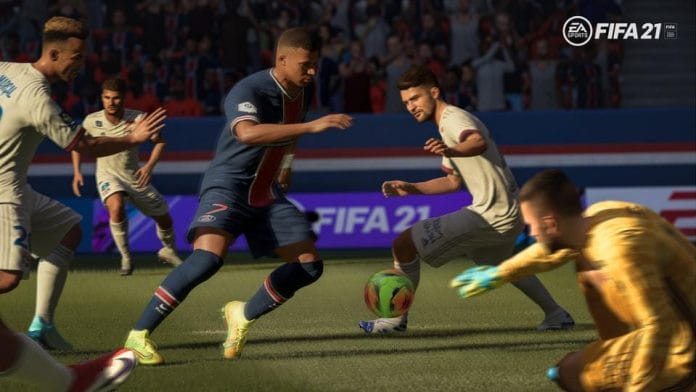 The immediate answer is "no." FIFA 21 is not cross-platform. There are no plans to integrate cross-platform play, despite the fact that many gamers think it would improve the game's enjoyment. FIFA 21's inability to be played on a variety of devices places restrictions on gamers who want to play with their friends.
Is FIFA 21 Cross-Platform Between PC And Xbox One?
FIFA 21 is not cross-platform for Xbox One and PC. This indicates that you cannot play against or alongside your pals using their Xbox One when you are using a PC to play.
You cannot play this game together if you are playing on a console and your friend is playing on a PC.
Is FIFA 21 Cross-Platform Between PC And PS4?
FIFA 21 is not a cross-platform game between PC and PS4. It follows that you cannot play against and alongside your friend if you are using your PC while they are using their PS4.
The same console or platform must be purchased by all players in order for them to play this game together.
Is FIFA 21 Cross-Platform Between PC And Nintendo Switch?
Nintendo Switch and PC cross-platform play is Not supported in FIFA 21. This suggests that players on the Nintendo Switch and PC are unable to compete or cooperate.
The PC control mechanism differs from that of the Nintendo Switch. They are incompatible as a result.
Is FIFA 21 Cross-Platform Between PS4 And Xbox One?
FIFA 21 is Not cross-platform for Xbox One and PlayStation 4. As a result, gamers will be unable to play this game with their friends who own other consoles or platforms. The issue is caused by the various servers each platform uses.
Is FIFA 21 Cross-Platform Between Xbox X/S And Xbox Series One?
Unfortunately, no. FIFA 21 is not cross-platform between Xbox X/S and Xbox Series One. therefore, players that are using separate Xbox consoles to play won't be able to play against or with each other. The FUT progression from Xbox X/S to Xbox Series One can be transferred, nevertheless.
Is FIFA 21 Cross-Platform PS4 And PS5?
Still, no. Since the PS4 and PS5 have extremely distinct functionalities, FIFA 21 is not cross-platform between the two systems. On the other hand, you can move your FUT development from PS4 to PS5.
Conclusion
FIFA 21 can be quite enjoyable to play. However, it's sad to know that the game is not cross-platform, which makes it pretty disappointing since you can't play with your friends who own other platforms. No news has been released about the developers adding cross-play into the game.
If you are also interested in other titles, you can check out our cross-platform section to see if they offer cross-play. You also have the liberty of commenting down below on what you want us to cover next.