"BIGGER THREATS, MORE WAYS TO PLAY." Mix survival and tactical combat with friends! Is Division 2 cross-platform?
Tom Clancy is well known for producing masterpieces like Rainbow Six Siege and Division 1. Now, you'll explore Washington DC after the devastating events in New York.
But is Division 2 cross-platform? This article will tell you whether Tom Clancy's Division 2 supports cross-platform features or not. If you want to learn more about this game-changing feature, you can check out our article "What Is Cross-platform In Gaming?".
With that out of the way, let's take a deeper look at Division 2.
A Quick Intro to Division 2
Tom Clancy's The Division 2 is the sequel to Division. It takes place seven months after the Dollar Flu's wintertime New York City events, in the summertime of Washington, D.C. Washington, D.C. has now been infected with the virus.
Division 2 brings back the classic features you loved while keeping things fresh with new additions. Enjoy the Division 2 campaign where you'll take on The Division's most important mission to date, where you'll face unheard-of dangers while saving D.C. from certain doom.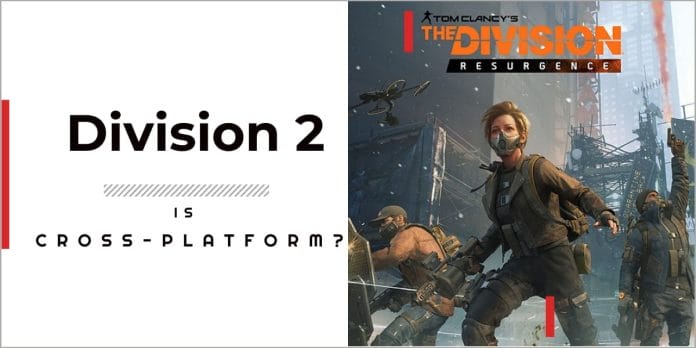 Or take on the game's toughest missions using all the help you can get from friends in Co-op mode. Or go against your fellow agents in a thrilling PvP game. Saving DC is just the beginning of it all.
When you think everything has reached its conclusion, there are endless specializations, game modes, and more that will keep Division agents active well beyond level 30.
You can play Division 2 on the following platforms:
PS4/PS5
Xbox One
PC
Xbox Series X/S
Google Stadia
Amazon Luna
Ready to fight this pandemic? Let's see if Division 2 is cross-platform.
Related Articles:
Is Division 2 Cross-platform In 2023?
Yes. The Division 2 is cross-platform but is very limited. Only the PC and Stadia have cross-platform play support.
None of the other platforms offer cross-platform compatibility. Let's take a closer look at Division 2's cross-platform features.
Is Division 2 Cross-platform Between PC and Stadia?
Yes. The Division 2 is cross-platform between PC and Stadia. Cross-platform play is exclusive to these two platforms. This means that players with these devices can leap for joy because they can play Division 2 together.
Is Division 2 Cross-platform Between PS4/PS5 and Xbox?
No. Division 2 doesn't offer cross-platform play for the PS4/PS5 and the Xbox. This signifies that players from these two mainstream consoles will be unable to play Division 2 with each other.
Is Division 2 Cross-platform Between PC and Xbox?
No. Division 2 will not be available for cross-platform play between the PC and Xbox One. Although the Google Stadia will work, this leaves Xbox players unable to connect with PC players on Division 2.
Is Division 2 Cross-platform Between PC and PS4/PS5?
Sadly, no. The Division 2 is also not cross-platform between the PC and PlayStation consoles. So if you want to play with friends who aren't on the PC or Stadia, you'll have to buy a new gaming device.
Conclusion
This article is music to the ears of PC and Stadia Division 2 players. Though The Division 2's cross-platform features are quite limited, we're still lucky that we have at least 2 platforms where players can connect and play together.
Fortunately, it does offer cross-generation play for PS4 and PS5 and the latest Xbox consoles. More and more titles are consistently adapting cross-platform features, so let's hope to see it come to Division 2 in the future.
What about your favorite game? Is it cross-platform just yet? You can always check our cross-platform section to find out. Comment down below what game you would like us to cover next.