The 2K franchise has been an enormous success ever since its early days in 1999. Well, it shouldn't be a surprise since the NBA has millions of fans all over the world.
Even non-basketball players are playing 2k because of its popularity. Is 2K22 cross-platform in 2023?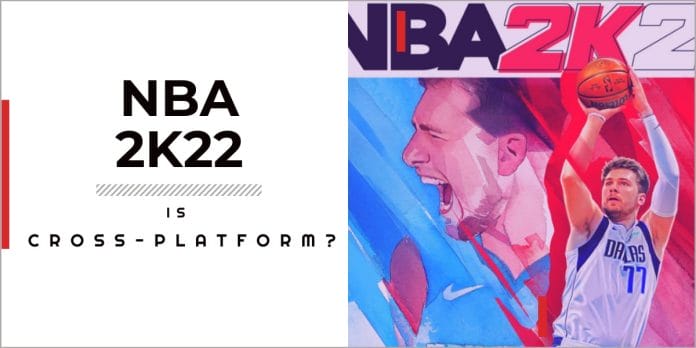 With almost every game rolling out having multiplayer game modes, the cross-platform feature is basically a necessity.
But just in case you haven't encountered the term "cross-platform" yet, check out this article to learn everything you need to know about cross-platform gaming: What Is Cross-platform In Gaming?
A Quick Intro to NBA 2K22
NBA 2K22 needs no introduction, but for the sake of those who are looking for a new cross-platform game to play with their squad, we'll give you one.
NBA 2K22 is a sports simulation video game and has been one of the longest-running franchises in sports gaming.
The entire NBA is at your fingertips with NBA 2K22. Play against actual teams and players in the NBA and WNBA right now. Create your own ideal squad in MyTEAM using the stars of today and the legends of yesterday.
In MyCAREER, you may experience your own professional ascent to the NBA and the part we all love, create your own character. As a strong Executive in MyGM and MyLEAGUE, demonstrate your management abilities. In NBA 2K22, anyone can hoop from anywhere.
NBA 2K22 was developed by Visual Concepts and 2K Sports as the 23rd installment in the NBA 2K franchise and the successor to NBA 2K21. It can be played on the following platforms:
PC
Xbox One
Xbox series X/S
PS4
PS5
Nintendo Switch
Apple Arcade
Is NBA 2K22 cross-platform? Let's find out.
Related article: Is Madden 22 Cross Platform?
NBA 2K22 Cross-platform Play Frequently Asked Questions
Is NBA 2K22 Cross-platform?
No, As of 2023, cross-platform compatibility for NBA 2K22 players is still unavailable despite the growing demand for such a feature from the gaming community and the increasing number of games supporting cross-platform play.
As a result, players are limited to single-platform gameplay, which prevents them from teaming up or competing against others who use different gaming platforms.
Is NBA 2K22 Cross-platform PC and PS4/PS5?
No, NBA 2K22 unfortunately does not allow cross-platform play between PC and PS4/PS5, limiting players to compete only with those on the same platform.
Despite the increasing demand for cross-play functionality, there is no official word yet from Visual Concepts and 2K Sports about any plans to implement cross-platform compatibility between PC and PlayStation consoles in the near future.
Keep an eye out for any official announcements as they come.
Is NBA 2K22 Cross-platform PS4/PS5 and Xbox One?
Unfortunately, No. Cross-platform play between PlayStation 4/PlayStation 5 and Xbox consoles is not currently supported in NBA 2K22, so players can only play with others on the same console.
So far, there has been no official word from the developers on whether this feature will be introduced in the future.
It is unclear whether this situation will change in the coming years, but for now, NBA 2K22 enthusiasts must stick to their respective console ecosystems for multiplayer gameplay.
Is 2K22 Cross-platform PC and Nintendo Switch?
No. Currently, cross-platform compatibility between NBA 2K22 on Nintendo Switch and PC is not supported.
Unfortunately, this means that playing with friends who are on a different platform is not possible.
Official announcements regarding cross-play have not been made at this time.
It's worth noting that the game engines and mechanics differ significantly between PCs and consoles, including the Nintendo Switch.
As a result, achieving cross-platform functionality can be quite challenging.
Conclusion
Every year, besides the blockbuster trades and the new NBA season, hoopers are looking out for the next 2K game. 2K22 definitely delivered with all its new features and the addition of the WNBA. Not to mention the consistency of the mechanics and gameplay we all love.
The only downside is not being able to share all this fun with players from other platforms.
The lack of cross-platform compatibility in 2K22 is a huge bummer for many ballers. There is no news about the addition of the feature anytime soon.
But we're glad to share that 2K22 has at least cross-generation play in its bag. This means that you can play on different generations of consoles. So PS4 and PS5 owners can play together just like Xbox One and Xbox Series X/S players.
What about your favorite game? Is it cross-platform? Check it out in our cross-platform category now.